HANK AARON QUOTES
American baseball player (1934- )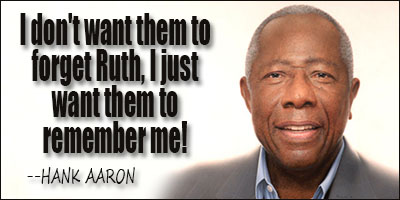 My motto was always to keep swinging. Whether I was in a slump or feeling badly or having trouble off the field, the only thing to do was keep swinging.
HANK AARON
194 likes
---
I never smile when I have a bat in my hands. That's when you've got to be serious.
HANK AARON
178 likes
---
I don't want them to forget Ruth, I just want them to remember me!
HANK AARON
136 likes
---
The pitcher has got only a ball. I've got a bat. So the percentage in weapons is in my favor and I let the fellow with the ball do the fretting.
HANK AARON
115 likes
---
It took me seventeen years to get three thousand hits in baseball. I did it in one afternoon on the golf course.
HANK AARON
77 likes
---
The thing I like about baseball is that it's one-on-one. You stand up there alone, and if you make a mistake, it's your mistake. If you hit a home run, it's your home run.
HANK AARON
30 likes
---
I realize that if I hadn't been able to hit the hell out of a baseball, I would have never been able to lay a finger on the good life that I've been fortunate to have. Playing baseball has given me all that a man could ask for--certainly a lot more than a timid little black kid like me ever dared to dream about. I've traveled the world, met Presidents, had my share of fortune and more fame than I ever wanted. I even have a place in history, if only for hitting home runs. The fact is, I have every reason to be content. My kids have all been to college. I don't know how I managed to stumble onto the great woman who is my wife. Everything is just about perfect. I don't even hear much about Babe Ruth anymore, thank goodness, and I haven't received a really nasty piece of hate mail in about fifteen years.
HANK AARON, I Had a Hammer
28 likes
---
We are not that far removed from when I was chasing the record. If you think that, you are fooling yourself.... The bigger difference is that back then they had hoods. Now they have neckties and starched shirts.
HANK AARON, interview with Bob Nightengale, USA Today, Apr. 8, 2014
27 likes
---
Sure, this country has a black president, but when you look at a black president, President Obama is left with his foot stuck in the mud from all of the Republicans with the way he's treated. We have moved in the right direction, and there have been improvements, but we still have a long ways to go in the country.
HANK AARON, interview with Bob Nightengale, USA Today, Apr. 8, 2014
26 likes
---
I have always felt that although someone may defeat me, and I strike out in a ball game, the pitcher on the particular day was the best player. But I know when I see him again, I'm going to be ready for his curve ball. Failure is a part of success. There is no such thing as a bed of roses all your life. But failure will never stand in the way of success if you learn from it.
HANK AARON, attributed, A Season in Words: A Coach's Guide to Motivation from the Preseason to the Postseason
26 likes
---
After I hit the home run, I went back to left field, and I was standing in my position to catch a fly ball, and Donald Davis, my traveling secretary, was running down the left field line. He was telling me the President was on the telephone. And I said, "Well fine, Donald, but what do you want me to do? Stop the ball game?" I said, "Just put the President on hold, and I'll be right with him."
HANK AARON, Late Night with David Letterman, 1982
26 likes
---
I remember the '57 World Series. We beat the Yankees.... I remember that the split, the shares we had, came to about, oh, I think about $7000 per player. And I had never in my life seen that much money.... So anyhow, I kept calling my general manager, telling him that I wanted to know when was the check coming? When was the check coming? He said, "Hank, it'll get here pretty soon." So pretty soon, it got there, and I went to the bank with this $7000 check. A piece of paper. And I put it up to the teller, and the teller said, "Mr. Aaron, you want to put this in a checking account? What do you want?" I said, "No, no, no, no, no." I said, "What I'd like for you to do is count all that money out, count it out in cash. Give it to me. I'm going home with it." I went home with $7000 in a bag. I went to the house, and I pulled the shades down, locked the door, put all that money on the bed, and I started counting it one dollar at a time. I had never seen that much money.
HANK AARON, interview at the National Portrait Gallery in Washington, D.C., Feb. 8, 2014
26 likes
---
Guessing what the pitcher is going to throw is eighty percent of being a successful hitter. The other twenty percent is just execution.
HANK AARON
25 likes
---
I don't see pitches down the middle anymore - not even in batting practice.
HANK AARON
25 likes
---
Baseball needs me because it needs somebody to stir the pot, and I need it because it's my life. It's the means I have to make a little difference in the world.
HANK AARON, I Had a Hammer
14 likes
---
Baseball is a lot like the ivy-covered wall of Wrigley Field--it gives off a great appearance, but when you run into it, you discover the bricks underneath. At times, it seems that we're dealing with a group of men who aren't much different than others we've all run into over the years, except they wear neckties instead of robes and hoods.
HANK AARON, I Had a Hammer
14 likes
---
I looked for the same pitch my whole career, a breaking ball. All of the time. I never worried about the fastball. They couldn't throw it past me, none of them.
HANK AARON
14 likes
---
I never doubted my ability, but when you hear all your life you're inferior, it makes you wonder if the other guys have something you've never seen before. If they do, I'm still looking for it.
HANK AARON
14 likes
---
The only thing I can say is that I had a rough time with it. I don't talk about it much. It still hurts a little bit inside, because I think it has chipped away at a part of my life that I will never have again. I didn't enjoy myself. It was hard for me to enjoy something that I think I worked very hard for. God had given me the ability to play baseball, and people in this country kind of chipped away at me. So, it was tough. And all of those things happened simply because I was a black person.
HANK AARON, American History, Jun. 2006
14 likes
---
History has a way of doing that. People appreciate it more the longer it lasts.
HANK AARON, interview with Bob Nightengale, USA Today, Apr. 8, 2014
14 likes
---