ADDICTION QUOTES
quotations about addiction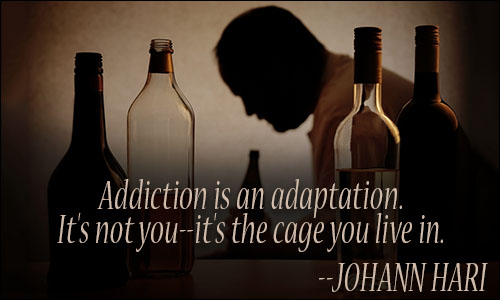 Addiction is just a way of trying to get at something else. Something bigger. Call it transcendence if you want, but it's a fucked-up way, like a rat in a maze. We all want the same thing. We all have this hole. The thing you want offers relief, but it's a trap.
TESS CALLAHAN, April & Oliver
25 likes
---
Addicts never stand still; they are either getting better, or they are getting worse.
ALCOHOLICS ANONYMOUS
25 likes
---
The worst thing you can do for your loved one caught in alcoholism or addiction is to help the person continue in the deception that he or she is OK. Your best course of action is to speak the truth in love (see Eph. 4:15) and don't allow him or her to escape the consequences of wrong behavior.
NEIL T. ANDERSON, Freedom from Addiction
17 likes
---
There are all kinds of addicts, I guess. We all have pain. And we all look for ways to make the pain go away.
SHERMAN ALEXIE, The Absolutely True Diary of a Part-Time Indian
15 likes
---
At first, addiction is maintained by pleasure, but the intensity of this pleasure gradually diminishes and the addiction is then maintained by the avoidance of pain.
FRANK TALLIS, Love Sick
14 likes
---
Addicts know no shame. You disgrace yourself so many times you become immune to it.
JOHN GRISHAM, The Testament
13 likes
---
Addiction begins with the hope that something "out there" can instantly fill up the emptiness inside.
JEAN KILBOURNE, Can't Buy My Love
10 likes
---
Where life is seen as a burden, full of unpleasant and useless struggles, addiction is a way to surrender. The difference between not being addicted and being addicted is the difference between seeing the world as your arena and seeing the world as your prison. These contrasting orientations suggest a standard for assessing whether a substance or activity is addictive for a particular person. If what a person is engaged in enhances his ability to live, if it enables him to work more effectively, to appreciate the things around him more, and finally if it allows him to grow, to change and expand ... then it is not addictive. If, on the other hand, it diminishes him ... if it makes him less attractive, less capable, less sensitive and if it limits him, stifles him, harms him and/or those around him, it is addictive.
RICHARD MCKENZIE NEAL, The Path to Addiction
10 likes
---
An addict is someone who uses their body to tell society that something is wrong.
STELLA ADLER, attributed, The Greatest Quotations of All-Time
10 likes
---
One thing I've learned is it's better to be addicted to things than people. You get hooked on a thing and if someone takes it from you, you can find another source. Only people can really hurt you. Only people can push you out into the cold permanently.
A. M. RILEY, Immortality is the Suck
9 likes
---
You can get the monkey off your back, but the circus never leaves town.
ANNE LAMOTT, Grace (Eventually):Thoughts on Faith
9 likes
---
Addictions ... started out like magical pets, pocket monsters. They did extraordinary tricks, showed you things you hadn't seen, were fun. But came, through some gradual dire alchemy, to make decisions for you. Eventually, they were making your most crucial life-decisions. And they were ... less intelligent than goldfish.
WILLIAM GIBSON, Zero History
7 likes
---
Imagine trying to live without air. Now imagine something worse.
AMY REED, Clean
7 likes
---
I admire addicts. In a world where everybody is waiting for some blind, random disaster or some sudden disease, the addict has the comfort of knowing what will most likely wait for him down the road. He's taken some control over his ultimate fate, and his addiction keeps the cause of his death from being a total surprise.
CHUCK PALAHNIUK, Choke
6 likes
---
Because they are human beings, addicts long for wholeness, for fulfillment, and for the final good that believers call God. Like all idolatries, addiction taps this vital spiritual force and draws off its energies to objects and processes that drain the addict instead of fulfilling him.
CORNELIUS PLANTINGA, Not the Way It's Supposed to Be
6 likes
---
Every addiction is a good thing gone bad--desire gone awry.
SHARON HERSH, The Last Addiction
5 likes
---
I don't have an addiction. I'm fixing it before it becomes one. I'm aware. I'm oblivious. I'm angry. I'm scared. I'm sad. I'm hopeless. I'm angry--so f***ing angry. I hate the world. The world is f***ed. The solution is clear: inhale, inject, swallow, sniff.
LUKE TOUGAS, Meet My Shadow
5 likes
---
At every stage, addiction is driven by one of the most powerful, mysterious, and vital forces of human existence. What drives addiction is longing--a longing not just of brain, belly, or loins but finally of the heart.
CORNELIUS PLANTINGA, Not the Way It's Supposed to Be
5 likes
---
Addiction is a disease of the soul, a bizarre form of unintended idolatry where God is replaced by the bottle, the drug, the person, the work, the cash, the religion, food--too much or too little--and sex.
CLARE CATFORD, "The Road to Rehab", ThirdWay, summer 2008
5 likes
---
Addiction -- When you can give up something any time, as long as it's next Tuesday.
NIKKI SIXX, The Heroin Diaries
3 likes
---