ADMIRATION QUOTES
quotations about admiration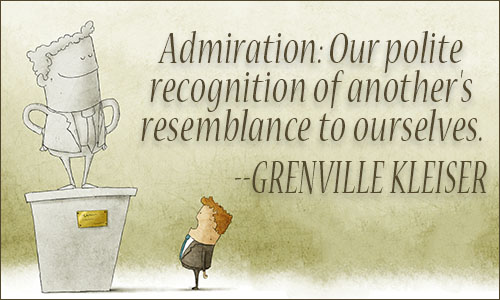 Admiration: Our polite recognition of another's resemblance to ourselves.
GRENVILLE KLEISER, Dictionary of Proverbs
4 likes
---
Fools admire, but men of sense approve.
ALEXANDER POPE, "An Essay on Criticism"
2 likes
---
A mixture of admiration and pity is one of the surest recipes for affection.
ANDRE MAUROIS, Ariel
1 likes
---
Though familiarity may not breed contempt, it takes the edge of admiration.
WILLIAM HAZLITT, Characteristics: In the Manner of Rochefoucault's Maxims
1 likes
---
Few men are admired by their servants.
MICHEL DE MONTAIGNE, Selected Essays
1 likes
---
We always love those who admire us, and we do not always love those whom we admire.
LA ROCHEFOUCAULD, Maxims
1 likes
---
No nobler feeling than this of admiration for one higher than himself dwells in the breast of man.
THOMAS CARLYLE, Sartor Resartus; Heroes and Hero Worship
1 likes
---
Admiration begins where acquaintance ceases.
SAMUEL JOHNSON, The Rambler, Dec. 11, 1750
1 likes
---
Admiration is the furthest thing from understanding.
ANONYMOUS
1 likes
---
To practice the virtue of admiration does demand much of a man. He must respect and nurture the best within himself and within any man: his ability to produce and create on whatever scale he is capable of. His God must be man's competence. He must be willing to look up and to exert the effort to learn from those of superior knowledge and ability. He must be willing to acknowledge the intellectual gifts that he receives from those more productive than him, which he can become worthy of in part by showing his gratitude. He must judge the world scrupulously, deciding for himself what deserves his "Yes" and his "No." And then he must further and fight for that which he sees to be good, for that to which he has granted his "Yes." To practice the virtue of admiration is to stand, head lifted, and give thanks for the greatness of another man and all that it, and its sight, will make possible in one's own life. It is to be motivated by the best possible to oneself and to man.
ONKAR GHATE, "The Basic Motivation of the Creators and the Masses in 'The Fountainhead'", Essays on Ayn Rand's 'The Fountainhead'
1 likes
---
"You ought to tell me what you admire most about me."
"I--I don't know that it would be wise of me--"
"Oh, sir, but you must, else I shall think you do not like me at all."
P. O. DIXON, As Good as a Lord
1 likes
---
Seeking admiration is like a drug for narcissists. In the long run it becomes difficult because others won't applaud them, so they always have to search for new acquaintances from whom they get the next fix.
MITJA D. BACK, "11 signs you're working with a narcissist", Business Insider, August 12, 2016
1 likes
---
Admiration is a very short-lived passion that immediately decays upon growing familiar with its object, unless it be still fed with fresh discoveries, and kept alive by a new perpetual succession of miracles rising up to its view.
JOSEPH ADDISON, The Spectator, Dec. 24, 1711
0 likes
---
How happy is it for us, that the admiration of others should depend so much more on their ignorance than our perfection!
FULKE GREVILLE, Maxims, Characters and Reflections
0 likes
---
There is an innocence in admiration; it is found in those to whom it has never yet occurred that they, too, might be admired some day.
FRIEDRICH NIETZSCHE, Basic Writings of Friedrich Nietzsche
0 likes
---
Admiration for a quality or an art can be so strong that it deters us from striving to possess it.
FRIEDRICH NIETZSCHE, Human, All-Too-Human
0 likes
---
Admiration is the daughter of ignorance.
BENJAMIN FRANKLIN, Poor Richard's Almanack
0 likes
---
You always admire what you really don't understand.
ELEANOR ROOSEVELT, Meet the Press, Sep. 16, 1956
0 likes
---
To cease to admire is a proof of deterioration.
CHARLES HORTON COOLEY, Human Nature and the Social Order
0 likes
---
Distance is a great promoter of admiration.
DENIS DIDEROT, attributed, Forty Thousand Quotations, Prose and Poetical
0 likes
---