ADVERSITY QUOTES II
quotations about adversity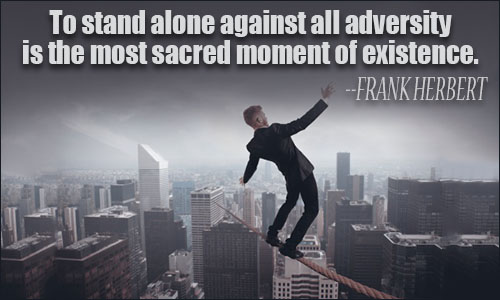 The Gods in bounty work up storms about us, that give mankind occasion to exert their hidden strength, and throw out into practice virtues that shun the day, and lie concealed in the smooth seasons and the calms of life.
JOSEPH ADDISON, Cato
2 likes
---
Adversity is never the end point; for those faced with a positive attitude, it's always the beginning.
J. BARRY GRISWELL & BOB JENNINGS, The Adversity Paradox
2 likes
---
Difficulty shows what men are. Therefore when a difficulty falls upon you, remember that God, like a trainer of wrestlers, has matched you with a rough young man. Why? So that you may become an Olympic conqueror; but it is not accomplished without sweat.
EPICTETUS, Discourses
2 likes
---
Adversity is the state in which man most easily becomes acquainted with himself, being especially free of admirers then.
JOHN WOODEN, Quotes from Coach John Wooden: Winning with Principle
2 likes
---
Prosperity doth best discover vice, but adversity doth best discover virtue.
FRANCIS BACON, Essays
1 likes
---
Everyone has to have either this or that problem, if he can't find any problem, he loses all reason for living.
GAO XINGJIAN, Nocturnal Wanderer
1 likes
---
If we had no winter, the spring would not be so pleasant: if we did not sometimes taste of adversity, prosperity would not be so welcome.
ANNE BRADSTREET, Meditations Divine and Moral
1 likes
---
That thorny path, those stormy skies, have drawn our spirits nearer; and rendered us, by sorrow's ties, each to the other dearer.
BERNARD BARTON, Not Ours the Vows
1 likes
---
Prosperity gathers smiles, while adversity scatters them.
WILLIAM SCOTT DOWNEY, Proverbs
1 likes
---
As the paper though it entereth the press white, yet when it cometh forth black is eagerly sought to be perused; so do thou let thy life, though darkened by adversity, be made all the more useful to thy fellows.
IVAN PANIN, Thoughts
1 likes
---
A spiritually optimistic point of view holds that the universe is woven out of a fabric of love. Everything that is happening is ultimately for the good if we're willing to face it head-on and use our adversities for soul growth.
JOAN BORYSENKO, Ensouling Ourselves
1 likes
---
All have their miseries.... He is not truly a man who has not experienced adversity.
EDWARD COUNSEL, Maxims
1 likes
---
Adversity is the mint in which God stamps upon man his image and superscription.
HENRY WARD BEECHER, Proverbs from Plymouth Pulpit
1 likes
---
Dealing with adversity is like preparing for surgery. By putting our faith in what the doctor has said, we believe we will be better off if we have the surgery. But that does not make it any less painful. By submitting to the hand of a surgeon, we are saying that our ultimate goal is health, even at the cost of pain. Adversity is the same way. It is a means to an end. It is God's tool for the advancement of our spiritual lives.
CHARLES F. STANLEY, How to Handle Adversity
1 likes
---
Adversity is the diamond dust Heaven polishes its jewels with.
ROBERT LEIGHTON, attributed, A Dictionary of Thoughts
1 likes
---
Adversity is part of life--by avoiding adversity, one avoids life.
PAUL GORDON STOLTZ, Adversity Quotient: Turning Obstacles into Opportunities
1 likes
---
Prosperity is no just scale, adversity is the only balance to try friends.
PLUTARCH, attributed, A Dictionary of Thoughts
1 likes
---
Those who choose to make adversity their friend don't enjoy hardship any more than the next person. But there is a world of difference between those who befriend adversity by overcoming it and learning from the experience, and those who give up at the first sign of an obstacle.... Adversity is going to happen, and usually in ways you could've never foreseen. Knowing this, make a choice right now to look at adversity in a new light the next time it comes your way. Though it may not look so friendly on the surface, realize that adversity is an ally and that it's here to teach you something of crucial importance. Of course it's an unwelcome visitor. But when it presents itself, treat the experience as a unique learning opportunity. Here is your chance to impact positively your human capital development in ways that no seminar, class, or training session can even closely approximate.
J. BARRY GRISWELL & BOB JENNINGS, The Adversity Paradox
1 likes
---
Adversity is the true school of the mind.
KATHARINE LEE BATES, The Pilgrim Ship
1 likes
---
As it is pleasant to see the sea from the land, so it is pleasant for him who has escaped from troubles to think of them.
EPICTETUS, Fragments
1 likes
---