ADVICE QUOTES
quotations about advice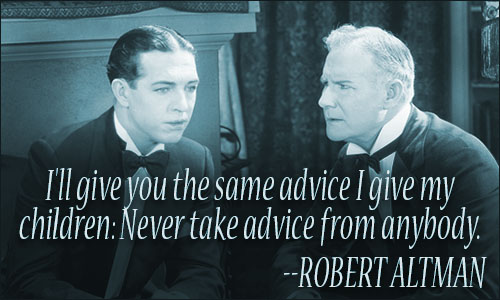 Advice is like cooking--you should try it before you feed it to others.
CROFT M. PENTZ, 1001 Things Your Mother Told You
32 likes
---
The people sensible enough to give good advice are usually sensible enough to give none.
EDEN PHILLPOTTS, attributed, Reader's Digest, 1951
24 likes
---
What's wrong with advice? Advice is often a basic insult to the intelligence of the other person. It implies a lack of confidence in the capacity of the person with the problem to understand and cope with his or her own difficulties. As Norman Kagan puts it, "In essence, we implicitly say to someone, 'You have been making a "big deal" out of a problem whose solution is immediately apparent to me--how stupid you are!'"
ROBERT BOLTON, People Skills
23 likes
---
Before you give advice, that is to say advice which you have not been asked to give, it is well to put to yourself two questions--namely, what is your motive for giving it, and what is it likely to be worth? If these questions were always asked, and honestly answered, there would be less advice given.
JOHN WILLIAM MACKAIL, "On Giving Advice"
21 likes
---
Advice is like mushrooms. The wrong kind can prove fatal.
E. C. MCKENZIE, Mac's Giant Book of Quips & Quotes
17 likes
---
We give advice by the bucket, but take it by the grain.
WILLIAM ALGER, attributed, Treasury of Thought
12 likes
---
What makes a fool is an inability to take even his own good advice.
WILLIAM FAULKNER, Light in August
11 likes
---
I only do what my gut tells me to. I think it's smart to listen to other people's advice, but at the end of the day, you're the only one who can tell you what's right for you.
JENNIFER LOPEZ, Woman's Day Magazine, Nov. 13, 2007
10 likes
---
To offer a man unsolicited advice is to presume that he doesn't know what to do or that he can't do it on his own.
JOHN GRAY, Men are from Mars, Women are from Venus
9 likes
---
The desire to give advice is itself a symptom of disapproval; and further, it is usually the result of a desire to express that disapproval. And we are most moved to give advice to those for whom our affection and regard may be taken for granted, but to whom we would rather express our disapproval. We cannot go to them and say that we disapprove of them. That would not be affectionate, and might lead to reprisals. But we can give them advice in which the disapproval is implied and which yet seems innocently helpful.
JOHN WILLIAM MACKAIL, "On Giving Advice"
9 likes
---
The trouble with good advice is that it usually interferes with our plans.
CROFT M. PENTZ, 1001 Things Your Mother Told You
8 likes
---
Good advice offering requires knowing a person very, very well. So well, in fact, that you may know more about them than they know about themselves in certain situations. Then, good advice is loving and given out of love. It is never to control or manipulate. Then, it is giving information; just giving, not enforcing, information. And lastly and most importantly, after advice is given, the outcome is let go of completely, trusting that the other person will take it, leave it, or ponder it.
ANNE WILSON SCHAEF, Meditations for Women Who Do Too Much
8 likes
---
If you listen too much to advice, you may wind up making other people's mistakes.
CROFT M. PENTZ, 1001 Things Your Mother Told You
8 likes
---
Good advice is like a proverb: the meaning depends on the interpretation.
REBECCA L. WALKOWITZ, Cosmopolitan Style
8 likes
---
Follow the advice of people and fail, and they have nothing for you but contempt. Pay no attention to them and succeed, and they will follow in your footsteps.
GEORGE H. KNOX, Ready Money
7 likes
---
Free advice is not always worth the price.
JULIE SHEA, The Hamilton Spectator, February 24, 2016
7 likes
---
Let men be wise by instinct if they can, but when this fails be wise by good advice.
SOPHOCLES, Antigone
6 likes
---
There are two things which a man should scrupulously avoid: giving advice that he would not follow, and asking advice when he is determined to pursue his own opinion.
NORMAN MACDONALD, Maxims and Moral Reflections
6 likes
---
The brain may take advice, but not the heart.
TRUMAN CAPOTE, Other Voices, Other Rooms
6 likes
---
When women are the advisers, the lords of creation don't take the advice till they have persuaded themselves that it is just what they intended to do. Then they act upon it, and, if it succeeds, they give the weaker vessel half the credit of it. If it fails, they generously give her the whole.
LOUISA MAY ALCOTT, Little Women
5 likes
---