AGE QUOTES
quotations about age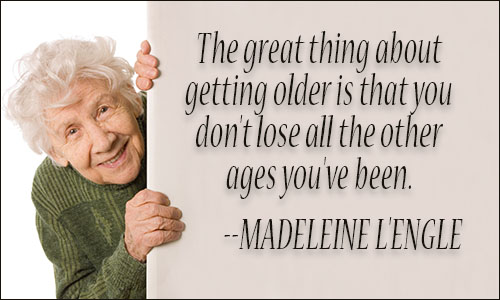 The great thing about getting older is that you don't lose all the other ages you've been.
MADELEINE L'ENGLE, attributed, Wisdom for the Soul
3 likes
---
Age is a very high price to pay for maturity.
TOM STOPPARD, Rosencrantz and Guildenstern Are Dead
2 likes
---
The older I grow, the more I distrust the familiar doctrine that age brings wisdom.
H. L. MENCKEN, Prejudices: Third Series
2 likes
---
Sometimes I get depressed about my age. In March I'll be 26. If man weren't measured in numbers, but rather letters, I'd be turning Z. And then I'd be dead.
JAROD KINTZ, I Should Have Renamed This
2 likes
---
Old age is just one of the life stages that societies create, and the number and timing of these stages vary.
TONI M. CALASANTI & KATHLEEN F. SLEVIN, Gender, Social Inequalities, and Aging
2 likes
---
Age is just an option, not a mandate.
ED MAYHEW, Age Blasters
2 likes
---
Your best age is now.
ROBI LUDWIG, Your Best Age Is Now: Embrace an Ageless Mindset, Reenergize Your Dreams, and Live a Soul-Satisfying Life
2 likes
---
I truly believe that age -- if you're healthy -- age is just a number.
HUGH HEFNER, interview, Apr. 8, 2006
1 likes
---
Age, that acquaints us with infirmities in ourselves, should make us tender in our reprehension of weakness elsewhere.
CHRISTIAN NESTELL BOVEE, Intuitions and Summaries of Thought
1 likes
---
Just remember, when you're over the hill, you begin to pick up speed.
CHARLES M. SCHULZ, Peanuts: Be Thankful
1 likes
---
There is a certain part of all of us that lives outside of time. Perhaps we become aware of our age only at exceptional moments and most of the time we are ageless.
MILAN KUNDERA, Immortality
1 likes
---
One by one they were all becoming shades. Better pass boldly into that other world, in the full glory of some passion, than fade and wither dismally with age.
JAMES JOYCE, Dubliners
1 likes
---
I am all the ages I've ever been.
ANNE LAMOTT, Grace (Eventually): Thoughts on Faith
1 likes
---
Age is an issue of mind over matter. If you don't mind, it doesn't matter.
ANONYMOUS
1 likes
---
Men at forty
Learn to close softly
The doors to rooms they will not be
Coming back to.
DONALD JUSTICE, "Men at Forty"
1 likes
---
Age is but a comparison.
EDWARD COUNSEL, Maxims
0 likes
---
What is the worst of woes that wait on age? What stamps the wrinkle deeper on the brow? To view each loved one blotted from life's page, And be alone on earth, as I am now.
LORD BYRON, Childe Harold
0 likes
---
If the Fleeting World is but a long dream, it does not matter whether one is young or old.
BAI JUYI, "At the End of Spring"
0 likes
---
Age overtakes us all; Our temples first; then on o'er cheek and chin, Slowly and surely, creep the frosts of Time. Up and do somewhat, ere thy limbs are sere.
THEOCRITUS, "The Love of Thyonichus"
0 likes
---
Youth looks forward, for nothing is behind! Age backward, for nothing is before.
AMBROSE BIERCE, "Epigrams of a Cynic"
0 likes
---