AGGRESSION QUOTES
quotations about aggression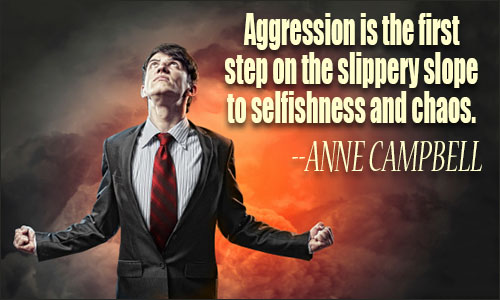 To control aggression without inflicting injury is the Art of Peace.
MORIHEI UESHIBA, The Art of Peace
9 likes
---
Aggression is the first step on the slippery slope to selfishness and chaos.
ANNE CAMPBELL, Men, Women, and Aggression
9 likes
---
Sooner or later all the people of the world will have to discover a way to live together in peace, and thereby transform this pending cosmic elegy into a creative psalm of brotherhood. If this is to be achieved, man must evolve for all human conflict a method which rejects revenge, aggression and retaliation. The foundation of such a method is love.
MARTIN LUTHER KING, JR., Nobel Prize acceptance speech, Dec. 10, 1964
7 likes
---
Aggression is an effective form of energy when focused on the right direction and shielded from all others.
JOHN DRISCOLL, The Sales Warrior Within
7 likes
---
Aggression is different from anger. Anger is an emotion; aggression is a behavior. There are better ways to deal with anger than behaving aggressively. Aggressive talk, gestures or behaviors belong to the old way of being. Once we tune in to a higher level of consciousness, aggression is as unnecessary as is the hand-held plow in modern day agriculture.
GWEN RANDALL-YOUNG, Growing Into Soul
6 likes
---
We are only just beginning to understand the power of love because we are just beginning to understand the weakness of force and aggression.
B. F. SKINNER, Walden Two
6 likes
---
Put your sword back into its place. For all who take the sword will perish by the sword.
MATTHEW 26:52
6 likes
---
Success only feeds the appetite of aggression.
LYNDON B. JOHNSON, press conference, Jul. 28, 1965
5 likes
---
Aggression is a biological response to a life-threatening situation. When there is an immediate threat to life, aggressive energy provides the power to do what needs to be done. Aggression in normal daily interactions is like activating a smoke alarm when there is no smoke. Actually, it is worse. The ringing alarm would be annoying, but it would do no harm. Aggression at best is annoying, and at worst, itself, becomes life threatening.
GWEN RANDALL-YOUNG, Growing Into Soul
5 likes
---
By reacting to aggression with aggression we lose the opportunity to spiritually benefit from the experience.
KYRIACOS C. MARKIDES, The Mountain of Silence
5 likes
---
Male aggression and lust are the energizing factors in culture. They are men's tools of survival in the pagan vastness of female nature.
CAMILLE PAGLIA, Sexual Personae: Art and Decadence from Nefertiti to Emily Dickinson
5 likes
---
Aggression is not, in and of itself, a bad thing. In many ways legitimate aggression contributes vitally to our lives. In aggression we find our drives for life, career, social contact, self-definition, and service.
DOUGLAS GILLETTE, Warrior Within
5 likes
---
Drive is considered aggression today; I knew it then as purpose.
BETTE DAVIS, attributed, Witty Words From Wise Women
4 likes
---
History teaches that wars begin when governments believe the price of aggression is cheap.
RONALD REAGAN, speech, Jan. 16, 1984
4 likes
---
Aggression unopposed becomes a contagious disease.
JIMMY CARTER, speech, Jan. 11, 1980
4 likes
---
Aggression is part of the masculine design, we are hardwired for it.... Little girls do not invent games where large numbers of people die, where bloodshed is a prerequisite for having fun. Hockey, for example, was not a feminine creation. Nor was boxing. A boy wants to attack something -- and so does a man, even if it's only a little white ball on a tee.
JOHN ELDREDGE, Wild at Heart
4 likes
---
The fact that bad is stronger than good is nowhere more apparent than in acts of violence and aggression. This principle is sometimes called the magnitude gap, referring to one important difference between the perpetrator and the victim: Almost inevitably, the victim loses more than the perpetrator gains. Aggression is thus not just a simple transfer or exchange; it lowers the total value available.
ROY F. BAUMEISTER & BRAD J. BUSHMAN, Social Psychology and Human Nature
4 likes
---
Aggression is a constructive energy at the service of development, differentiation, mastery, object relations, and the maintenance of a satisfactory balance between the self and the environment.
ANA-MARIA RIZZUTO, The Dynamics of Human Aggression
4 likes
---
If aggression is innate then all cultures should be equally aggressive, but this is obviously not the case.
SALLY GADSDON, Psychology and Sport
4 likes
---
Men are not gentle, friendly creatures wishing for love, who simply defend themselves if they are attacked, but ... a powerful measure of desire for aggression had to be reckoned as part of their instinctual endowment.
SIGMUND FREUD, Civilization and its Discontents
4 likes
---