AGRICULTURE QUOTES
quotations about agriculture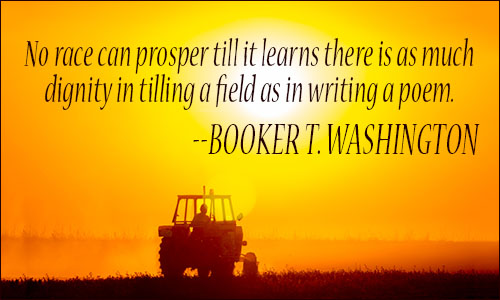 No race can prosper till it learns there is as much dignity in tilling a field as in writing a poem.
BOOKER T. WASHINGTON, Atlanta Exposition, Sep. 18, 1895
7 likes
---
Burn down your cities and leave our farms, and your cities will spring up again as if by magic; but destroy our farms and the grass will grow in the streets of every city in the country.
WILLIAM JENNINGS BRYAN, speech at Chicago Convention, Jul. 8, 1896
5 likes
---
Someday we shall look back on this dark era of agriculture and shake our heads. How could we have ever believed that it was a good idea to grow our food with poisons?
JANE GOODALL, Harvest for Hope: A Guide to Mindful Eating
4 likes
---
Agriculture was the first occupation of man, and as it embraces the whole earth, it is the foundation of all other industries.
E. W. STEWART, attributed, Day's Collacon
4 likes
---
Agriculture is the greatest and fundamentally the most important of our industries. The cities are but the branches of the tree of national life, the roots of which go deeply into the land. We all flourish or decline with the farmer.
BERNARD BARUCH, attributed, American Agriculture: A Brief History
3 likes
---
The farmer is the only man in our economy who buys everything at retail, sells everything at wholesale, and pays the freight both ways.
JOHN F. KENNEDY, attributed, Whispers from the Farm
2 likes
---
Nobody is qualified to become a statesman who is entirely ignorant of the problem of wheat.
SOCRATES, attributed, Wheat Farms of Victoria: A Sociological Survey
2 likes
---
Agriculture seems to be the first pursuit of civilized man. It enables him to escape from the life of the savage, and wandering shepherd, into that of social man, gathered into fixed communities and surrounding himself with the comforts and blessings of neighborhood, country, and home. It is agriculture alone, that fixes men in stationary dwellings, in villages, in towns, and cities, and enables the work of civilizations, in all its branches, to go on.
EDWARD EVERETT, address delivered at Brighton before the Massachusetts Agricultural Society, Oct. 16, 1833
2 likes
---
Agriculture is civilization.
E. EMMONS, attributed, Day's Collacon
2 likes
---
The farmers who succeed are the ones who are going to incorporate new technologies.
STAN BLADE, "Agriculture industry betting the farm on innovation to boost yields, profits", CBC News, February 10, 2016
2 likes
---
I know of no pursuit in which more real and important services can be rendered to any country than by improving its agriculture, its breed of useful animals, and other branches of a husbandman's cares.
GEORGE WASHINGTON, letter, Jul. 20, 1794
1 likes
---
For the sake of humanity it is devoutly to be wished that the manly employment of agriculture and the humanizing benefits of commerce would supersede the waste of war and the rage of conquest; and the swords might be turned into ploughshares, the spears into pruning-hooks, and as the Scripture expresses it, "the nations learn war no more."
GEORGE WASHINGTON, letter to the Marquis de Chastellux, Apr. 25, 1788
1 likes
---
The ultimate goal of farming is not the growing of crops, but the cultivation and perfection of human beings.
MASANOBU FUKUOKA, The One-Straw Revolution
1 likes
---
In undertaking farming we undertake a responsibility covering the whole life cycle. We can break it or keep it whole.
LORD NORTHBOURNE, Look to the Land
1 likes
---
Farming looks mighty easy when your plow is a pencil, and you're a thousand miles from the corn field.
DWIGHT D. EISENHOWER, speech in Peoria, Illinois, Sep. 25, 1956
1 likes
---
The first farmer was the first man, and all historic nobility rests on possession and use of land.
RALPH WALDO EMERSON, "Farming", Society and Solitude
1 likes
---
A fertile soil alone does not carry agriculture to perfection.
E. H. DERBY, "A Defence of Agriculture", Lessons in Modern Farming
1 likes
---
Agriculture is the archimedean lever which, though it does not move a world, tends to fill it with plenty, with moral health, and human happiness.
J. BUEL, attributed, Day's Collacon
1 likes
---
The New Agriculture is not a "way of life" followed by men in bib overalls -- it is a highly integrated profession practiced by professionals who apply modern business techniques, scientific knowledge and mechanical innovations to their operations.
EARL COKE, The New Agriculture
1 likes
---
When harvests are exuberant, joy and health follow in their train; but let delusive prosperity draw industry from agriculture; let an insiduous disease attack one of its important products; let an insect, or a parasite, fasten on a single esculent, and mark the effect upon commerce and human life. Upon such an event all business is deranged.
E. H. DERBY, "A Defence of Agriculture", Lessons in Modern Farming
1 likes
---