ALCOHOLISM QUOTES
quotations about alcoholism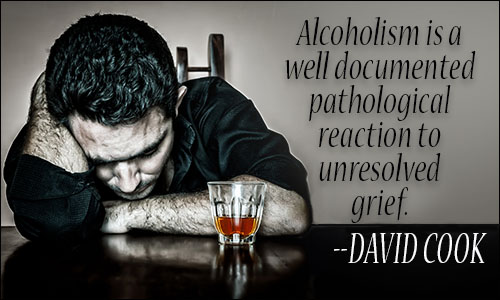 Alcohol addiction stunts the spiritual, emotional and mental growth of a person. For the alcoholic, they literally stop wanting to learn or advance themselves on any level other than the one they are already on. This is why many alcoholics are emotionally stunted and are unable to contain their emotions. Many alcoholics believe that once they are sober for a few months they are cured. Nothing could be further from the truth. An alcoholic is not cured just because they stopped drinking. Remember, "the drinking" for the alcoholic is only a symptom of an underlying problem within him or her. Total sobriety takes more than abstinence--it takes a spiritual and mental awareness through healing and growth. I have never yet read about, or heard of a case where an alcoholic stopped drinking, but then years later they were able to drink one or two drinks and stop.
ANGIE LEWIS, The Alcoholism Trap
213 likes
---
A man who drinks too much on occasion is still the same man as he was sober. An alcoholic, a real alcoholic, is not the same man at all. You can't predict anything about him for sure except that he will be someone you never met before.
RAYMOND CHANDLER, The Long Goodbye
200 likes
---
One key symptom of alcoholism is that the individual comes to need a drink for every mood--one to calm down, one to perk up, one to celebrate, one to deal with disappointment, and so on.
PHYLLIS A. BALCH, Prescription for Herbal Healing
176 likes
---
Alcoholism is a devastating, potentially fatal disease. The primary symptom of having it is telling everyone--including yourself--that you are not an alcoholic.
HERBERT L. GRAVITZ & JULIE D. BOWDEN, Recovery: A Guide for Adult Children of Alcoholics
135 likes
---
Talking to a drunk person was like talking to an extremely happy, severely brain-damaged three-year-old.
JOHN GREEN, Paper Towns
108 likes
---
Alcoholism is a well documented pathological reaction to unresolved grief.
DAVID COOK, Psychosocial Issues in the Treatment of Alcoholism
89 likes
---
Because alcohol is encouraged by our culture, we get the idea that it isn't dangerous. However, alcohol is the most potent and most toxic of the legal psychoactive drugs.
BEVERLY A. POTTER & SEBASTIAN ORFALI, Brain Boosters
76 likes
---
One of the most important facts to remember about alcoholism is its progression. Alcoholism begins in an early stage that looks nothing at all like a life-threatening disease, proceeds into a middle stage where problems begin to appear and intensify, and gradually advances into the late, degenerative stages of obvious physiological dependence, physical and psychological deterioration, and loss of control.
WILLIAM F. ASBURY, Beyond the Influence
70 likes
---
As an alcoholic, you will violate your standards quicker than you can lower them.
ROBIN WILLIAMS, Weapons of Self Destruction
68 likes
---
Alcohol is a make-you-stupid drug.
BEVERLY A. POTTER & SEBASTIAN ORFALI, Brain Boosters
65 likes
---
I felt empty and sad for years, and for a long, long time, alcohol worked. I'd drink, and all the sadness would go away. Not only did the sadness go away, but I was fantastic. I was beautiful, funny, I had a great figure, and I could do math. But at some point, the booze stopped working. That's when drinking started sucking. Every time I drank, I could feel pieces of me leaving. I continued to drink until there was nothing left. Just emptiness.
DINA KUCERA, Everything I Never Wanted to Be: A Memoir of Alcoholism and Addiction
62 likes
---
Wine hath drowned more men than the sea.
THOMAS FULLER
60 likes
---
The idea that somehow, someday he will control and enjoy his drinking is the great obsession of every abnormal drinker. The persistence of this illusion is astonishing. Many pursue it into the gates of insanity or death.
ALCOHOLICS ANONYMOUS, The Big Book
54 likes
---
Better sleep with a sober cannibal than a drunken Christian.
HERMAN MELVILLE, Moby Dick
42 likes
---
Alcohol ruined me financially and morally, broke my heart and the hearts of too many others. Even though it did this to me and it almost killed me and I haven't touched a drop of it in seventeen years, sometimes I wonder if I could get away with drinking some now. I totally subscribe to the notion that alcoholism is a mental illness because thinking like that is clearly insane.
CRAIG FERGUSON, American on Purpose: The Improbable Adventures of an Unlikely Patriot
41 likes
---
The first step toward recovery from alcoholism is the recognition that a problem exists. Once the problem drinker breaks through denial and admits to having a problem, a range of treatment options become available.
JEFFREY S. NEVID, Health in the New Millennium
36 likes
---
All excess is ill, but drunkenness is of the worst sort. It spoils health, dismounts the mind, and unmans men. It reveals secrets, is quarrelsome, lascivious, impudent, dangerous and mad. In fine, he that is drunk is not a man: because he is so long void of Reason, that distinguishes a Man from a Beast.
WILLIAM PENN, Some Fruits of Solitude
33 likes
---
In my lowest moments, the only reason I didn't commit suicide was that I knew I wouldn't be able to drink any more if I was dead.
ERIC CLAPTON, Clapton: The Autobiography
32 likes
---
Wine is a mocker, strong drink is raging: and whoever is deceived thereby is not wise.
PROVERBS 20:1
29 likes
---
When you go out with a drunk, you'll notice how a drunk fills your glass so he can empty his own. As long as you're drinking, drinking is okay. Two's company. Drinking is fun. If there's a bottle, even if your glass isn't empty, he'll pour a little in your glass before he fills his own.
CHUCK PALAHNIUK, Invisible Monsters
27 likes
---