MARTIN AMIS QUOTES
English novelist (1949- )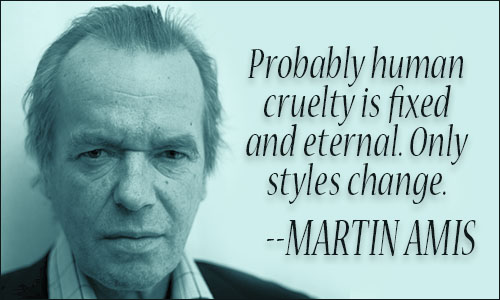 Every day, the dispensing of existence.... Its face is fierce and distant and ancient.
MARTIN AMIS, Time's Arrow
4 likes
---
You get the feeling that childhood does not last as long as it used to. Innocence gets harder to hold on to as the world gets older, as it accumulates more experience, more mileage and more blood on the tracks.
MARTIN AMIS, "Martin Amis Contemplates Evil", Smithsonian Magazine, Sep. 2012
4 likes
---
Someone watches over us when we write. Mother. Teacher. Shakespeare. God.
MARTIN AMIS, London Fields
3 likes
---
Life is made of fear. Some people eat fear soup three times a day. Some people eat fear soup all the meals there are. I eat it sometimes. When they bring me fear soup to eat, I try not to eat it, I try to send it back. But sometimes I'm too afraid to and have to eat it anyway.
MARTIN AMIS, Other People
3 likes
---
We all have names we don't know about.
MARTIN AMIS, The Information
3 likes
---
I would say that the writers I like and trust have at the base of their prose something called the English sentence. An awful lot of modern writing seems to me to be a depressed use of language. Once, I called it "vow-of-poverty prose." No, give me the king in his countinghouse. Give me Updike.
MARTIN AMIS, interview, The Paris Review, spring 1998
3 likes
---
Love is an abstract noun, something nebulous. And yet love turns out to be the only part of us that is solid, as the world turns upside down and the screen goes black. We can't tell if it will survive us. But we can be sure that it's the last thing to go.
MARTIN AMIS, The Second Plane
3 likes
---
Being inoffensive, and being offended, are now the twin addictions of the culture.
MARTIN AMIS, The Sunday Times, Mar. 17, 1996
2 likes
---
Probably human cruelty is fixed and eternal. Only styles change.
MARTIN AMIS, Time's Arrow
2 likes
---
My life looked good on paper -- where, in fact, almost all of it was being lived.
MARTIN AMIS, Experience
2 likes
---
Since it is no longer permissible to disparage any single faith or creed, let us start disparaging all of them. To be clear: an ideology is a belief system with an inadequate basis in reality; a religion is a belief system with no basis in reality whatever. Religious belief is without reason and without dignity, and its record is near-universally dreadful. It is straightforward -- and never mind, for now, about plagues and famines: if God existed, and if He cared for humankind, He would never have given us religion.
MARTIN AMIS, "The Voice of the Lonely Crowd", The Guardian, Jun. 1, 2002
2 likes
---
It's interesting when you're doing signing sessions with other writers and you look at the queues at each table and you can see definite human types gathering there.... My queue is always full of, you know, wild-eyed sleazebags and people who stare at me very intensely, as if I have some particular message for them. As if I must know that they've been reading me, that this dyad or symbiosis of reader and writer has been so intense that I must somehow know about it.
MARTIN AMIS, interview, The Paris Review, spring 1998
1 likes
---
In my experience of fights and fighting, it is invariably the aggressor who keeps getting everything wrong.
MARTIN AMIS, "Gore Vidal", The Moronic Inferno and Other Visits to America
1 likes
---
Oh Christ, the exhaustion of not knowing anything. It's so tiring and hard on the nerves. It really takes it out of you, not knowing anything. You're given comedy and miss all the jokes. Every hour you get weaker. Sometimes, as I sit alone in my flat in London and stare at the window, I think how dismal it is, how heavy, to watch the rain and not know why it falls.
MARTIN AMIS, Money: A Suicide Note
1 likes
---
Is there any good reason why we cannot extend our multi-cultural generosity to include another dimension? That of time. The past, too, is another country. Its ghosts may look strange and frightening and slightly misshapen in body and mind, but all the more reason then, to welcome them to our shores.
MARTIN AMIS, lecture at Harvard University, Jan. 30, 1997
1 likes
---
Time, the human dimension, which makes us everything we are.
MARTIN AMIS, Time's Arrow
1 likes
---
September 11 was a day of de-Enlightenment. Politics stood revealed as a veritable Walpurgis Night of the irrational. And such old, old stuff. The conflicts we now face or fear involve opposed geographical arenas, but also opposed centuries or even millennia. It is a landscape of ferocious anachronisms: nuclear jihad in the Indian subcontinent; the medieval agonism of Islam; the Bronze Age blunderings of the Middle East.
MARTIN AMIS, "The Voice of the Lonely Crowd", The Guardian, Jun. 1, 2002
1 likes
---
When you've lost all your play, guess what love becomes. Work. Work that gets harder every hour.
MARTIN AMIS, House of Meetings
1 likes
---
How incredibly avaricious the whole operation was, the way they made the Jews pay for their tickets in the railway cars to the death camps. Yeah, and the rates for a third-class ticket, one way. And half price for children.... It was a kind of exploration of evil. Just how bad can we get?
MARTIN AMIS, "Martin Amis Contemplates Evil", Smithsonian Magazine, Sep. 2012
1 likes
---
You want readers; you love the reader. A great part of writing is hoping to make things as nice as possible for the reader -- be a good host, have them put their feet up by the fire, pull up a chair, get out a good wine. The writer who loves the reader always feels that; Nabokov would always give you his best chair. But there have been one or two writers who didn't give a shit about the reader, like Joyce -- partly because he had patronage, he didn't need the reader to earn a living. And Henry James, who went off the reader in a huge way, which is why those last few novels became impenetrable. If you look at early James, he's almost middlebrow, then you get The Ambassadors, this incredibly convoluted thing. Joyce and James became bad hosts: If you wandered into their house you wouldn't be welcomed. You'd stagger around while they were in the kitchen making some vile concoction which might amuse you, but it would taste disgusting and eccentric.
MARTIN AMIS, "The Past Gets Bigger and the Future Shrinks", Los Angeles Review of Books, Jul. 21, 2013
1 likes
---