SHERWOOD ANDERSON QUOTES
American novelist & short story writer (1876-1941)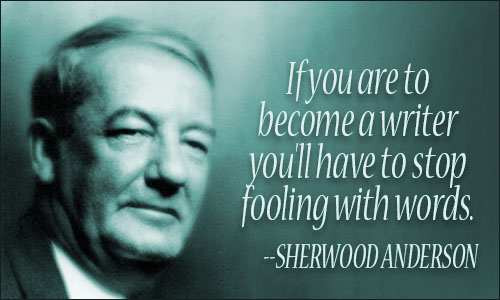 People who have few possessions cling tightly to those they have. That is one of the facts that make life so discouraging.
SHERWOOD ANDERSON, "The Egg", The Triumph of the Egg
4 likes
---
It has long been my desire to be a little worm in the fair apple of Progress.
SHERWOOD ANDERSON, Sherwood Anderson's Notebook
4 likes
---
The lives of people are like young trees in a forest. They are being choked by climbing vines. The vines are old thoughts and beliefs planted by dead men.
SHERWOOD ANDERSON, "Seeds", The Triumph of the Egg
3 likes
---
There is a time in the life of every boy when he for the first time takes the backward view of life. Perhaps that is the moment when he crosses the line into manhood. The boy is walking through the street of his town. He is thinking of the future and of the figure he will cut in the world. Ambitions and regrets awake within him. Suddenly something happens; he stops under a tree and waits as for a voice calling his name. Ghosts of old things creep into his consciousness; the voices outside of himself whisper a message concerning the limitations of life. From being quite sure of himself and his future he becomes not at all sure. If he be an imaginative boy a door is torn open and for the first time he looks out upon the world, seeing, as though they marched in procession before him, the countless figures of men who before his time have come out of nothingness into the world, lived their lives and again disappeared into nothingness. The sadness of sophistication has come to the boy. With a little gasp he sees himself as merely a leaf blown by the wind through the streets of his village. He knows that in spite of all the stout talk of his fellows he must live and die in uncertainty, a thing blown by the winds, a thing destined like corn to wilt in the sun.
SHERWOOD ANDERSON, "Sophistication", Winesburg, Ohio
3 likes
---
I am a lover and have not found my thing to love. That is a big point if you know enough to realize what I mean. It makes my destruction inevitable, you see. There are few who understand that.
SHERWOOD ANDERSON, "Tandy", Winesburg, Ohio
3 likes
---
The life of reality is confused, disorderly, almost always without apparent purpose, whereas in the artist's imaginative life there is purpose. There is determination to give the tale, the song, the painting, form -- to make it true and real to the theme, not to life.
SHERWOOD ANDERSON, "A Note on Realism", The Literary Review, Oct. 25, 1924
2 likes
---
There is within every human being a deep well of thinking over which a heavy iron lid is kept clamped.
SHERWOOD ANDERSON, letter to his publisher, Ben Huebsch, New Essays on Winesburg, Ohio
2 likes
---
There is a note that comes into the human voice by which you may know real weariness. It comes when one has been trying with all his heart and soul to think his way along some difficult road of thought. Of a sudden he finds himself unable to go on. Something within him stops. A tiny explosion takes place. He bursts into words and talks, perhaps foolishly. Little side currents of his nature he didn't know were there run out and get themselves expressed. It is at such times that a man boasts, uses big words, makes a fool of himself in general.
SHERWOOD ANDERSON, "Seeds", The Triumph of the Egg
1 likes
---
The machines men are so intent on making have carried them very far from the old sweet things.
SHERWOOD ANDERSON, Poor White
1 likes
---
Everyone in the world is Christ and they are all crucified.
SHERWOOD ANDERSON, "The Philosopher", Winesburg, Ohio
1 likes
---
I don't know what I shall do. I just want to go away and look at people and think.
SHERWOOD ANDERSON, "Mother", Winesburg, Ohio
1 likes
---
The eighteen years he has lived seem but a moment, a breathing space in the long march of humanity. Already he hears death calling. With all his heart he wants to come close to some other human, touch someone with his hands, be touched by the hand of another. If he prefers that the other be a woman, that is because he believes that a woman will be gentle, that she will understand. He wants, most of all, understanding.
SHERWOOD ANDERSON, "Sophistication", Winesburg, Ohio
1 likes
---
As time passed and he grew to know people better, he began to think of himself as an extraordinary man, one set apart from his fellows. He wanted terribly to make his life a thing of great importance, and as he looked about at his fellow men and saw how like clods they lived it seemed to him that he could not bear to become also such a clod.
SHERWOOD ANDERSON, "Godliness", Winesburg, Ohio
1 likes
---
In youth there are always two forces fighting in people. The warm unthinking little animal struggles against the thing that reflects and remembers.
SHERWOOD ANDERSON, "Sophistication", Winesburg, Ohio
1 likes
---
Sometimes I think we Americans are the loneliest people in the world. To be sure, we hunger for the power of affection, the self-acceptance that gives life. It is the oldest and strongest hunger in the world. But hungering is not enough.
SHERWOOD ANDERSON, Memoirs
1 likes
---
Love is like a wind stirring the grass beneath trees on a black night.... You must not try to be definite and sure about it and to live beneath the trees, where soft night winds blow, the long hot day of disappointment comes swiftly and the gritty dust from passing wagons gathers upon lips inflamed and made tender by kisses.
SHERWOOD ANDERSON, "Death", Winesburg, Ohio
1 likes
---
I wanted to run away from everything but I wanted to run towards something too.
SHERWOOD ANDERSON, Winesburg, Ohio
1 likes
---
In Middle America men are awakening. Like awkward and untrained boys we begin to turn toward maturity and with our awakening we hunger for song. But in our towns and fields there are few memory haunted places. Here we stand in roaring city streets, on steaming coal heaps, in the shadow of factories from which come only the grinding roar of machines. We do not sing but mutter in the darkness. Our lips are cracked with dust and with the heat of furnaces. We but mutter and feel our way toward the promise of song.
SHERWOOD ANDERSON, foreward, Mid-American Chants
1 likes
---
I am pregnant with song. My body aches but do not betray me. I will sing songs and hide them away. I will tear them into bits and throw them in the street. The streets of my city are full of dark holes. I will hide my songs in the holes of the streets.
SHERWOOD ANDERSON, "The Cornfields", Mid-American Chants
1 likes
---
Into the cities my people had gathered. They had become dizzy with words. Words had choked them. They could not breathe.
SHERWOOD ANDERSON, "The Cornfields", Mid-American Chants
1 likes
---