ANGEL QUOTES
quotations about angels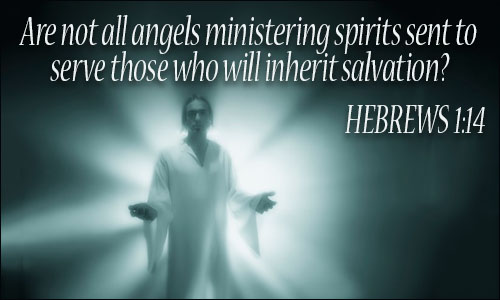 When angels visit us, we do not hear the rustle of wings, nor feel the feathery touch of the breast of a dove; but we know their presence by the love they create in our hearts.
MARY BAKER EDDY, Poems by Mary Baker Eddy
35 likes
---
Do not forget to entertain strangers, for by so doing some people have entertained angels without knowing it.
HEBREWS 13:2
30 likes
---
In the arms of an angel / Fly away from here / From this dark cold hotel room / And the endlessness that you fear / You are pulled from the wreckage / Of your silent reverie / You're in the arms of the angel / May you find some comfort there.
SARAH MCLACHLAN, "Angel"
28 likes
---
How wonderful it must be to speak the language of the angels, with no words for hate and a million words for love!
EILEEN ELIAS FREEMAN, The Angels' Little Instruction Book: Learning from God's Heavenly Messengers
23 likes
---
A long time ago, I took a walk down a street in Harlem in New York City. I came upon a man who asked me for a dollar. He had asked a few other people before me, but they only passed him by without glancing his way. I stopped and handed the man some money. As I began to turn away, he reached out and shook my hand. He looked me in the eyes and said, "I will bless you." Now, I'm not saying that was God Himself. But how do we know that it wasn't someone working for him, walking around in disguise, just to see what we would do?
MUHAMMAD ALI, The Soul of a Butterfly
21 likes
---
I believe in angels, something good in everything I see.
BENNY ANDERSSON & BJORN ULVAEUS, "I Have a Dream", Voulez-Vous
18 likes
---
Angels can fly because they carry no burdens.
EILEEN ELIAS FREEMAN, The Angels' Little Instruction Book: Learning from God's Heavenly Messengers
13 likes
---
She believed in angels, and, because she believed, they existed.
CLARICE LISPECTOR, The Hour of the Star
12 likes
---
I saw an angel close by me, on my left side, in bodily form. This I am not accustomed to see, unless very rarely. Though I have visions of angels frequently, yet I see them only by an intellectual vision, such as I have spoken of before. It was our Lord's will that in this vision I should see the angel in this wise. He was not large, but small of stature, and most beautiful -- his face burning, as if he were one of the highest angels, who seem to be all of fire: they must be those whom we call cherubim. Their names they never tell me; but I see very well that there is in heaven so great a difference between one angel and another, and between these and the others, that I cannot explain it.
SAINT TERESA OF AVILA, The Life of St. Teresa of Jesus
12 likes
---
Funny thing, every time an angel appeared to someone in the Bible, the first thing he'd say was, "Fear not." ... I guess they were pretty spectacular.
GILBERT MORRIS, The Angels of Bastogne
10 likes
---
We be light, we be life, we be fire! We sing electric flame, we rumble underground wind, we dance heaven! Come be we and be free!
KATE GRIFFIN, A Madness of Angels
9 likes
---
Angels worship God with purity and love; men, with fear and trembling.
JAMES ELLIS, attributed, Day's Collacon
9 likes
---
He will give his angels charge of you to guard you in all your ways. On their hands they will bear you up, lest you dash your foot against a stone.
PSALMS 91:11-12
8 likes
---
Are not all angels ministering spirits sent to serve those who will inherit salvation?
HEBREWS 1:14
8 likes
---
The world is like an enormous set of scales. When evil begins to outweigh good, angels cram themselves in on the lighter side. You can't see them, but there they are, restoring the balance.
IVAN KLIMA, Waiting for the Dark, Waiting for the Light
8 likes
---
Sweet souls around us watch us still, press nearer to our side; into our thoughts, into our prayers, with gentle helpings glide.
HARRIET BEECHER STOWE, The Other World
8 likes
---
Sometimes angels are just ordinary people that help us believe in miracles again.
ANONYMOUS
7 likes
---
The angels did not merely sin and lose heaven, but they passed beyond all other beings in sin and made themselves fit denizens for hell.
CHARLES HADDON SPURGEON, Spurgeon's Sermons on Angels
6 likes
---
Good night, sweet prince, and flights of angels sing thee to thy rest!
WILLIAM SHAKESPEARE, Hamlet
6 likes
---
Six wings he wore, to shade his lineaments divine; the pair that clad each shoulder broad, came mantling o'er his breast with regal ornament; the middle pair girt like a starry zone his waist, and round skirted his loins and thighs with downy gold, and colours dipp'd in heaven; the third his feet shadow'd from either heel with feather'd mail, sky-tinctur'd grain.
JOHN MILTON, Paradise Lost
6 likes
---