ANIMAL QUOTES
quotations about animals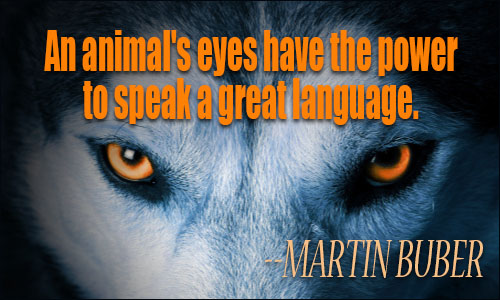 Animals are like little angels sent to earth to teach us how to love. They don't get angry or play silly games. They are always there for us.
WHITNEY MANDEL, Orange Coast Magazine, Feb. 2006
309 likes
---
Some people talk to animals. Not many listen though. That's the problem.
A. A. MILNE, Winnie-the-Pooh
217 likes
---
Animals are not property or "things" but rather living organisms, subjects of a life, who are worthy of our compassion, respect, friendship, and support.
MARC BEKOFF, Minding Animals
205 likes
---
The greatness of a nation and its moral progress can be judged by the way its animals are treated.
MAHATMA GANDHI, attributed, The Welfare of Animals: The Silent Majority
142 likes
---
If all the beasts were gone, men would die from a great loneliness of spirit, for whatever happens to the beasts also happens to the man. All things are connected.
CHIEF SEATTLE OF THE SUWAMISH TRIBE, letter to President Franklin Pierce
88 likes
---
Until one has loved an animal, a part of one's soul remains unawakened.
ANATOLE FRANCE, Works of Anatole France
85 likes
---
Animals are like people because people are animals.
BARBARA T. GATES, Kindred Nature
81 likes
---
Animals are God's creatures. He surrounds them with his providential care. By their mere existence they bless him and give him glory. Thus men owe them kindness.
CATHOLIC CHURCH, Catechism
60 likes
---
Animals are more than ever a test of our character, of mankind's capacity for empathy and for decent, honorable conduct and faithful stewardship. We are called to treat them with kindness, not because they have rights or power or some claim to equality, but in a sense because they don't; because they all stand unequal and powerless before us. Animals are so easily overlooked, their interests so easily brushed aside. Whenever we humans enter their world, from our farms to the local animal shelter to the African savanna, we enter as lords of the earth bearing strange powers of terror and mercy alike.
MATTHEW SCULLY, Dominion
57 likes
---
Animals are, like us, endangered species on an endangered planet, and we are the ones who are endangering them, it, and ourselves. They are innocent sufferers in a hell of our making.
JEFFREY MOUSSAIEFF MASSON & SUSAN MCCARTHY, When Elephants Weep
45 likes
---
Only animals were not expelled from Paradise.
MILAN KUNDERA, The Unbearable Lightness of Being
39 likes
---
Animals are such agreeable friends -- they ask no questions, they pass no criticisms.
GEORGE ELIOT, Mr. Gilfil's Love Story
38 likes
---
Such short little lives our pets have to spend with us, and they spend most of it waiting for us to come home each day. It is amazing how much love and laughter they bring into our lives and even how much closer we become with each other because of them.
JOHN GROGAN, Marley and Me: Life and Love with the World's Worst Dog
37 likes
---
Four legs good, two legs bad.
GEORGE ORWELL, Animal Farm
36 likes
---
I think having an animal in your life makes you a better human.
RACHEL RAY, OK Magazine, Nov. 25, 2013
35 likes
---
The animals of the world exist for their own reasons. They were not made for humans any more than black people were made for white, or women created for men.
ALICE WALKER, attributed, The No-Nonsense Guide to Animal Rights
33 likes
---
I ask people why they have deer heads on their walls. They always say because it's such a beautiful animal. There you go. I think my mother is attractive, but I have photographs of her.
ELLEN DEGENERES, attributed, Women Know Everything!
28 likes
---
And God said, "Let us make mankind in our image, in our likeness, so that they may rule over the fish in the sea and the birds in the sky, over the livestock and all the wild animals, and over all the creatures that move along the ground.
GENESIS 1:26
24 likes
---
Our intuitions on animals are incoherent; the same people who condemn branding of cattle may dock the ears and tails of their dogs. The law is of no help--in the eyes of the law animals are property, either private property or community property. The Animal Welfare Act, reflecting irrational social prejudice, does not consider rats, mice, or domestic farm animals to be animals; for the purposes of the act, a dead dog used in research is an animal, a live mouse is not. And traditional moral philosophy is of no help either, since for most of its history it was virtually mute on the subject of our obligations to other creatures. More has been written on this subject, in fact, in the past ten years than in the previous three thousand.
RICHARD SHERLOCK & JOHN D. MORREY, Ethical Issues in Biotechnology
23 likes
---
Most animals are like the unfortunate Gregor Samsa after metamorphosis. They are Kafka-creatures, organisms with rich thoughts and emotions but no system for translating what they think into something that they can express to others.
MARC D. HAUSER, Wild Minds
21 likes
---