ANTS QUOTES
quotations about ants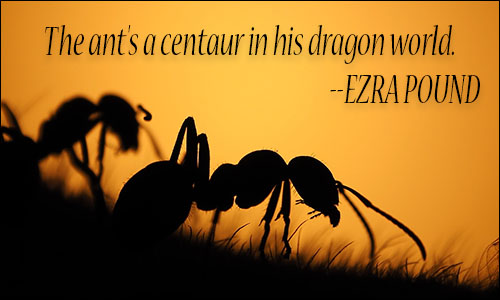 Ants are not only efficient, they are hard-working and thrifty, qualities which have always seemed like good reasons for seeing them as virtuous role models.
WILLIAM MORTON WHEELER, Ants
10 likes
---
The greatest enemies of ants are other ants, just as the greatest enemies of men are other men.
AUGUSTE FOREL, attributed, Ants: Their Structure, Development and Behavior
8 likes
---
The tiny ant, a creature of great industry, drags with its mouth whatever it can, and adds it to the heap which she is piling up, not unaware nor careless of the future.
HORACE, Satires
7 likes
---
All the best work is done the way that ants do things -- by tiny but untiring and regular additions.
LAFCADIO HEARN
5 likes
---
The ant is knowing and wise, but he doesn't know enough to take a vacation. The worshipper of energy is too physically energetic to see that he cannot explore certain higher fields until he is still.
CLARENCE DAY, This Simian World
5 likes
---
One day when I went out to my wood-pile, or rather my pile of stumps, I observed two large ants, the one red, the other much larger, nearly half an inch long, and black, fiercely contending with one another. Having once got hold they never let go, but struggled and wrestled and rolled on the chips incessantly. Looking farther, I was surprised to find that the chips were covered with such combatants, that it was not a duellum, but a bellum, a war between two races of ants, the red always pitted against the black, and frequently two red ones to one black. The legions of these Myrmidons covered all the hills and vales in my wood-yard, and the ground was already strewn with the dead and dying, both red and black. It was the only battle which I have ever witnessed, the only battle-field I ever trod while the battle was raging; internecine war; the red republicans on the one hand, and the black imperialists on the other. On every side they were engaged in deadly combat, yet without any noise that I could hear, and human soldiers never fought so resolutely.
HENRY DAVID THOREAU, Walden
4 likes
---
The ant's a centaur in his dragon world.
EZRA POUND, The Pisan Cantos
4 likes
---
Ant 1: So, uh, do you ever worry that your itsy little neck is just going to snap under the weight of your head?
Ant 2: Stop asking me that. You ask me that, like, every five minutes.
Ant 1: Sometimes I notice my antennae out of the corner of my eye and I'm all, like: AHH! Something is on me! Get it off! Get it off!
Ant 2: Yeah, the antennae again. Listen, I just remembered, I have to go walk around aimlessly now.
JIM BENTON, Okay, So Maybe I Do Have Superpowers
4 likes
---
What is it about the ant way of life that has stood the test of time so well? All ants belong to extended families, and carry their prey home to share. Unselfishness is the rule. Everything they do is for their colony's good.
BILL MASON, "Little Creatures Who Run the World", NOVA, Aug. 12, 1997
3 likes
---
Still we live meanly, like ants ... our life is frittered away by detail.
HENRY DAVID THOREAU, Walden
3 likes
---
Ants are so much like human beings as to be an embarrassment. They farm fungi, raise aphids as livestock, launch armies into wars, use chemical sprays to alarm and confuse enemies, capture slaves. The families of weaver ants engage in child labor, holding their larvae like shuttles to spin out the thread that sews the leaves together for their fungus gardens. They exchange information ceaselessly. They do everything but watch television.
LEWIS THOMAS, A Long Line of Cells: Collected Essays
2 likes
---
Only two great groups of animals, men and ants, indulge in highly organized mass warfare--warfare on so wide a scale that the geographic configuration of the earth becomes a factor in their operations.
CHARLES H. MASKINS, American Thought, 1947
2 likes
---
Life is priceless even to an ant.
XIAOBO LIU, June Fourth Elegies
2 likes
---
Oh, ants, my sisters, good old honeydew-seekers! From close up you are sticky and shiny and gristly; and your nymphs have parasitic red mites stuck to them. You are too intent upon your chewing and gathering to listen to me, but I tell you that despite my warm feelings I really do not like you, and I cannot feel sorry for you in any way because there are too many of you and you are not cute at all. You eat too much of my forests; you are a rebellious tribe, and I will destroy you; I will poison your nests with sweet-smelling traps.
WILLIAM T. VOLLMANN, You Bright and Risen Angels
2 likes
---
Forbear thou great good husband, little ant:
A little respite from thy flood of sweat;
Thou, thine own horse and cart under this plant
Thy spacious tent, fan thy prodigious heat;
Down with thy double load of that one grain;
It is a granarie for all thy train.
RICHARD LOVELACE, The Ant
2 likes
---
Since time immemorial, human beings have been fascinated, amazed, intrigued, and captivated by ants. And yet, at first glance, there is nothing particularly attractive about the tiny creatures. Unlike butterflies, they don't have wings with vivid colour patterns; they cannot boast the iridescent wing-cases seen on many beetles. Nor do they produce things which human beings like to eat or wear, such as honey or silk. They don't even chirp or sing like crickets or cicadas; and, unlike bees, they never go in for dancing. They do, however, have other characteristics which, in their way, are much more remarkable. For one thing, their social arrangements are quite extraordinary, almost unique among living creatures, and have often been compared to human society.
LAURENT KELLER & ELISABETH GORDON, The Lives of Ants
2 likes
---
It wont be long now it wont be long
man is making deserts of the earth
it wont be long now
before man will have used it up
so that nothing but ants
and centipedes and scorpions
can find a living on it.
DON MARQUIS, Archy Does His Part
2 likes
---
Many ants kill a camel.
TURKISH PROVERB
2 likes
---
We know of no behavior in ants or any other social insects that can be construed as play.
BERT HOLLDOBLER, The Ants
2 likes
---
So, the ant way of life is very ancient and very successful. As far as human beings are concerned, we've been around for only one million years--too soon be sure.
EDWARD O. WILSON, "Little Creatures Who Run the World", NOVA, Aug. 12, 1997
2 likes
---