APOCALYPSE QUOTES
quotations about the Apocalypse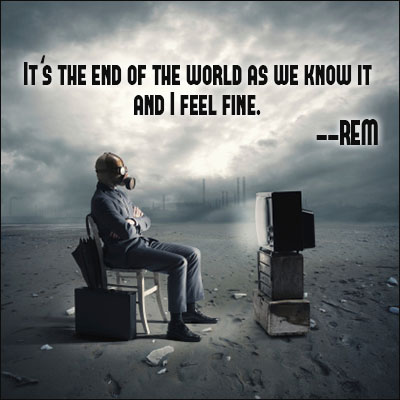 Apocalypse has come and gone. We're just grubbing in the ashes.
SAMUEL R. DELANY, Dhalgren
9 likes
---
Some of his disciples were remarking about how the temple was adorned with beautiful stones and with gifts dedicated to God. But Jesus said, "As for what you see here, the time will come when not one stone will be left on another; every one of them will be thrown down." "Teacher," they asked, "when will these things happen? And what will be the sign that they are about to take place?" He replied: "Watch out that you are not deceived. For many will come in my name, claiming, 'I am he,' and, 'The time is near.' Do not follow them. When you hear of wars and revolutions, do not be frightened. These things must happen first, but the end will not come right away." Then he said to them: "Nation will rise against nation, and kingdom against kingdom. There will be great earthquakes, famines and pestilences in various places, and fearful events and great signs from heaven. But before all this, they will lay hands on you and persecute you. They will deliver you to synagogues and prisons, and you will be brought before kings and governors, and all on account of my name. This will result in your being witnesses to them. But make up your mind not to worry beforehand how you will defend yourselves. For I will give you words and wisdom that none of your adversaries will be able to resist or contradict. You will be betrayed even by parents, brothers, relatives and friends, and they will put some of you to death. All men will hate you because of me. But not a hair of your head will perish. By standing firm you will gain life. When you see Jerusalem being surrounded by armies, you will know that its desolation is near. Then let those who are in Judea flee to the mountains, let those in the city get out, and let those in the country not enter the city. For this is the time of punishment in fulfillment of all that has been written. How dreadful it will be in those days for pregnant women and nursing mothers! There will be great distress in the land and wrath against this people. They will fall by the sword and will be taken as prisoners to all the nations. Jerusalem will be trampled on by the Gentiles until the times of the Gentiles are fulfilled. There will be signs in the sun, moon and stars. On the earth, nations will be in anguish and perplexity at the roaring and tossing of the sea. Men will faint from terror, apprehensive of what is coming on the world, for the heavenly bodies will be shaken. At that time they will see the Son of Man coming in a cloud with power and great glory. When these things begin to take place, stand up and lift up your heads, because your redemption is drawing near."
LUKE 21:5-28
8 likes
---
It's the end of the world as we know it and I feel fine.
R.E.M., "It's the End of the World As We Know It"
8 likes
---
Don't blame yourself. The apocalypse wasn't your fault. Actually, it was just as much your fault as it was anyone else's. Come to think of it, if you're an American, it was probably about 80-90 percent more your fault than the average human. But don't let that get you down. It wasn't exclusively your fault. Unless you're the president. Then it might be your fault. But you'll have plenty of interns to tell you that it wasn't, so you'll be fine.
MEGHANN MARCO, Field Guide to the Apocalypse
7 likes
---
This is the way the world ends
Not with a bang but a whimper.
T. S. ELIOT, The Hollow Men
7 likes
---
If the Apocalypse comes, beep me.
BUFFY, "Never Kill a Boy on the First Date", Buffy the Vampire Slayer
5 likes
---
There's no big apocalypse. Just an endless procession of little ones.
NEIL GAIMAN, Signal to Noise
5 likes
---
And after these things I saw four angels standing on the four corners of the earth, holding the four winds of the earth, that the wind should not blow on the earth, nor on the sea, nor on any tree.
REVELATIONS 7:1
5 likes
---
Wild, dark times are rumbling toward us, and the prophet who wishes to write a new apocalypse will have to invent entirely new beasts, and beasts so terrible that the ancient animal symbols of St. John will seem like cooing doves and cupids in comparison.
HEINRICH HEINE, "Lutetia; or, Paris", Augsberg Gazette, 1842
4 likes
---
And I saw another angel ascending from the east, having the seal of the living God: and he cried with a loud voice to the four angels, to whom it was given to hurt the earth and the sea, saying, Hurt not the earth, neither the sea, nor the trees, till we have sealed the servants of our God in their foreheads.
REVELATIONS 7:2-3
4 likes
---
There's been rumors of war and wars that have been
The meaning of life has been lost in the wind
And some people thinkin' that the end is close by
'Stead of learnin' to live they are learnin' to die
BOB DYLAN, "Let Me Die In My Footsteps"
4 likes
---
Maybe it's ALWAYS the end of the world. Maybe you're alive for a while, and then you realize you're going to die, and that's such an insane thing to comprehend, you look around for answers and the only answer is that the world must die with you.
JESS WALTER, We Live in Water: Stories
4 likes
---
The apocalypse is coming, that's the one thing I like about George Bush, I really think he can get us into the ... apocalypse, like the BIBLICAL ... I really think he believes that he'll be the guy in the white hat. I think he's read the Stephen King novel The Stand a couple times, and he really thinks there's a dark man in the desert somewhere and he's gonna fight him or something.
PATTON OSWALT, stand-up routine
3 likes
---
Don't wake me for the end of the world unless it has very good special effects.
ROGER ZELAZNY, Prince of Chaos
3 likes
---
The year 1999, seventh month, from the sky will come a great King of Terror: to bring back to life the great King of the Mongols, before and after Mars to reign by good luck. The present time together with the past will be judged by the great Joker: the world too late will be tired of him, and through the clergy oath-taker disloyal. The year of the great seventh number accomplished, it will appear at the time of the games of slaughter: not far from the great millenial age, when the buried will go out from their tombs.
NOSTRADAMUS, The Prophecies of Nostradamus
3 likes
---
My Zombie apocalypse plan is simple but effective; I fully intend to die in the very first wave.
GRAHAM PARKE, Unspent Time
3 likes
---
Hardly has the universe stretched its wings to span
When it gathers to egg once more.
J. ALEKSANDR WOOTTON, Forgetting: Impressions From the Millennial Borderland
3 likes
---
What's going to happen is, very soon, we're going to run out of petroleum, and everything depends on petroleum. And there go the school buses. There go the fire engines. The food trucks will come to a halt. This is the end of the world.
KURT VONNEGUT, JR., Rolling Stone, Aug. 24, 2006
2 likes
---
What about your apocalypse then? Well, the universe is a leaf on a time-tree, and come autumn it's going to shrivel and fall off into hell.
CHINA MIEVILLE, Kraken
2 likes
---
It was the hubris of each generation to think this anew, to think that their time was special, that all things would come to an end with them.
HUGH HOWEY, Shift
2 likes
---