APPEARANCES QUOTES
quotations about appearances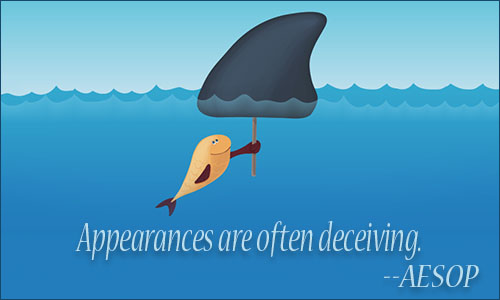 So may the outward shows be least themselves:
The world is still deceived with ornament.
WILLIAM SHAKESPEARE, The Merchant of Venice
3 likes
---
Take nothing on its looks; take everything on evidence. There's no better rule.
CHARLES DICKENS, Great Expectations
2 likes
---
Appearances are deceitful, I know, but so long as they are, there's nothing like having them deceive for us instead of against us.
GEORGE HORACE LORIMER, Letters from a Self-Made Merchant to His Son
2 likes
---
The fear of appearances is the first symptom of impotence.
FYODOR DOSTOEVSKY, Crime and Punishment
2 likes
---
All appearances are initially classed as real. Any appearance found self-contradictory is (deductively) illusory, and its contradictory is consequently self-evident and (deductively) real.
AVI SION, Logical Philosophy: A Compendium
2 likes
---
Appearances can be deceiving.
AMERICAN PROVERB
2 likes
---
Things do not pass for what they are, but for what they seem. Most things are judged by their jackets.
BALTASAR GRACIAN, attributed, Quote Unquote
2 likes
---
For me, it is as though at every moment the actual world had completely lost its actuality. As though there was nothing there; as though there were no foundations for anything or as though it escaped us. Only one thing, however, is vividly present: the constant tearing of the veil of appearances; the constant destruction of everything in construction. Nothing holds together, everything falls apart.
EUGENE IONESCO, Notes and Counter-Notes
1 likes
---
Things are seldom what they seem,
Skim milk masquerades as cream.
W. S. GILBERT, H.M.S. Pinafore
1 likes
---
Be the thing first, and you will grow to resemble it.
LIAM PERRIN, Sir Thomas the Hesitant and the Table of Less Valued Knights
1 likes
---
But above all, in order to be, never try to seem.
ALBERT CAMUS, Notebooks, 1935-1951
1 likes
---
The vulgar herd catches at the gross apparent fact, but the man of insight knows what lies on the surfaces does lie.
ISRAEL ZANGWILL, The Big Bow Mystery
1 likes
---
You have to look at a thing long enough for it to really show itself to you.
KATE MILFORD, Shadowhunters and Downworlders
1 likes
---
In all aspects of life, we take on a part and an appearance to seem to be what we wish to be--and thus the world is merely composed of actors.
FRANCOIS LA ROCHEFOUCAULD, Reflections; Or, Sentences and Moral Maxims
1 likes
---
To judge the appearances we receive of things, we should need a judicatory instrument; to verify this instrument, we should need a demonstration; to rectify this demonstration, we should need an instrument: so here we are arguing in a circle. Seeing the senses cannot decide our dispute, being themselves full of uncertainty, we must have recourse to Reason; there is no reason but must be built upon another reason, so here we are retreating backwards to all eternity.
MICHEL DE MONTAIGNE, "Apology for Raimund Sebond"
0 likes
---
Appearances are often deceiving.
AESOP, Fables
0 likes
---
Appearances to the mind are of four kinds. Things either are what they appear to be; or they neither are, nor appear to be; or they are, and do not appear to be; or they are not, and yet appear to be. Rightly to aim in all these cases is the wise man's task.
EPICTETUS, Discourses
0 likes
---
Our reason is always disappointed by the inconstancy of appearances.
BLAISE PASCAL, Pensees
0 likes
---
The impossible could not have happened, therefore the impossible must be possible in spite of appearances.
AGATHA CHRISTIE, Murder on the Orient Express
0 likes
---
If we don't want to define ourselves by things as superficial as our appearances, we're stuck with the revolting alternative of being judged by our actions.
ELLEN DEGENERES, My Point ... And I Do Have One
0 likes
---