ARCHITECTURE QUOTES
quotations about architecture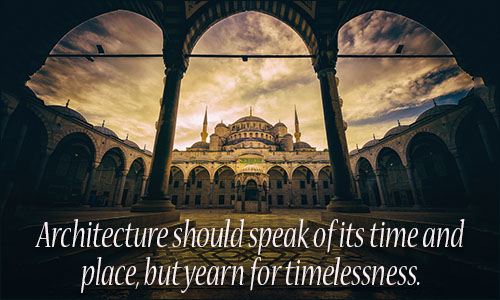 We shape our buildings, and afterwards our buildings shape us.
WINSTON CHURCHILL, speech to the House of Commons, Oct. 28, 1943
6 likes
---
Architecture should speak of its time and place, but yearn for timelessness.
FRANK GEHRY, attributed, The Quotable Intellectual
5 likes
---
Defaced ruins of architecture and statuary, like the wrinkles of decrepitude of a once beautiful woman, only make one regret that one did not see them when they were enchanting.
HORACE WALPOLE, Horace Walpole's Miscellany
4 likes
---
The most beautiful house in the world is the one that you build for yourself.
WITOLD RYBCZYNSKI, The Most Beautiful House in the World
4 likes
---
A house is a machine for living in.
LE CORBUSIER, attributed, Architectural Digest
4 likes
---
Architecture wrote the history of the epochs and gave them their names.
LUDWIG MIES VAN DER ROHE, speech delivered to the Illinois Institute of Technology in Chicago, 1950
4 likes
---
I call architecture frozen music.
JOHANN WOLFGANG VON GOETHE, letter to Johann Peter Eckermann, Mar. 23, 1829
3 likes
---
All architecture is great architecture after sunset.
G.K. CHESTERTON, "The Giant", Tremendous Trifles
3 likes
---
If there's going to be another movement, another direction in architecture, it has to engage people differently. Other than saying, here, look at this, isn't this amazing? It has to interactively involve them other than as spectators ... it has to engage them as creators.
LEBBEUS WOODS, "Subtopia Meets Lebbeus Woods", Subtopia, 2007
3 likes
---
The architect
Built his great heart into these sculptured stones,
And with him toiled his children, and their lives
Were builded, with his own, into the walls,
As offerings unto God.
HENRY WADSWORTH LONGFELLOW, Christus: The Golden Legend
3 likes
---
The architects who benefit us most may be those generous enough to lay aside their claims to genius in order to devote themselves to assembling graceful but predominantly unoriginal boxes.
ALAIN DE BOTTON, The Architecture of Happiness
3 likes
---
The way human beings see themselves in relation to nature is fundamental to all cultures; thus the first fact of architecture is the natural world, the second is the relationship of human structures to the topography of the world, and the third is the relationship of all these structures to each other, comprising the human community as a whole. The question of the relationship of the manmade to the natural world is especially germane today for many reasons. The most obvious and surely the most important one is the threat to the existence of the natural environment itself that many kinds of human structures now pose.
VINCENT JOSEPH SCULLY, Modern Architecture and Other Essays
3 likes
---
Architecture is the art of how to waste space.
PHILIP JOHNSON, New York Times, Dec. 27, 1964
2 likes
---
Bad architecture is in the end as much a failure of psychology as of design. It is an example expressed through materials of the same tendencies which in other domains will lead us to marry the wrong people, choose inappropriate jobs and book unsuccessful holidays: the tendency not to understand who we are and what will satisfy us.
ALAIN DE BOTTON, The Architecture of Happiness
2 likes
---
A real building is one on which the eye can light and stay lit.
EZRA POUND, Ezra Pound and the Visual Arts
2 likes
---
What counts more than style is whether architecture improves our experience of the built world; whether it makes us wonder why we never noticed places in quite this way before.
ADA LOUISE HUXTABLE, On Architecture: Collected Reflections on a Century of Change
2 likes
---
Marble, I perceive, covers a multitude of sins.
ALDOUS HUXLEY, Complete Essays: 1926-1929
2 likes
---
Architecture is not a private affair; even a house must serve a whole family and its friends, and most buildings are used by everybody, people of all walks of life. If a building is to meet the needs of all the people, the architect must look for some common ground of understanding and experience.
JOHN PORTMAN, attributed, Architectural Digest
2 likes
---
Light, God's eldest daughter, is a principal beauty in a building: yet it shines not alike from all parts of heaven.
THOMAS FULLER, The Holy State and the Profane State
2 likes
---
Architecture is always dream and function, expression of a utopia and instrument of a convenience.
ROLAND BARTHES, The Eiffel Tower and Other Mythologies
2 likes
---