ARKANSAS QUOTES
quotations about Arkansas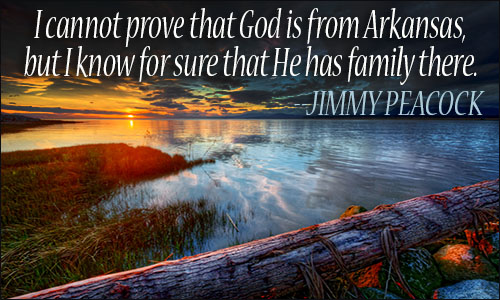 Arkansas is the natural state and is not as bad as most people think it is.
ANONYMOUS, Urban Dictionary
7 likes
---
Heaven: Arkansas without the heat and mosquitoes.
JIMMY PEACOCK, "Keep Arkansas in the Accent!", My Oklahomian Exile: An Exiled Arkie of the Covenant
6 likes
---
Arkansas is a curious and interesting community ... it is probably the most untouched and unawakened of all American states.
JOHN GUNTHER, Inside USA
4 likes
---
If any place can engender a sense of being permanently dissed, it's Arkansas.
PETER APPLEBONE, "It's Not Called Arkansas for Nothing", New York Times, Aug. 16, 1998
3 likes
---
Why did O. J. Simpson want to move to Arkansas? Everyone has the same DNA!
ANONYMOUS
3 likes
---
Or send them to Arkansas to butcher the politicians and clergy? It is not only a way to get rid of them, and of the heavy expense of keeping them; it is a way to civilize Arkansas and the South Seas.
H. L. MENCKEN, Mencken Chrestomathy
3 likes
---
If I could rest anywhere, it would be in Arkansas, where the men are the real half-horse, half-alligator breed such as grows nowhere else on the face of the earth.
DAVY CROCKETT, Narrative of the Life of David Crockett
3 likes
---
I cannot prove that God is from Arkansas, but I know for sure that He has family there.
JIMMY PEACOCK, "Keep Arkansas in the Accent!", My Oklahomian Exile: An Exiled Arkie of the Covenant
2 likes
---
Organized for the purpose of correlating the agencies which endeavor to convey to the outsider the great word about Arkansas thereby establishing a central body which has but one purpose--to preach the gospel of Arkansas, the Arkansas Advancement Association is getting down to real business. This association represents the ideals which have made you an incessant fighter for the proper recognition of your state. It is not a new idea, just a new determination and a sensible way of handling the proposition by uniting the strong men of the state for a common purpose. Every commercial organization, civic and patriotic body will be asked to take a prominent part in this work.... The program of the Arkansas Advancement Association is to place a button, "I am Proud of Arkansas," on every Arkansan going out of the state.... To prepare a card containing on one side twenty or more reasons why Arkansas is the greatest state.... To place on every visitor and traveling salesman possibly, a button, "I Have Been to Arkansas and I Like It," and give them plenty of information to back up the assertion.
ANONYMOUS, pamphlet, The Arkansas Advancement Association, 1921
2 likes
---
No matter where you go in Arkansas you discover that its people are close to the soil. In a Little Rock hotel lobby, where legislators stand around in a fog of tobacco smoke, a moderately good ear can distinguish the drawled "heahs" and "theahs" of a cotton-county representative from the slightly nasal burr of a hillman--who is likely to pronounce "put" as "putt" and "where" as "whir". Both men, however, probably know from boyhood experience the kick of a plow when it strikes a root, how hard it is to stalk a crow, and the disheartening length of a field when viewed over a hoe handle.
FEDERAL WRITERS' PROJECT, "Arkansas Today", The WPA Guide to Arkansas: The Natural State
2 likes
---
I was the fattest baby in Clark County, Arkansas. They put me in the newspaper. It was like a prize turnip.
BILLY BOB THORNTON, attributed, IMDB
1 likes
---
A lot of people leave Arkansas and most of them come back sooner or later. They can't quite achieve escape velocity.
CHARLES PORTIS, The Dog of the South
1 likes
---
Why couldn't the baby Jesus be born in Arkansas? They couldn't find three wise men or a virgin!
ANONYMOUS
1 likes
---
The smeller's the feller.
ARKANSAS PROVERB
1 likes
---
To be born in Arkansas is a misfortune and an injustice from which they will never recover and upon which they will look back with bitterness when plunged, in adult life, into competition with the children born from other states.
TWENTIETH CENTURY EDUCATIONAL REPORT, Arkansas and the New South: 1874-1929
1 likes
---
From the majestic Mississippi to the Oklahoma line is farther than from London to Paris. Between lies an empire--fields of cotton and grain, sparkling streams and lovely lakes.... Arkansas is my State. Every day it heaps riches upon me. These I shall some day repay. If I cannot sit high in the councils of my country I shall see that only worthy men do. My voice shall be honestly spoken.
JOHN H. HINEMON, The Arkansas Teacher, Jan. 1922
1 likes
---
Actually, I am glad that Arkansas is known by its people because the people are a large part of what shapes the place. However, Arkansas's people are shaped by Arkansas in return: its trees, its lakes, its hills, its mountains, and a myriad of other natural wonders, along with its chiggers, its heat, its relative isolation. Arkansas people grew up in nature. And yes, it is true, we sometimes even take off our shoes to feel the grass beneath our feet. It is a wonderful feeling--the soft, warm summer grass on your soles. Every child knows that feeling; Arkansans just do not let themselves forget it.
ERIN DALTON, preface, Rough Sort of Beauty: Reflections on the Natural Heritage of Arkansas
1 likes
---
There is pretty strong characters down there [in Arkansas]. You can't redeem 'em, you just join 'em.
WILL ROGERS, attributed, The Wit and Wisdom of Will Rogers
1 likes
---
O Arkansas is a doughty State,
But she was made to stagger
Under the burden set by fate,
The Rule of the Carpet-bagger.
JOHN GOULD FLETCHER, attributed, Writers and Writings from the Delta to the Ozarks
0 likes
---
Citizenship in New York is now worth no more than citizenship in Arkansas, for it is open to any applicant from the marshes of Bessarabia, and, still worse, to any applicant from Arkansas.
H. L. MENCKEN, A Second Mencken Chrestomathy
0 likes
---