ARTIST QUOTES
quotations about artists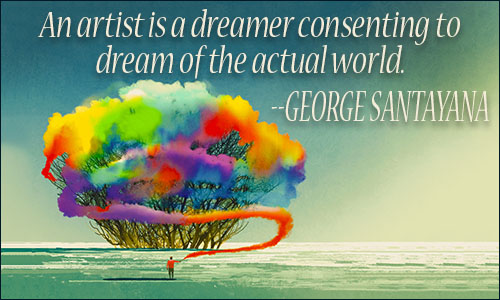 Every Artist is a Cannibal, every Poet is a Thief.
All kill for inspiration and sing about their grief.
BONO, "The Fly"
5 likes
---
The greater the artist, the greater the doubt. Perfect confidence is granted to the less talented as a consolation prize.
ROBERT HUGHES, "Modernism's Patriarch", Time Magazine, Jun. 10, 1996
5 likes
---
We artists are indestructible; even in a prison, or in a concentration camp, I would be almighty in my own world of art, even if I had to paint my pictures with my wet tongue on the dusty floor of my cell.
PABLO PICASSO, attributed, The Columbia Dictionary of Quotations
4 likes
---
An artist is a dreamer consenting to dream of the actual world.
GEORGE SANTAYANA, The Life of Reason
2 likes
---
The true artist will let his wife starve, his children go barefoot, his mother drudge for a living at seventy, sooner than work at anything but his art.
GEORGE BERNARD SHAW, Man and Superman
2 likes
---
I am an artist ... I am here to live out loud.
EMILE ZOLA
2 likes
---
An artist is only an artist thanks to his exquisite sense of beauty -- a sense which provides him with intoxicating delights, but at the same time implying and including a sense, equally exquisite, of all deformity and disproportion.
CHARLES BAUDELAIRE, "Notes nouvelles sur Edgar Poe III", L'art romantique
2 likes
---
A child when afraid thrusts out his arms, and those that are falling hold out the hand to passers-by for aid; similarly, creative artists project their sorrows and joys and all their sudden pain which is greater than their own strength. They hold them out like a net with which to ensnare, like a rope by which to escape. Like beggars on the street weighed down with misery and want, they give their words to passers-by. Each syllable gives relief because they thus project their own life into that of strangers. Their fortune and misfortune, their rejoicing and complaint, too heavy for them, are sown in the destiny of others.
STEFAN ZWEIG, prelude, Paul Verlaine
2 likes
---
It is the artist's business to create sunshine when the sun fails.
ROMAIN ROLLAND, Jean-Christophe
1 likes
---
There are two men inside the artist, the poet and the craftsman. One is born a poet. One becomes a craftsman.
EMILE ZOLA
1 likes
---
The artist ... walks at first with his companions, till one day he falls through a hole in the brambles, and from that moment he is following the dark rapids of an underground river which may sometimes flow so near to the surface that the laughing picnic parties are heard above, only to re-immerse itself in the solitude of the limestone and carry him along its winding tunnel, until it gushes out through the misty creeper-hung cave which he has always believed to exist, and sets him back in the sun.
CYRIL CONNOLLY, The Condemned Playground
1 likes
---
The artist is the compass which, through the raging of the storm, points steadily to the north.
ROMAIN ROLLAND, Jean-Christophe
1 likes
---
There's nothing more tragic than artists from the 70s still doing art from the 70s.
MARINA ABRAMOVIC, The Guardian, May 12, 2014
1 likes
---
A true artist never portrays to please, but to show.
CHRISTIAN MORGENSTERN, Levels
1 likes
---
No great artist ever sees things as they really are. If he did, he would cease to be an artist.
OSCAR WILDE, The Decay of Lying
1 likes
---
The artist secretes nostalgia around life.
CYRIL CONNOLLY, The Unquiet Grave
1 likes
---
I am an artist you know ... it is my right to be odd.
E. A. BUCCHIANERI, Brushstrokes of a Gadfly
1 likes
---
It's easy to denigrate artists as self-indulgent pansies. From Plato's Republic to H.G. Wells' modern Utopia, literary visions of a perfect world have routinely shed the "useless" artist in favor of the practical artisan. We don't need painters to survive. Not exactly. But society devolves very quickly once the artists are gone. Come the Apocalypse, and musicians, dancers, writers and artists of every shape and stripe will simply have vanished from the dystopian landscape.
PAULA YOUNG, "#JusticeForFlint's radical love: While Oscar's glamour beckoned, the real artists helped Flint be seen and heard", Salon, February 29, 2016
1 likes
---
This idea of an artist as a single person, sitting in the studio all day, is a myth now. It's unaffordable and unrealistic. Every artist is in this precarious world. Everyone does five different jobs to support themselves. Some might be coders, others working on feature films or building apps. But what's interesting is that people will bring the tools from their day jobs into their art. And that's how new practices have emerged.
KATE COOPER, "Where have all the art punks gone?", The Guardian, March 16, 2016
1 likes
---
When a simple sign on a stick and a clever chant aren't getting your protest point across, why not consider a sculpture, tapestry or performance piece? Artists across the world are taking their talents to the streets to support a variety of political, social and economic protests.
ILANA NOVICK, "How Artists Are Using Their Work to Break Political Boundaries", Alternet, March 17, 2016
1 likes
---