ASTROLOGY QUOTES
quotations about astrology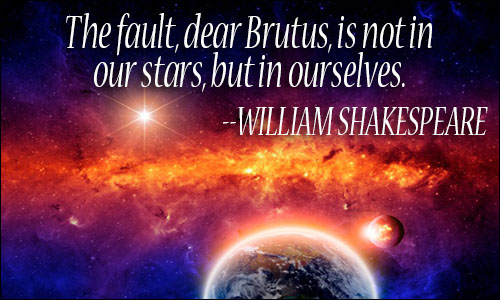 Astrology is like gravity. You don't have to believe in it for it to be working in your life.
ZOLAR, Zolar's Starmates
10 likes
---
Astrology is of particular interest to the psychologist, since it contains a sort of psychological experience which we call "projected" -- this means that we find the psychological facts as it were in the constellations. This originally gave rise to the idea that these factors derive from the stars, whereas they are merely in a relation of synchronicity with them. I admit that this is a very curious fact which throws a peculiar light on the structure of the human mind.
CARL JUNG, letter to B. V. Raman, Sep. 6, 1947
7 likes
---
Astrology is like a weather report; it tells you what conditions you're likely to face in the future. If the weatherman says it's probably going to rain, you bring an umbrella. If you follow that advice, you won't get wet.
LEE GOLDBERG, Mr. Monk and the Blue Flu
6 likes
---
He is a poor astrologer who pretends by the stars to point out another's destiny, and yet does not know his own.
JAAFAR, attributed, Day's Collacon
5 likes
---
Anyone can be a millionaire, but to become a billionaire you need an astrologer.
JOHN PIERPONT MORGAN
4 likes
---
If the people were a little more ignorant, astrology would flourish -- if a little more enlightened, religion would perish.
ROBERT GREEN INGERSOLL
4 likes
---
Astrology is like a gateway drug to a more cosmic world view.
RUBY WARRINGTON, "Zodiac rules: why the fashion world is in the grip of astrology fever", The Evening Standard, November 12, 2015
4 likes
---
We are merely the stars' tennis-balls, struck and bandied which way please them.
JOHN WEBSTER, The Duchess of Malfi
3 likes
---
This is the excellent foppery of the world, that when we are sick in fortune (often the surfeits of our own behaviour) we make guilty of our disasters the sun, the moon, and stars: as if we were villains on necessity; fools by heavenly compulsion; knaves, thieves, and treacherous by spherical predominance; drunkards, liars, and adulterers by an enforced obedience of planetary influence; and all that we are evil in, by a divine thrusting on. An admirable evasion of whoremaster man, to lay his goatish disposition on the charge of a star!
WILLIAM SHAKESPEARE, King Lear
3 likes
---
Superstition is to religion what astrology is to astronomy: the mad daughter of a wise mother.
VOLTAIRE
3 likes
---
I don't believe in astrology; I'm a Sagittarius and we're skeptical.
ARTHUR C. CLARKE
3 likes
---
Astrology is like a map. Like a roadmap, astrology is meant to be a useful tool to help guide you to wherever you want to go.
PILA OF HAWAII, The Secrets & Mysteries of Hawaii
3 likes
---
Astrology is like any other superstition: It has no power unless people allow it to direct their lives.
BILL MYERS, "The Haunting"
3 likes
---
There is something out there. Astrology is like a game of chess with an invisible partner. We set out the board and the rules, make a move, and then find that the pieces are moving themselves, as if by an invisible hand.
NOEL TYL, Astrology Looks at History
3 likes
---
Don't laugh at the voice of the stars. They are far away, their rays are light and pale, and we can barely see their sleeping shadows, but their sorcery is stern and dark.
LEONID ANDREYEV, He Who Gets Slapped
3 likes
---
Behold what is in the heavens and the earth! But revelations and warnings avail not folk who will not believe.
KORAN, Surah Yunus: 101
2 likes
---
Your sons and your daughters shall prophesy, your old men shall dream dreams, your young men shall see visions.
JOEL 2:28
2 likes
---
After a duration of a thousand years, the power of astrology broke down when, with Copernicus, Kepler, and Galileo, the progress of astronomy overthrew the false hypothesis upon which the entire structure rested, namely the geocentric system of the universe. The fact that the earth revolves in space intervened to upset the complicated play of planetary influences, and the silent stars, related to the unfathomable depths of the sky, no longer made their prophetic voices audible to mankind. Celestial mechanics and spectrum analysis finally robbed them of their mysterious prestige.
FRANZ CUMONT, Astrology and Religion Among the Greeks and Romans
2 likes
---
The good Christian should beware of astrologers. The danger already exists that astrologers have made a covenant with the devil to darken the spirit and confine man in the bonds of Hell.
ST. AUGUSTINE OF HIPPO, On Genesis
2 likes
---
Yes, astrology is easy -- laughably easy -- to debunk using conventional methods and ideas. On the other hand -- and this is really the subtext of the entire social science debate ... convention is a poor guide to anything.
MARTIN COHEN, "Unthinkable: Are scientists wrong to dismiss astrology?", The Irish Times, December 1, 2015
2 likes
---