ATTITUDE QUOTES
quotations about attitude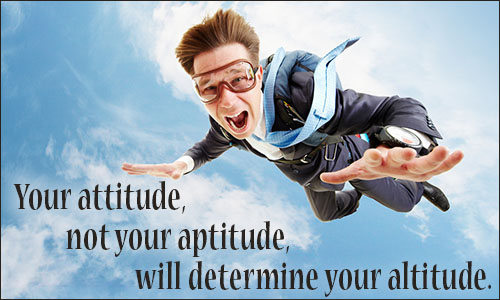 Your attitude is like a mirror. The attitude you give out is the same attitude you will get back.
JUSTIN HERALD, Would You Like Attitude With That?
31 likes
---
Your attitude colors every aspect of your life. It is like the mind's paintbrush. It can paint everything in bright, vibrant colors--creating a masterpiece. Or it can make everything dark and dreary.
JOHN C. MAXWELL, The Maxwell Daily Reader
12 likes
---
People with a positive attitude are influenced by what goes on within them. People with a negative attitude are influenced by what goes on around them.
KEITH HARRELL, The Attitude Is Everything
12 likes
---
Your attitude, not your aptitude, will determine your altitude.
ZIG ZIGLER, attributed, Words from the Wise
11 likes
---
The only difference between a good day and a bad day is your attitude.
DENNIS BROWN, Change Your Attitude Change Your Life
11 likes
---
Negativity sucks away energy. If part of the negativity stems from your attitude or perspective, commit yourself at the beginning of each day and each activity to find something positive in yourself and in others around you. If the people around you are negative and you can't change that, either remove yourself from the situation or view it simply as one obstacle you face in pursuing your own potential. Stay focused on your own goals and make the best of the situation.
TERRY ORLICK, Embracing Your Potential
8 likes
---
Your attitude to life is far more important in determining your happiness than your money, appearance, social status or talent.
STEPHANIE DOWRICK, Choosing Happiness
8 likes
---
It doesn't matter how talented, experienced, or hard-working you are--if you have a bad attitude, then your options will be limited.
ANDREW MERLE, "Why You Should Choose a Good Attitude", Huffington Post, February 9, 2016
7 likes
---
Your attitude is like the engine that runs the car. The more finely tuned that engine is, the better the car will run.
KEITH HARRELL, Attitude Is Everything
6 likes
---
An employee with average skills and a good attitude is worth more than 5 dour experts.
YETUNDE SANNI, "What Being a Female Software Developer Is Actually Like", The Observer, March 18, 2016
6 likes
---
I am still determined to be cheerful and to be happy, in whatever situation I may be; for I have also learnt, from experience, that the greater part of our happiness or misery depends upon our dispositions, and not upon our circumstances. We carry the seeds of the one or the other about with us, in our minds, wheresoever we go.
MARTHA WASHINGTON, letter to Mrs. Warren, Dec. 26, 1789
5 likes
---
An attitude is almost like a muscle. You can chose to have a good one. Find ways to exercise it, and make it grow.
JERRY S. BEALL, There Will Always Be a Tree
5 likes
---
A good attitude is contagious, just like a negative one. We're all familiar with that miserable, grumpy, emotionally needy co-worker who brings everyone down -- the one who compels you to duck down a hallway when you see them coming. The attitude you're aiming for is just the opposite. You want folks around the office to welcome time with you. Make them laugh, make them smile, listen to their stories, and ask about their lives. Find the humor in burdensome work situations and help everyone rise to tough challenges with a little more ease. Soon, you'll have people wondering how they'd ever get by without you.
GINA BELLI, "4 Ways to Become Indispensable at Work", Payscale, August 18, 2015
5 likes
---
The greatest day in your life and mine is when we take total responsibility for our attitudes. That's the day we truly grow up.
JOHN C. MAXWELL, Developing the Leader Within You
4 likes
---
The only disability in life is a bad attitude.
SCOTT HAMILTON, The Great Eight
4 likes
---
'Twixt optimist and pessimist
The difference is droll--
The optimist sees the doughnut;
The pessimist sees the hole.
WILBER D. NESBIT, "The American Printer"
4 likes
---
The happiest people are the people with the best attitudes, not the best lives.
BOB LONSBERRY, A Various Language
3 likes
---
If life becomes hard to bear we think of a change in our circumstances. But the most important and effective change, a change in our own attitude, hardly even occurs to us.
LUDWIG WITTGENSTEIN, Culture and Value
3 likes
---
Whether your attitude is good or bad, it is what people are going to remember about you.
RENEE EVENSON, Customer Service Training 101
3 likes
---
A person with a positive attitude is like a fruit of all seasons.
SHIV KHERA, You Can Win
3 likes
---