AUTUMN QUOTES
quotations about autumn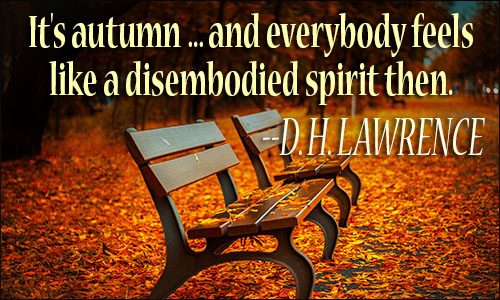 Autumn ... the year's last, loveliest smile.
WILLIAM CULLEN BRYANT, "Indian Summer"
5 likes
---
The heat of autumn is different from the heat of summer. One ripens apples, the other turns them to cider.
JANE HIRSHFIELD, "The Heat of Autumn"
4 likes
---
It's autumn ... and everybody feels like a disembodied spirit then.
D. H. LAWRENCE, Sons and Lovers
3 likes
---
Autumn is a second Spring when every leaf is a flower.
ALBERT CAMUS, attributed, Visions from Earth
3 likes
---
Autumn is the final trick in nature's year-long magic show: It masks death with a spectacular display of beauty.
KEITH HANSEN, American Motercyclist, Nov. 1982
3 likes
---
No Spring, nor Summer beauty hath such grace,
As I have seen in one Autumnal face.
JOHN DONNE, The Autumnal
2 likes
---
The autumn comes, a maiden fair
In slenderness and grace,
With nodding rice-stems in her hair
And lilies in her face.
In flowers of grasses she is clad;
And as she moves along,
Birds greet her with their cooing glad
Like bracelets' tinkling song.
KALIDASA, "Autumn"
2 likes
---
I want to go south, where there is no autumn, where the cold doesn't crouch over one like a snow leopard waiting to pounce.
D. H. LAWRENCE, letter to John Middleton Murry, Oct. 3, 1924
1 likes
---
In the season of white wild roses
We two went hand in hand:
But now in the ruddy autumn
Together already we stand.
FRANCIS TURNER PALGRAVE, A Song of Spring and Autumn
1 likes
---
I love the chill October days, when the brown leaves lie thick and sodden underneath your feet ... the evenings in late autumn time, when the white mist creeps across the fields, making it seem as though old Earth, feeling the night air cold to its poor bones, were drawing ghostly bedclothes round its withered limbs.
JEROME K. JEROME, "Silhouettes"
1 likes
---
October gave a party;
The leaves by hundreds came--
The Chestnuts, Oaks, and Maples,
And leaves of every name.
The Sunshine spread a carpet,
And everything was grand,
Miss Weather led the dancing,
Professor Wind the band.
GEORGE COOPER, October's Party
1 likes
---
Autumn ... painted the countryside in vivid shades of scarlet, saffron and russet, and the days were clear and crisp under harvest skies.
SHARON KAY PENMAN, Time and Chance
1 likes
---
Fall has always been my favorite season. The time when everything bursts with its last beauty, as if nature had been saving up all year for the grand finale.
LAUREN DESTEFANO, Wither
1 likes
---
You can't plead with autumn. No. The midnight wind stalked through the woods, hooted to frighten you, swept everything away for the approaching winter, whirled the leaves.
YEVGENY ZAMYATIN, We
1 likes
---
Lord: it is time. The summer was immense. Let thine shadows upon the sundials fall, and unleash the winds upon the open fields.
RAINER MARIA RILKE, "Autumn Day", The Book of Images
1 likes
---
While we only look at Nature it is fair to say that Autumn is the end of the year; but it is still more true that Autumn is the beginning of the year.... Autumn is the time when in fact the leaves bud. Leaves wither because winter begins; but they also wither because spring is already beginning, because new buds are being made, as tiny as percussion caps out of which the spring will crack.... It is only an optical illusion that my flowers die in autumn; for in reality they are born.
KAREL CAPEK, The Gardener's Year
1 likes
---
Autumn is a fleeting season, melancholy by nature. Its ghostly beauty cultivates a fertile atmosphere for memories that wrote their history on a tablet of fallen leaves.
BRIAN EASTON, When the Autumn Moon Is Bright
1 likes
---
Autumn, the tunnel to winter, the escape from summer, is evidence that it is not how you start that matters, but how you finish.... One September day the sun is burning craters in your head through those little ventilating holes in your golf cap; the next day you are wearing wool socks and a way-too-big old Phish hoodie and chugging hot chocolate at the JV soccer game.
GEORGE HESSELBERG, "Autumn is a vision of glory from start to finish", Wisconsin State Journal, September 19, 2015
1 likes
---
After the rush to make the most of the sun in Summer, and before the mad dash of Christmas parties, present-shopping and hail-induced fury in Winter, Autumn is the relaxed, reassuring period of calm where we all enjoy a few valuable months of steady work, rest and play.
MARK BUTLER, "15 Reasons Why Autumn is Actually the Best Season", Wow 24/7, October 1, 2015
1 likes
---
Spring is beautiful, and summer is perfect for vacations, but autumn brings a longing to get away from the unreal things of life, out into the forest at night with a campfire and the rustling leaves.
MARGARET ELIZABETH SANGSTER, "The Gypsy Spirit"
0 likes
---