BIRD QUOTES
quotations about birds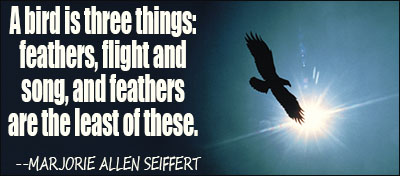 It is not only fine feathers that make fine birds.
A bird is three things:

Feathers, flight and song,

And feathers are the least of these.
MARJORIE ALLEN SEIFFERT, "The Shining Bird"
A small bird will drop frozen dead

From a bough

Without ever having felt sorry for itself.
I value my garden more for being full of blackbirds than of cherries, and very frankly give them fruit for their songs.
JOSEPH ADDISON, The Spectator
Do you ne'er think what wondrous beings these?

Do you ne'er think who made them, and who taught

The dialect they speak, where melodies

Alone are the interpreters of thought?

Whose household words are songs in many keys,

Sweeter than instrument of man e'er caught!
HENRY WADSWORTH LONGFELLOW, Tales of a Wayside Inn
Lo--a black line of birds in wavering thread

Bore him the greetings of the deathless dead!
EMMA LAZARUS, The Cranes of Ibicus
From bush and hedge and tree

Joy, unrestrained and free,

Breaks forth in melody,

Twitter and chirp and song.
Birds of a feather will flock together.
Just remember it's the birds that's supposed to suffer, not the hunter.
GEORGE W. BUSH, advice while quail hunting, Jan. 22, 2004
There is nothing in which the birds differ more from man than the way in which they can build and yet leave a landscape as it was before.
ROBERT WILSON LYND, The Blue Lion and Other Essays
The reason birds can fly and we can't is simply that they have perfect faith, for to have faith is to have wings.
J.M. BARRIE, The Little White Bird
Never look for birds of this year in the nests of the last.
MIGUEL DE CERVANTES, Don Quixote
Fall is my favorite season in Los Angeles, watching the birds change color and fall from the trees.
DAVID LETTERMAN, The Late Show with David Letterman
Upon his saddle sprung a bird

And crossed a thousand trees

Before a fence without a fare

His fantasy did please

And then he lifted up his throat

And squandered such a note

A Universe that overheard

Is stricken by it yet—
EMILY DICKINSON, "Upon his Saddle sprung a Bird"
If I had to choose, I would rather have birds than airplanes.
CHARLES LINDBERGH, interview, 1974
No man had ever heard a nightingale,

When once a keen-eyed naturalist was stirred

To study and define -- what is a bird.
EMMA LAZARUS, "Critic and Poet: An Apologue"
God loved the birds and invented trees. Man loved the birds and invented cages.
JACQUES DEVAL, Afin de vivre bel et bien
Caged birds accept each other but flight is what they long for.
TENNESSEE WILLIAMS, Camino Real
O birds, your perfect virtues bring,

Your song, your forms, your rhythmic flight,

Your manners for your heart's delight,

Nestle in hedge, or barn, or roof,

Here weave your chamber weather-proof,

Forgive our harms, and condescend

To man, as to a lubber friend,

And, generous, teach his awkward race

Courage, and probity, and grace!
RALPH WALDO EMERSON, May-Day and Other Pieces
A bird in the hand may be worth two in the bush, but remember also that a bird in the hand is a positive embarrassment to one not in the poultry business.
GEORGE ADE, "The Fable of the Old Fox and the Young Fox", True Bills
The wren and the nightingale sound nothing alike, but think how dull the world would be without the songs of both birds.
KIRBY LARSON, The Friendship Doll
Alive the festal air

With gauze-winged creatures fair,

That flicker everywhere,

Dart, poise, and flash along.
The air is crowded with birds -- beautiful, tender, intelligent birds -- to whom life is a song.
GEORGE HENRY LEWES, Studies in Animal Life
Think of your woods and orchards without birds!
Of empty nests that cling to boughs and beams
As in an idiot's brain remembered words
Hang empty 'mid the cobwebs of his dreams!
HENRY WADSWORTH LONGFELLOW, "The Poet's Tale", Tales of a Wayside Inn
But how can one toil at the great task with this hurry and tumult of birds just outside the open window? I hear the Thrush, and the Blackbird, that romantic liar; then the delicate cadence, the wiry descending scale of the Willow-wren, or the Blackcap's stave of mellow music. All these are familiar--but what is that unknown voice, that thrilling note? I hurry out; the voice flees and I follow; and when I return and sit down again to my task, the Yellowhammer trills his sleepy song in the noonday heat; the drone of the Greenfinch lulls me into dreamy meditations. Then suddenly from his tree-trunks and forest recesses comes the Green Woodpecker, and mocks at me an impudent voice full of liberty and laughter. Why should all the birds of the air conspire against me? My concern is with the sad Human Species, with lapsed and erroneous Humanity, not with that inconsiderate, wandering, feather-headed race.
LOGAN PEARSALL SMITH, Trivia
SHARE QUOTES WITH FRIENDS!
---