BONO QUOTES
Irish singer & songwriter (1960- )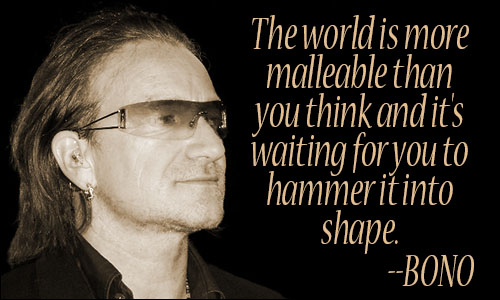 America is not just a country, it's an idea.
I'm in love with this country called America. I'm a huge fan of America, I'm one of those annoying fans, you know the ones that read the CD notes and follow you into bathrooms and ask you all kinds of annoying questions about why you didn't live up to that ... I'm that kind of fan. I read the Declaration of Independence and I've read the Constitution of the United States, and they are some liner notes, dude.
BONO, "North and South of the River"
Jesus never let me down

You know Jesus used to show me the score

Then they put Jesus in show business

Now it's hard to get in the door.
BONO, "If God Will Send His Angels"
Don't get me too excited because I use four letter words when I get excited.
How long, how long must we sing this song?
BONO, "Sunday Bloody Sunday"
For me it's a puzzle. I hear strains of a melody, and only when I work it out to its end can I be at peace. Until then it's like a twitch.
BONO, Oprah Magazine, Apr. 2004
Ireland has a very different attitude to success than a lot of places, certainly than over here in the United States. In the United States, you look at the guy that lives in the mansion on the hill, and you think, you know, one day, if I work really hard, I could live in that mansion. In Ireland, people look up at the guy in the mansion on the hill and go, one day, I'm going to get that bastard. It's a different mind-set.
BONO, interview, Larry King Weekend, Dec. 1, 2002
People say songs are like your children, no they are like your parents. They tell you what to do, they tell you how to behave, they tell you how to misbehave, how to dress. Everything you do is directed by the songs.
BONO, The Charlie Rose Show, May 16, 2013
My earliest memory of waking up with a melody in my head was, you know, 8, 9, 10. I've always heard kind of melodies in my head. I remember standing under a piano at my grandmother's house, when the keys of the piano were higher than my head and kind of pressing down on the keys, and then hearing one note and then looking for another one to follow it, because you always -- you know, if you're a musician or if you're a songwriter, somehow when you hear one note, you hear another one.
BONO, interview, Larry King Weekend, Dec. 1, 2002
First of all, David's a musician, so I'm gonna like him.... And what's so powerful about the Psalms are, as well as their being Gospel and songs of praise, they are also the Blues. It's very important for Christians to be honest with God, which often, you know, God is much more interested in who you are than who you want to be.
BONO, radio interview, Focus on the Family, Jun. 25, 2013
The music that really turns me on is either running toward God or away from God. Both recognize the pivot, that God is at the center of the jaunt.
BONO, Rolling Stone, Nov. 3, 2005
Pop music often tells you everything is OK, while rock music tells you that it's not OK, but you can change it.
History, like God, is watching what we do.
BONO, remarks at National Prayer Breakfast, Feb. 2, 2006
I know idealism is not playing on the radio right now, you don't see it on TV, irony is on heavy rotation, the knowingness, the smirk, the tired joke. I've tried them all out but I'll tell you this ... idealism is under siege beset by materialism, narcissism and all the other isms of indifference. Baggism, Shaggism. Raggism. Notism, graduationism, chismism, I don't know. Where's John Lennon when you need him?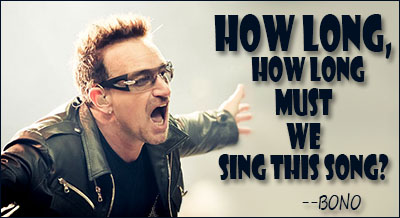 Progressive rock was the enemy in 1976. And it still is. And it has many, many faces. This beast is lurking everywhere. It can describe itself as indie rock. It's the same [blanking] thing. It's misery. I have seen so many great minds struck down by it.
BONO, Chicago Tribune, May 13, 2005
Great ideas and great melodies have a lot in common.
BONO, interview, Larry King Weekend, 2002
Anyone who finds there way to the front of a rock band, standing in the spotlight in the center of the stage, has definitely got a Messianic complex, and the shy ones, the kind of "oh, how did this happen to me" ones, they're the very worst kinds of Messianic complex. A lot of artists play that.
BONO, The Charlie Rose Show, May 16, 2013
I don't believe the Devil, I don't believe his book, but the truth is not the same without the lies he made up.
Every Artist is a Cannibal, every Poet is a Thief. All kill for inspiration and sing about their grief.
What are the ideas right now worth betraying? What are the lies we tell ourselves now?
It's a beautiful day...

Don't let it get away.
I have climbed highest mountains, I have run through the field, only to be with you. I have run, I have crawled, I have scaled these city walls, only to be with you. But I still haven't found what I'm looking for.
BONO, "I Still Haven't Found What I'm Looking For"
I'm the Imelda Marcos of sunglasses.... Very sensitive eyes to light. If somebody takes my photograph, I will see the flash for the rest of the day. My right eye swells up. I've a blockage there, so that my eyes go red a lot. So it's part vanity, it's part privacy and part sensitivity.
BONO, Rolling Stone, Nov. 3, 2005
Truth is beauty. That can be a hard thing to say, because some things are not so attractive on the surface. But by owning up to them, we change them—just by speaking them.
BONO, Oprah Magazine, Apr. 2004
Love is a temple, Love a higher law.
I think belief in your script is essential. I am a salesman. I come from a long line of traveling salespeople on my mother's side. And I think I'm a good salesman of ideas, songs, melodies, if I believe in them.
BONO, The Charlie Rose Show, May 16, 2013
Well, one of the things that hits have and that great music always has, you know—the music feels like it was already there.
BONO, Oprah Magazine, Apr. 2004
Look, whatever thoughts you have about God, who God is or if God exists--most will agree that if there is a God, God has a special place for the poor. In fact, the poor are where God lives. Check Judaism. Check Islam. Check pretty much anyone. I mean, God may well be with us in our mansions on the hill ... I hope so. He may well be with us in all manner of controversial stuff ... maybe, maybe not. But the one thing on which we can all agree, among all faiths and ideologies, is that God is with the vulnerable and poor.
The glass is cut, the bottle run dry. Our love runs cold in the caverns of the night.
BONO, "Red Hill Mining Town"
Rock music was most exciting when it was in the 45 [rpm single], when it was disciplined into a single. Whether it was the Sex Pistols, Clash, Buzzcocks, Nirvana, the Beatles, the Stones. When the wind starts blowing in the hair, and it meanders off, you can get some great [stuff], but it doesn't interest me as much. The 45 is the pure rock to me. That is why I wanted to be in a band.
BONO, Chicago Tribune, May 13, 2005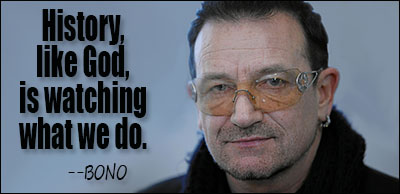 I avoided religious people most of my life. Maybe it had something to do with having a father who was Protestant and a mother who was Catholic in a country where the line between the two was, quite literally, a battle line. Where the line between church and state was ... well, a little blurry, and hard to see. One of the things that I picked up from my father and my mother was the sense that religion often gets in the way of God. For me, at least, it got in the way. Seeing what religious people, in the name of God, did to my native land ... and in this country, seeing God's second-hand car salesmen on the cable TV channels, offering indulgences for cash ... in fact, all over the world, seeing the self-righteousness roll down like a mighty stream from certain corners of the religious establishment ... I must confess, I changed the channel. I wanted my MTV. Even though I was a believer. Perhaps because I was a believer.
BONO, remarks at National Prayer Breakfast, Feb. 2, 2006
I could never take a chance of losing love to find romance.
BONO, "A Man and A Woman"
I'm wary of faith outside of actions. I'm wary of religiosity that ignores the wider world.
BONO, Rolling Stone, Nov. 3, 2005
I want to run, I want to hide, I want to tear down the walls that hold me inside. I want to reach out and touch the plains, Where the streets have no names.
BONO, "Where the Streets Have No Names"
I have very little memory of my childhood, so as I raise my kids the memories come back in the most bizarre ways. Like you're singing your baby a song, and you don't know why you remember it, but somehow you do. You don't even know the tune, but you sing it anyway and think, How am I singing this song?
BONO, Oprah Magazine, Apr. 2004
As hard as it is, as ghetto as it is, hip-hop is pop music. It's the sound of music getting out of the ghetto, while rock is looking for a ghetto.
BONO, Chicago Tribune, May 13, 2005
Let me tell you something. I've had enough of Irish Americans who haven't been back to their country in twenty or thirty years come up to me and talk about the resistance, the revolution back home; and the glory of the revolution, and the glory of dying for the revolution. Fuck the revolution! They don't talk about the glory of killing for the revolution. What's the glory of taking a man from his bed and gunning him down in front of his wife and his children? Where's the glory in that? Where's the glory of bombing a Remembrance Day parade of old-age-pensioners, their medals taken out and polished up for the day? Where's the glory in that? To leave them dying, or crippled for life, or dead, under the rubble of the revolution that the majority of the people in my country don't want. No more! Sing No more!
BONO, statement before a live performance of "Sunday Bloody Sunday"
I have spoke with the tongue of Angels, I have held the hand of The Devil. It was warm in the night, I was cold as a stone.
BONO, "I Still Haven't Found What I'm Looking For"
So now — cut to 1980. Irish rock group, who've been through the fire of a certain kind of revival, a Christian-type revival, go to America. Turn on the TV the night you arrive, and there's all these people talking from the Scriptures. But they're quite obviously raving lunatics. Suddenly you go, what's this? And you change the channel. There's another one. You change the channel, and there's another secondhand-car salesman. You think, oh, my God. But their words sound so similar . . . to the words out of our mouths. So what happens? You learn to shut up. You say, whoa, what's this going on? You go oddly still and quiet. If you talk like this around here, people will think you're one of those. And you realize that these are the traders — as in t-r-a-d-e-r-s — in the temple.
BONO, Rolling Stone, Nov. 3, 2005
The fact is that this generation -- yours, my generation ... we're the first generation that can look at poverty and disease, look across the ocean to Africa and say with a straight face, we can be the first to end this sort of stupid extreme poverty, where in the world of plenty, a child can die for lack of food in it's belly.
On the day of my 50th birthday I received an injury because I was over indulging in exercise boxing and cycling, which was itself an overcompensation for overindulging on alcohol coming up to the big birthday. I promised myself I would be more mindful of my limits, but just four years on, it happened again -- a massive injury I can't blame on anyone but myself, mainly because I blanked out on impact and have no memory of how I ended up in New York Presbyterian with my humerus bone sticking through my leather jacket. Very punk rock as injuries go.
BONO, "LITTLE BOOK OF A BIG YEAR: Bono's A to Z of 2014"
Every age has its massive moral blind spots. We might not see them, but our children will.
SHARE QUOTES WITH FRIENDS!
---