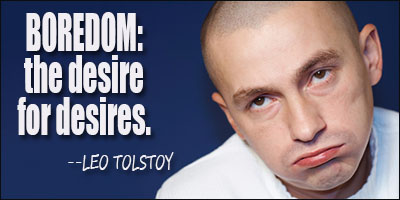 All our life passes in this way: we seek rest by struggling against certain obstacles, and once they are overcome, rest proves intolerable because of the boredom it produces.
Boredom is like a pitiless zooming in on the epidermis of time. Every instant is dilated and magnified like the pores of the face.
JEAN BAUDRILLARD, Cool Memories
Boredom rests upon the nothingness that winds its way through existence; its giddiness, like that which comes from gazing down into an infinite abyss, is infinite.
SOREN KIERKEGAARD, Either/Or
To escape boredom, man works either beyond what his usual needs require, or else he invents play, that is, work that is designed to quiet no need other than that for working in general.
FRIEDRICH NIETZSCHE, Human, All Too Human
Nothing is so stifling as symmetry. Symmetry is boredom, the quintessence of mourning. Despair yawns. There is something more terrible than a hell of suffering -- a hell of boredom.
VICTOR HUGO, Les Misérables
Life is never boring but some people choose to be bored. The concept of boredom entails an inability to use up present moments in a personally fulfilling way. Boredom is a choice; something you visit upon yourself, and it is another of those self-defeating items that you can eliminate from your life.
WAYNE W. DYER, Your Erroneous Zones
The world is eaten up by boredom.... You can't see it all at once. It is like dust. You go about and never notice, you breathe it in, you eat and drink it. It is sifted so fine, it doesn't even grit on your teeth. But stand still for an instant and there it is, coating your face and hands. To shake off this drizzle of ashes you must be for ever on the go. And so people are always "on the go."
GEORGES BERNANOS, The Diary of a Country Priest
I am convinced that boredom is one of the greatest tortures. If I were to imagine Hell, it would be the place where you were continually bored.
ERICH FROMM, The Dogma of Christ
Boredom can be a lethal thing on a small island.
CHRISTOPHER MOORE, Island of the Sequined Love Nun
Boredom is ... a vital problem for the moralist, since at least half the sins of mankind are caused by the fear of it.
BERTRAND RUSSELL, The Conquest of Happiness
Boredom is the legitimate kingdom of the philanthropic.
VIRGINIA WOOLF, letter, Sep. 10, 1918
Since boredom advances and boredom is the root of all evil, no wonder, then, that the world goes backwards, that evil spreads. This can be traced back to the very beginning of the world. The gods were bored; therefore they created human beings.
SOREN KIERKEGAARD, "Rotation of Crops," Either/Or
Boredom is the self being stuffed with itself.
WALKER PERCY, Lost in the Cosmos
Society is now one polished horde,

Formed of two mighty tribes, the Bores and Bored.
Boredom is not an end-product, is comparatively rather an early stage in life and art. You've got to go by or past or through boredom, as through a filter, before the clear product emerges.
F. SCOTT FITZGERALD, The Crack-Up
Boredom is what you fight. Constant, ever-present boredom. So you learn to look forward to small things. Sunlight glimpsed through a cloud, an extra piece of pie or candy, good thread to sew your blouse, a ribbon to wear in your hair.
VALERIE W. WESLEY, Playing My Mother's Blues
Work banishes those three great evils, boredom, vice, and poverty.
Boredom is the keynote of poverty -- of all its indignities, it is perhaps the hardest of all to live with -- for where there is no money there is no change of any kind.
Want and boredom are indeed the twin poles of human life.
ARTHUR SCHOPENHAUER, "On the Suffering of the World," Essays and Aphorisms
The tendency is to blame boredom on the environment. "This town is really dull" or "What a boring speaker." The particular town or speaker is never dull, it is you experiencing the boredom, and you can eliminate it by doing something else with your mind or energy at that moment.
WAYNE W. DYER, Your Erroneous Zones
Boredom is nothing but the experience of a paralysis of our productive powers.
ERICH FROMM, The Sane Society
I think what we call the dulness of things is a disease in ourselves. Else how could any one find an intense interest in life? And many do.
GEORGE ELIOT, Daniel Deronda
Boredom is the deadliest poison.
WILLIAM F. BUCKLEY, JR., Milestones
Boredom is just the reverse side of fascination: both depend on being outside rather than inside a situation, and one leads to the other.
SUSAN SONTAG, "America, Seen Through Photographs, Darkly," On Photography
Boredom is the dream bird that hatches the egg of experience. A rustling in the leaves drives him away.
WALTER BENJAMIN, The Storyteller
Boredom is my worst enemy. It's killed a lot of my friends, but it won't get me. When I get bored, I go risk my life somewhere.
Though we all know what boredom is, most normal adults do not experience sheer boredom very often. We are stressed, rushed, and worried, but we are seldom purely bored--in part because we are so stressed, rushed, and worried. Time without anything we must attend to usually feels like a breather, not like a monotony. To get a feel for what sheer boredom is like, we must hearken back to childhood. Children and adolescents are frequently bored, so bored they can hardly even stand it. Their perfectly normal developmental need for constant stimulation, for exploring and ongoing learning, is often thwarted in a world of long trips, rainy afternoons, and study halls. In childhood, boredom can be excruciating, like a chronic spiritual headache, or a powerful thirst with no beverage to be had. It can hurt so bad that the poor kid feels like yelling out loud, or throwing something noisy at a wall. Extreme boredom is arguably a form of pain.
MARTHA STOUT, The Sociopath Next Door
Ennui, the demon, waited at the threshold of his noiseless refuge, and drove away the stirring hopes and elivening expectations, which form the better part of life.
MARY WOLLSTONECRAFT SHELLEY, Lodore
Against boredom even the gods struggle in vain.
FRIEDRICH NIETZSCHE, The Antichrist