LORD BYRON QUOTES
English Romantic poet (1788-1824)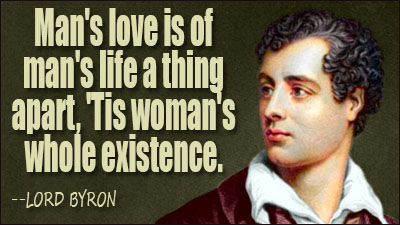 Man's love is of man's life a thing apart,

'Tis woman's whole existence.
The night

Hath been to me a more familiar face

Than that of man; and in her starry shade

Of dim and solitary loveliness

I learned the language of another world.
What is the end of Fame? 'tis but to fill

A certain portion of uncertain paper:

Some liken it to climbing up a hill,

Whose summit, like all hills, is lost in vapour:

For this men write, speak, preach, and heroes kill,

And bards burn what they call their "midnight taper,"

To have, when the original is dust,

A name, a wretched picture, and worse bust.
What is the worst of woes that wait on age?

What stamps the wrinkle deeper on the brow?

To view each loved one blotted from life's page,

And be alone on earth, as I am now.
LORD BYRON, Childe Harold
Friendship is Love without his wings!
LORD BYRON, Hours of Idleness
Now hatred is by far the longest pleasure;

Men love in haste, but they detest at leisure.
Society is now one polish'd horde,

Form'd of two mighty tribes, the Bores and Bored.
Fools are my theme, let satire be my song.
LORD BYRON, English Bards and Scotch Reviewers
And, after all, what is a lie? 'Tis but

The truth in masquerade.
'Tis strange -- but true; for truth is always strange;

Stranger than fiction.
Mont Blanc is the monarch of mountains;

They crown'd him long ago

On a throne of rocks, in a robe of clouds,

With a diadem of snow.
When we think we lead, we are most led.
LORD BYRON, The Two Foscari
Sincerity may be humble but she cannot be servile.
LORD BYRON, letter, May 29, 1823
A mighty mass of brick, and smoke, and shipping,

Dirty and dusty, but as wide as eye

Could reach, with here and there a sail just skipping

In sight, then lost amidst the forestry

Of masts; a wilderness of steeples peeping

On tiptoe through their sea-coal canopy;

A huge, dun cupola, like a foolscap crown

On a fool's head--and there is London Town.
I am the very slave of circumstance

And impulse -- borne away with every breath!
Though women are angels, yet wedlock's the devil.
LORD BYRON, Hours of Idleness
'Tis solitude should teach us how to die;

It hath no flatterers; vanity can give

No hollow aid; alone--man with his God must strive.
LORD BYRON, Childe Harold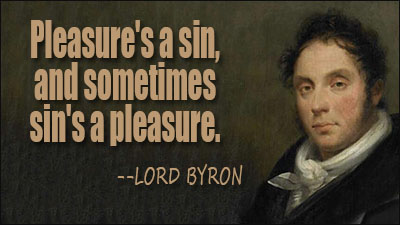 I have a notion that gamblers are as happy as most people, being always excited; women, wine, fame, the table, even ambition, sate now & then, but every turn of the card & cast of the dice keeps the gambler alive.
LORD BYRON, Letters and Journals
Glory, like the phoenix 'midst her fires,

Exhales her odours, blazes, and expires.
LORD BYRON, English Bards and Scotch Reviewers
Oh! too convincing--dangerously dear--
In woman's eye the unanswerable tear!
That weapon of her weakness she can wield,
To save, subdue--at once her spear and shield.
Pleasure's a sin, and sometimes sin's a pleasure.
There is pleasure in the pathless woods,

There is a rapture on the lonely shore,

There is society, where none intrudes,

By the deep sea, and music in its roar:

I love not man the less, but Nature more,

From these our interviews, in which I steal

From all I may be, or have been before,

To mingle with the Universe, and feel

What I can ne'er express, yet cannot all conceal.
LORD BYRON, Childe Harold
Grief is fantastical, and loves the dead,

And the apparel of the grave.
LORD BYRON, The Two Foscari
Sorrow is Knowledge: they who know the most

Must mourn the deepest o'er the fatal truth,

The Tree of Knowledge is not that of Life.
We are the fools of Time and Terror: Days

Steal on us, and steal from us; yet we live,

Loathing our life, and dreading still to die.
Deep Vengeance is the daughter of deep Silence.
LORD BYRON, Marino Faliero
The sight of blood to crowds begets the thirst of more,

As the first wine-cup leads to the long revel.
LORD BYRON, Marino Faliero
I hate all pain,

Given or received; we have enough within us

The meanest vassal as the loftiest monarch,

Not to add to each other's natural burden

Of mortal misery.
Tyranny

Is far the worst of treasons. Dost thou deem

None rebels except subjects? The prince who

Neglects or violates his trust is more

A brigand than the robber-chief.
LORD BYRON, The Two Foscari
Once more upon the waters! yet once more!
And the waves bound beneath me as a steed
That knows his rider.
LORD BYRON, Childe Harold's Pilgrimage
Accursed be the city where the laws would stifle nature's!
LORD BYRON, The Two Foscari
SHARE QUOTES WITH FRIENDS!
---