CHANCE QUOTES
quotations about chance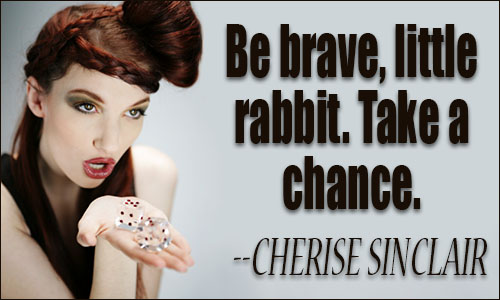 Chance is perhaps the pseudonym of God when He did not want to sign.
ANATOLE FRANCE, The Garden of Epicurus
It is safer to accept any chance that offers itself, and extemporize a procedure to fit it, than to get a good plan matured, and wait for a chance of using it.
THOMAS HARDY, Far from the Madding Crowd
Yet they, believe me, who await

No gifts from Chance, have conquer'd Fate.
MATTHEW ARNOLD, Resignation
The beauty of religious mania is that it has the power to explain everything. Once God (or Satan) is accepted as the first cause of everything which happens in the mortal world, nothing is left to chance ... logic can be happily tossed out the window.
If God resides anywhere ... surely he shelters behind barricades of pure chance.
SIMON MAWER, The Gospel of Judas
Chance is a kind of religion

Where you're damned for plain hard luck.
U2, "The Playboy Mansion"
The successful man is one who had the chance and took it.
ROGER BABSON, attributed, Distilled Wisdom
What is called chance is the instrument of Providence and the secret agent that counteracts what men call wisdom, and preserves order and regularity, and continuation in the whole, for ... I firmly believe, notwithstanding all our complaints, that almost every person upon earth tastes upon the totality more happiness than misery; and therefore if we could correct the world to our fancies, and with the best intentions imaginable, probably we should only produce more misery and confusion.
HORACE WALPOLE, letter, Jan. 19, 1777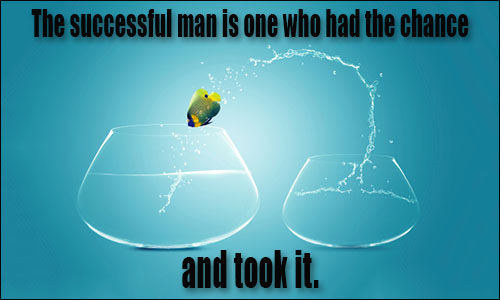 The best men are not those who have waited for chances, but taken them--besieged the chance, conquered the chance, and made the chance their servitor.
E. H. CHAPIN, Living Words
Bad chances were better than no chances.
STEPHEN KING, Under the Dome
Notions of chance and fate are the preoccupations of men engaged in rash undertakings.
CORMAC MCCARTHY, Blood Meridian
We ought never to trust to chance but when we cannot find a better surety.
NORMAN MACDONALD, Maxims and Moral Reflections
Chance happens to all ... but to turn chance to account is the gift of few.
EDWARD BULWER LYTTON, Caxtoniana
Sometimes a wind comes up, blows you off course. You're not ready for it, but if you're lucky, you end up in a more interesting place than you'd planned.
NORA ROBERTS, The Calhouns
Chance seems to us then a good and useful thing, for we discern in it as it were the rudiments of organisation, of an attempt to arrange our lives; and it makes it easy, inevitable, and sometimes -- after interruptions that have made us hope that we may cease to remember -- painful for us to retain in our minds images for the possession of which we shall come in time to believe that we were predestined, and which but for chance we should from the very first have managed to forget, like so many others, so easily.
MARCEL PROUST, Within a Budding Grove
I was a victim of a series of accidents, as are we all.
KURT VONNEGUT, The Sirens of Titan
I cook every chance in my pot. And only when it is cooked through do I welcome it as my food.
FRIEDRICH NIETZSCHE, Thus Spoke Zarathustra
But I don't believe coincidences are chance events. I think they're the times we happen to see the mysterious pattern connecting everything.
JULIE GITTUS, Saltwater Moons
But as the unthought-on accident is guilty

To what we wildly do, so we profess

Ourselves to be the slaves of chance, and flies

Of every wind that blows.
WILLIAM SHAKESPEARE, The Winter's Tale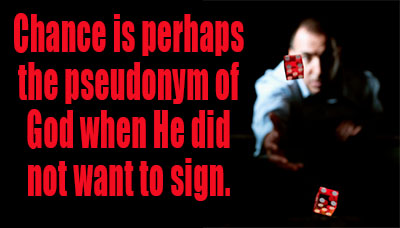 In the space between chaos and shape there was another chance.
JEANETTE WINTERSON, The World and Other Places
You get as many chances as you want; as many as you dare to make for yourself.
Chance. Stupid, dumb, blind chance. Just a part of the strange mechanism of the world, with its fits and coughs and starts and random collisions.
LAUREN OLIVER, Before I Fall
Chance is a kind of god, for it preserves many things which we do not observe.
MENANDER, attributed, Day's Collacon
Under the bludgeonings of chance

My head is bloody, but unbowed.
WILLIAM EARNEST HENLEY, Invictus
What else is chance but the rude stone which receives its life from the sculptor's hand? Providence gives us chance, and man must mould it to his own designs.
FRIEDRICH SCHILLER, Don Carlos
Chance rules our lives, and the future is all unknown. Best live as we may, from day to day.
That is life, isn't it? Fate. Luck. Chance. A long series of what-if's that lead from one moment to the next, time never pausing for you to catch your breath, to make sense of the cards that have been handed to you. And all you can do is play your cards and hope for the best, because in the end, it all comes back to those three basics: Fate. Luck. Chance.
KELSEYLEIGH REBER, If I Fall
If you want to be successful, you must either have a chance or take one.
EVAN ESAR, 20,000 Quips & Quotes
SHARE QUOTES WITH FRIENDS!
---