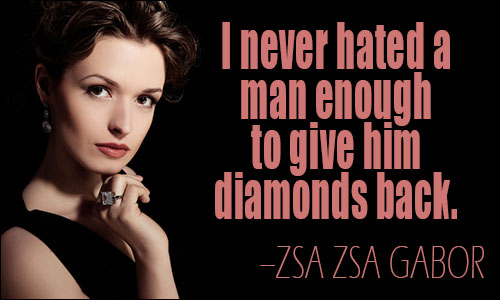 Among all the stones that our world's fancy holds precious, the diamond stands preeminent. The diamonds that gleamed with such fire in an idol's eye before the rising of the Star of Bethlehem may be sparkling today with more dazzling radiance in the crown of an emperor.
J. WILLARD HERSHEY, The Book of Diamonds
The Jungle is dark but full of diamonds.
ARTHUR MILLER, Death of a Salesman
Diamonds are a girl's best friend.
LEO ROBIN, Diamonds Are a Girl's Best Friend
Diamonds may have been a girl's best friend in an era when a woman's only hope of having a high family income was to marry a man who was well-off, but today, marketable skills that will enable a woman to command a good income over her lifetime are a better investment.
GRACE BARUCH, Life Prints
Diamonds are only chunks of coal,

That stuck to their jobs, you see.
MINNIE RICHARD SMITH, "Stick to Your Job"
Great virtues may draw attention from defects, they cannot sanctify them. A pebble surrounded by diamonds remains a common stone, and a diamond surrounded by pebbles is still a gem.
ROBERT G. INGERSOLL, The Great Infidels
It is better to have old second-hand diamonds than none at all.
MARK TWAIN, Following the Equator
I never hated a man enough to give him diamonds back.
ZSA ZSA GABOR, London Observer, Aug. 28, 1957
Diamonds are trumps in the game of hearts.
ROBERT ELLIOTT GONZALES, Poems and Paragraphs
A diamond, incarcerated in its subterraneous prison, rough and unpolished, differs not from a common stone.
CHARLES CALEB COLTON, Lacon
We cannot tell by looking at the diamond that it is a commodity. When it serves as a use-value, asthetic or mechanical, on the breast of a harlot, or in the hand of a glasscutter, it is a diamond and not a commodity.
KARL MARX, A Contribution to the Critique of Political Economy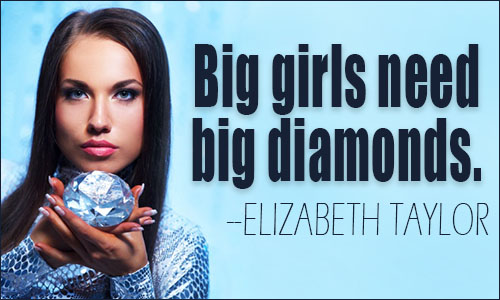 IAN FLEMING, Diamonds Are Forever
It's hard to be a diamond in a rhinestone world.
DOLLY PARTON, attributed, How Dolly Parton Saved My Life
The diamond has been always esteemed the rarest stone, and the most precious of all: among the ancients it was called the stone of reconciliation.
LEWIS VERTOMAN, attributed, Day's Collacon
Diamonds are best plain set.
ROLLE, attributed, Day's Collacon
A diamond with a flaw is worth more than a pebble without imperfections.
TAMIL, attributed, Day's Collacon
The diamond is the hardest stone -- to get.
EVAN ESAR, 20,000 Quips & Quotes
Big girls need big diamonds.
ELIZABETH TAYLOR, attributed, The Little Black Book of Style
Diamonds are the most prized and highly valued of gemstones. Throughout history they have been admired by royalty and worn as a symbol of strength, courage and invincibility. Over the centuries the diamond acquired unique status as the ultimate gift of love, in myth and reality. It is the hardest known substance yet has the simplest chemical composition, consisting of crystallized carbon, the chemical element that is fundamental to all life.
To the diamond is attributed the virtue of the talisman, and it is even said that he who wears the stone is always assured of victory, however numerous his enemies may be.
GARCIAS AB HORTO, attributed, Day's Collacon
A diamond, though set in horns, is still a diamond, and sparkles in purest gold.
PHILIP MASSINGER, The Bashful Lover
A diamond on a dunghill is a precious diamond still.
A girl never cares who casts the first stone at her -- as long as it's a diamond.
EVAN ESAR, 20,000 Quips & Quotes
No pressure, no diamonds.
THOMAS CARLYLE, attributed, Diamonds: A Girl's Best Friend
Wit must be foiled by wit, cut a diamond with a diamond.
WILLIAM CONGREVE, The Double-Dealer
Diamonds are nothing more than chunks of coal that stuck to their jobs.
MALCOLM S. FORBES, attributed, The Quotable Billionaire
A crush of diamonds! Diamonds everywhere!

Shattered and sown, like seed beside the way,

The sparkle of their splendor mocks the day!

A thousand rainbows, rent from summer air,

Imprisoned, drape the brown earth cold and bare;

The diamonds flash from every barren spray

The grasses, sheathed in diamonds, mark the way,

And moss-grown eaves imperial diamonds wear.

Broideries of seed-pearl, finely wrought and rare.
MARY R. THORNTON MCABOY, "To Linnet"
Like cats' eyes gleaming in the gloom, the precious diamonds rest.
ROBERT LEIGHTON, "The Duke of Brunswick's Diamonds"
If God wanted us to bend over he'd put diamonds on the floor.
JOAN RIVERS, attributed, Funny Ladies: The Best Humor from America's Funniest Women