DRAGON QUOTES
quotations about dragons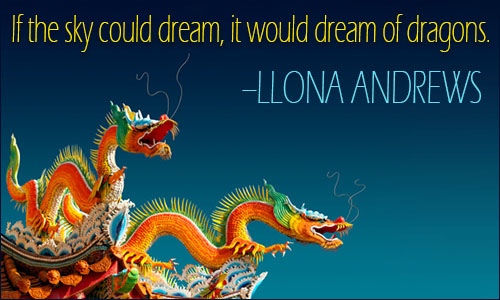 Never laugh at live dragons.
J. R. R. TOLKIEN, The Hobbit
And the great dragon was cast out, that old serpent, called the Devil, and Satan, which deceiveth the whole world.
It does not do to leave a live dragon out of your calculations, if you live near him.
J. R. R. TOLKIEN, The Hobbit
And though I came to forget or regret all I have ever done, yet would I remember that once I saw the dragons aloft on the wind at sunset above the western isles; and I would be content.
URSULA K. LE GUIN, The Farthest Shore
If the sky could dream, it would dream of dragons.
LLONA ANDREWS, Fate's Edge
Fairy tales do not give the child his first idea of bogey. What fairy tales give the child is his first clear idea of the possible defeat of bogey. The baby has known the dragon intimately ever since he had an imagination. What the fairy tale provides for him is a St. George to kill the dragon.
G. K. CHESTERTON, Tremendous Trifles
The ultimate challenge of a teacher lies not in the slaying of dragons, but rather in exposing them as beasts no longer to be feared.
ALAN BURTON, A Wayward Wizard's Wistful Words
If you want to conquer the world, you best have dragons.
GEORGE R. R. MARTIN, A Dance With Dragons
O to be a dragon,

a symbol of the power of Heaven — of silkworm

size or immense; at times invisible.

Felicitous phenomenon!
MARIANNE MOORE, O To Be a Dragon
In shallow holes, moles make fools of dragons.
How should we be able to forget those ancient myths that are at the beginning of all peoples, the myths about dragons that at the last moment turn into princesses; perhaps all the dragons of our lives are princesses who are only waiting to see us once beautiful and brave. Perhaps everything terrible is in its deepest being something helpless that wants help from us.
RAINER MARIA RILKE, Letters to a Young Poet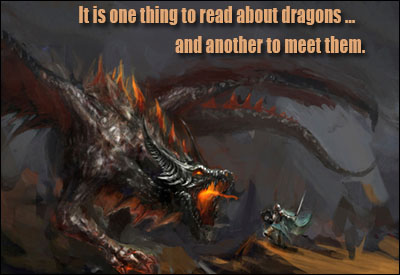 Meddle not in the affairs of dragons,for you art crunchy and good with ketchup.
Come not between the dragon, and his wrath.
WILLIAM SHAKESPEARE, King Lear
If you see the dragon fly,

best you drink the flagon dry.
GREG HAMERTON, Second Sight
The hunger of a dragon is slow to wake, but hard to sate.
URSULA K. LE GUIN, A Wizard of Earthsea
Imagine a land where people are afraid of dragons. It is a reasonable fear: dragons possess a number of qualities that make being afraid of them a very commendable response. Things like their terrible size, their ability to spout fire, or to crack boulders into splinters with their massive talons. In fact, the only terrifying quality that dragons do not possess is that of existence.
DAVID WHITELAND, Book of Pages
Better to sit all night than to go to bed with a dragon.
Heroes take journeys, confront dragons, and discover the treasure of their true selves.
CAROL PEARSON, Hero Within
A dragon should never be engaged in conversation as they are inveterate liars and tricksters, though if you're actually talking to a dragon, you're pretty much toast anyway.
JOHN STEPHENS, The Fire Chronicle
If our heraldry is in the hammer, and the axe, and the awl, and the needle, we are to feel it a far higher honor than if in their place we could have dragons and helmets, and cross-bones and skulls.
S. H. TYNG, attributed, Day's Collacon
A dragon stranded in shallow water provides amusement to the shrimps.
I desired dragons with a profound desire. Of course, I in my timid body did not wish to have them in the neighborhood. But the world that contained even the imagination of Fáfnir was richer and more beautiful, at whatever the cost of peril.
J. R. R. TOLKIEN, The Tolkien Reader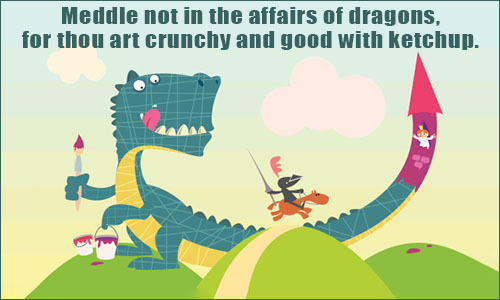 A man cannot deserve adventures; he cannot earn dragons and hippogriffs.
G. K. CHESTERTON, Heretics
It is one thing to read about dragons and another to meet them.
URSULA K. LE GUIN, A Wizard of Earthsea
Did not learned men, too, hold, till within the last twenty-five years, that a flying dragon was an impossible monster? And do we not now know that there are hundreds of them found fossil up and down the world? People call them Pterodactyles: but that is only because they are ashamed to call them flying dragons, after denying so long that flying dragons could exist.
CHARLES KINGSLEY, The Water Babies
Here be dragons to be slain, here be rich rewards to gain;

If we perish in the seeking, why, how small a thing is death!
DOROTHY L. SAYERS, Catholic Tales and Christian Songs
People who deny the existence of dragons are often eaten by dragons. From within.
URSULA K. LE GUIN, The Wave in the Mind: Talks & Essays on the Writer, the Reader, & the Imagination
When the hunter sets traps only for rabbits, tigers and dragons are left uncaught.
LI BAI, "To His Three Friends"
Dragons beget dragons.
SHARE QUOTES WITH FRIENDS!
---