EASTER QUOTES
quotations about Easter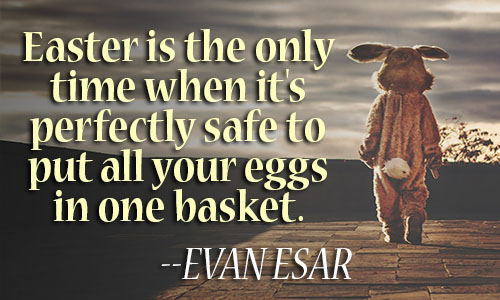 Do not abandon yourselves to despair. We are the Easter people and hallelujah is our song.
POPE JOHN PAUL II, attributed, Fabric of Faith
The Lord liveth, alleluia!

Angels rolled the stone away,

Praises winged from harps and timbrels

Hover o'er earth's living symbols,

Lilies wake from dark earth's keeping; bright wings burst your bands today

The Lord liveth, alleluia!

Angels rolled the stone away.
MARTHA LAVINIA HOFFMAN, "Easter Anthem"
Thirty thousand kids and their parents participated in the annual White House Easter Egg Roll, which has been going on for years. At this point there has to be thousands of undiscovered Easter eggs on the lawn of the White House. Future civilizations will think we were ruled by chickens.
JIMMY KIMMEL, Jimmy Kimmel Live!, Apr. 9, 2012
For many, Easter is a glorious skyrocket that suddenly bursts over our heads a shower of brilliance and joy but soon falls cold to the earth. The memory of its glory lingers for a while but soon fades with the resumption of normal activities. An argument could be made for giving less emphasis to Lent and more to the season of Easter. Yet, we err to even try to define Easter as a season. No, Easter is not truly a season but an event which radically alters the way we view all the seasons of life. Through the resurrection we transcend earth, time, and seasons.
RUSSELL F. ANDERSON, Lectionary Preaching Workbook
Awake, thou wintry earth—

Fling off thy sadness!

Fair vernal flowers, laugh forth

Your ancient gladness!

Christ is risen.
THOMAS BLACKBURN, An Easter Hymn
Hundreds of barefoot Filipinos marched on the roads through the Philippines carrying heavy wooden crosses and whipping their backs until they bled to prepare for Easter. Call me old-fashioned but I just like coloring the eggs.
JAY LENO, The Tonight Show, Apr. 6, 2012
If anyone or anything tries to curse or kill the Goodness at the Center of all things, it will just keep coming back to life. Forever Easter.
DAVID HOUSHOLDER, The Blackberry Bush
Morning red! Morning red!

Now the shadows all are fled;

Now the Sabbath's cloudless glory

Tells anew the wondrous story,

Christ is risen from the dead.
ROSSITER WORTHINGTON RAYMOND, "Easter"
Easter is on Sunday. Americans buy an estimated $120 million pounds of candy for Easter every year. I hope Jesus comes back as a dentist.
JIMMY KIMMEL, Jimmy Kimmel Live!, Mar. 28, 2013
In the bonds of Death He lay

Who for our offence was slain;

But the Lord is risen to-day,

Christ hath brought us life again,

Wherefore let us all rejoice,

Singing loud, with cheerful voice,

Hallelujah!
MARTIN LUTHER, "In the Bonds of Death He Lay"
O chime of sweet Saint Charity,

Peal soon that Easter morn

When Christ for all shall risen be,

And in all hearts new-born!

That Pentecost when utterance clear

To all men shall be given,

When all shall say My Brother here,

And hear My Son in heaven!
JAMES RUSSELL LOWELL, Godminster Chimes
Yes, Jesus rose from the dead. No, he's not a zombie.
JIMMY KIMMEL, Jimmy Kimmel Live!, Mar. 28, 2013
The only cross in all of history that was turned into an altar was the cross on which Jesus Christ died. It was a Roman cross. They nailed Him on it, and God, in His majesty and mystery, turned it into an altar. The Lamb who was dying in the mystery and wonder of God was turned into the Priest who offered Himself. No one else was a worthy offering.
A. W. TOZER, Preparing for Jesus' Return
O Christ, whose cross began to bloom

With peaceful lilies, long ago,

Each year above thy empty tomb

More thick the Easter garlands glow;

O'er all the wounds of that sad strife

Bright wreathes the new, immortal life.
CAROLINE SPENCER, "The Easter Cross"
Easter is a mystery. Almost 2000 years ago, in a remote corner of the Roman Empire, a new doctrine was taught. Jesus' preaching lasted only three years and ended in defeat. The preacher was executed. But on the eve of His death, He prophesied that the Good News he had brought would be preached "unto all nations". Today, the Gospel has been translated into more than 600 languages. This is a miracle, part of the ongoing miracle, that first took place when Mary Magdalene found that the stone of the tomb had been rolled away.
JOE JENKINS, Christianity
Tomb, thou shalt not hold Him longer;

Death is strong, but Life is stronger;

Stronger than the dark, the light;

Stronger than the wrong, the right;

Faith and Hope triumphant say

Christ will rise on Easter Day.
PHILLIPS BROOKS, "An Easter Carol"
Easter is the only time when it's perfectly safe to put all your eggs in one basket.
EVAN ESAR, 20,000 Quips & Quotes
The air is like a butterfly

With frail blue wings.

The happy earth looks at the sky

And sings.
God expects from men something more than at such times, and that it were much to be wished for the credit of their religion as well as the satisfaction of their conscience that their Easter devotions would in some measure come up to their Easter dress.
Spring bursts to-day,

For Christ is risen and all the earth's at play.
CHRISTINA G. ROSSETTI, "Easter Carol"
Rise, heart; thy Lord is risen. Sing His praise

Without delays,

Who takes thee by the hand, that thou likewise

With Him mayst rise:

That, as His death calcined thee to dust,

His life may make thee gold, and, much more, just.
If man had his way, the plan of redemption would be an endless and bloody conflict. In reality, salvation was bought not by Jesus' fist, but by His nail-pierced hands; not by muscle but by love; not by vengeance but by forgiveness; not by force but by sacrifice. Jesus Christ our Lord surrendered in order that He might win; He destroyed His enemies by dying for them and conquered death by allowing death to conquer Him.
A. W. TOZER, Preparing for Jesus' Return
EASTER HAS BEEN CANCELED - THEY FOUND THE BODY.
The temporal Zion is now in dust, but the true one is rising and shaking herself from it, and putting on her Easter robes to welcome her King when He comes to reign over the whole earth.
THOMSON, attributed, Day's Collacon
Doth His Easter radiance glow within thy life's full years

And with unturning hallowed flow, bring gladness to thy fears?

Hope that sought thee in thy pain with flowers thy brow adorns!

Today the roses bloom again where yesterday were thorns!
HARRIET MAXWELL CONVERSE, "The Easter Morn"
Ye Heavens, how sang they in your courts,

How sang the angelic choir that day,

When from his tomb the imprisoned God,

Like the strong sunrise, broke away?
FREDERICK WILLIAM FABER, "Jesus Risen"
You know what I'm doing for Easter? I'm gonna be hanging with my Peeps.
JAY LENO, The Tonight Show, April 1, 2010
Easter is never deserved.
JAN KARON, Home to Holly Springs
O glorious Easter morning!

O day of peace and light!

One precious name adorning

With lilies pure and white.

A gladsome message bringing

Of love that knows no fear;

The sweetest anthem singing,

"The risen Christ is here."
SARAH KNOWLES BOLTON, "Easter Hymn"
SHARE QUOTES WITH FRIENDS!
---