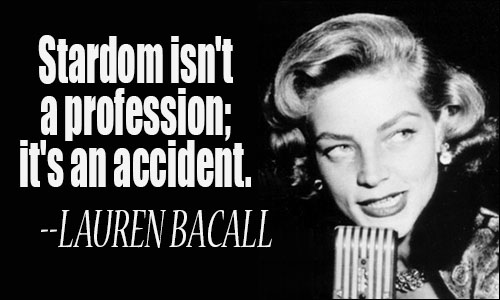 Fame is like a river, that beareth up things light and swollen, and drowns things weighty and solid.
I thought famous people were proud, unapproachable, that they despised the crowd, and by their fame and the glory of their name, as it were, revenged themselves on the vulgar herd for putting rank and wealth above everything. But here they cry and fish, play cards, laugh and get cross like everyone else!
ANTON CHEKHOV, The Seagull
Fame always brings loneliness. Success is as ice cold and lonely as the North Pole.
Fame, we may understand, is no sure test of merit, but only a probability of such: it is an accident, not a property of a man.
Fame is a food that dead men eat.
HENRY AUSTIN DOBSON, Fame is a Food that Dead Men Eat
The desire for fame tempts even noble minds.
ST. AUGUSTINE, The City of God
Well, there was a time I would have

Hung around just to be seen

Hey man, it's a shame when you start to fade

Diamond rings and sparkly things

Won't make your shine stay
In the future, everyone will be famous for fifteen minutes.
ANDY WARHOL, Andy Warhol's Exposures
The fame of heroes owes little to the extent of their conquests and all to the success of the tributes paid to them.
JEAN GENET, Prisoner of Love
Stardom isn't a profession; it's an accident.
LAUREN BACALL, quoted in The Wordsworth Dictionary of Quotations
Fame is no plant that grows on mortal soil.
Fame can never make us lie down contentedly on a deathbed.
ALEXANDER POPE, letter to William Trumbell, Mar. 12, 1713
Fame is a bee.

It has a song--

It has a sting--

Ah, too, it has a wing.
EMILY DICKINSON, Fame is a bee
Fame must have enemies, as light must have gnats.
What is the end of Fame? 'tis but to fill

A certain portion of uncertain paper:

Some liken it to climbing up a hill,

Whose summit, like all hills, is lost in vapour:

For this men write, speak, preach, and heroes kill,

And bards burn what they call their "midnight taper,"

To have, when the original is dust,

A name, a wretched picture, and worse bust.
Fame or infamy, either one is preferable to being forgotten.
CHRISTOPHER PAOLINI, Brisingr
No matter how much fame you have, it's not something that belongs to you. If I'm famous, that doesn't belong to me -- that belongs to you. If you can't remember who I am, I'm no longer famous.
MICHAEL J. FOX, Esquire, Dec. 2007
Fame and fortune are as hard to find as a lightning strike.
P. N. ELROD, The Dark Sleep
The talent of success is nothing more than doing what you can do well; and doing well whatever you do, without a thought of fame.
HENRY WADSWORTH LONGFELLOW, Hyperion
There are decades in the making of the one man of renown;

Multitudes that go unnoticed who must wreathe for him a crown.
EDWIN LEIBFREED, "Caelestis"
Fame is nothing but an empty name.
CHARLES CHURCHILL, The Ghost
Man toils, and strives, and wastes his little life to claim--

At last the transient glory of a splendid name,

And have, perchance, in marble mockery a bust,

Poised on a pedestal, above his sleeping dust.
O Fame! A bubble on life's wave,

'Tis tossed about, a worthless thing;

The bubble breaks--'tis lost for aye,

But leaves on heart a poignant sting....

You cut your name on granit block;

As ages come and pass away,

Disintegrated is the stone,

For all in nature must decay.
ARDELIA COTTON BARTON, Thoughts
Name and fame! to fly sublime

Through the courts, the camps, the schools

Is to be the ball of Time,

Bandied in the hands of fools.
ALFRED TENNYSON, The Vision of Sin
That sort of reputation which precedes performance [is] often the larger part of a man's fame.
GEORGE ELIOT, Middlemarch
It is permissible even for a dying hero to think before he dies how men will speak of him hereafter. His fame lasts perhaps two thousand years. And what are two thousand years?... What, indeed, if you look from a mountain top down the long wastes of the ages? The very stone one kicks with one's boot will outlast Shakespeare.
VIRGINIA WOOLF, To the Lighthouse
Fame should be depicted covered with tongues instead of with feathers and in the form of a bird.
LEONARDO DA VINCI, Thoughts on Art and Life
Fame is an undertaker that pays but little attention to the living, but bedizens the dead, furnishes out their funerals, and follows them to the grave.
CHARLES CALEB COLTON, Lacon
Famous people don't want to be told that you have a quality in common with them. It makes them think there's something crawling in their clothes.
All who have their reward on Earth, the fruits

Of painful superstition and blind zeal,

Naught seeking but the praise of men, here find

Fit retribution, empty as their deeds.
JOHN MILTON, Paradise Lost
Certain shades of limelight wreck a girl's complexion.
TRUMAN CAPOTE, Breakfast at Tiffany's
The light of the dawn is not so sweet as the first glimpses of fame.
LUC DE CLAPIERS, MARQUIS DE VAUVENARGUES, Reflections and Maxims
Care not for being unknown, but seek to be worthy of note.
CONFUCIUS, Sayings of Confucius
Fame is a fickle food

Upon a shifting plate,

Whose table once a Guest, but not

The second time, is set.

Whose crumbs the crows inspect,

And with ironic caw

Flap past it to the Farmer's corn;

Men eat of it and die.
EMILY DICKINSON, "Fame is a fickle food"
We only serve as a model for the portrait of our fame.
Browse Fame Quotes II