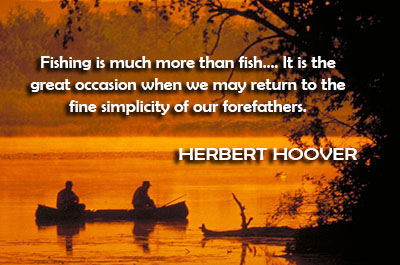 Fishing is much more than fish…. It is the great occasion when we may return to the fine simplicity of our forefathers.
HERBERT HOOVER, New York Times, Aug. 9, 1964
Best fishing in troubled waters.
SIR JOHN HARRINGTON, Orlando Furioso
Early in the morning, while all things are crisp with frost, men come with fishing-reels and slender lunch, and let down their fine lines through the snowy field to take pickerel and perch; wild men, who instinctively follow other fashions and trust other authorities than their townsmen, and by their goings and comings stitch towns together in parts where else they would be ripped. They sit and eat their luncheon in stout fear-naughts on the dry oak leaves on the shore, as wise in natural lore as the citizen is in artificial.
HENRY DAVID THOREAU, Walden
We forget that fishing, like politics, is local. Each of us finds something that works for two weeks in a five-acre pond and thinks that he has uncovered a truth universal and eternal.
ART SCHECK, A Fishing Life is Hard Work
There will be days when the fishing is better than one's most optimistic forecast, others when it is far worse. Either is a gain over just staying home.
RODERICK HAIG-BROWN, Fisherman's Spring
The first men that our Saviour dear Did choose to wait upon Him here, Blest fishers were; and fish the last Food was, that He on earth did taste: I therefore strive to follow those, Whom He to follow Him hath chose.
WILLIAM BASSE, The Angler's Song
If fishing is a religion, fly fishing is high church.
TOM BROKAW, International Herald Tribune, Sep. 10, 1991
Fly fishing may be a very pleasant amusement; but angling or float fishing I can only compare to a stick and a string, with a worm at one end and a fool at the other.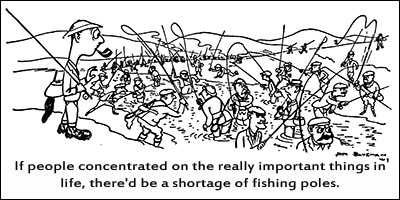 The joy of game fishing is that it can be blissfully indiscriminate. A complete novice could inadvertently find himself on the business-end of the world's most acrobatic and hardest-fighting fish -- a sensation which is like a learner-driver suddenly finding himself behind the wheel of a racing Ferrari, with his foot pushed flat to the floor.
LEN CACUTT, The Big-Game Fishing Handbook
I used to love going fishing. I think it was really about the clothes. Nothing says real man like a vest with 38 pockets and a mesh hat with hooks in it.
CRAIG FERGUSON, The Late Late Show with Craig Ferguson, Apr. 9, 2
Man cannot be successful in business and in fishing at the same time.
EDGAR WATSON HOWE, Country Town Sayings
Even eminent chartered accountants are known, in their capacity as fishermen, blissfully to ignore differences between seven and ten inches, half a pound and two pounds, three fish and a dozen fish.
WILLIAM SHERWOOD FOX, Silken Lines and Silver Hooks
There's a fine line between fishing and just standing on the shore like an idiot.
STEVEN WRIGHT, attributed, Return of the Portable Curmudgeon
Fish seem to be rather conservative around this bay, one seldom catches enough to form the fundamental basis for a lie. Dante left out one of the torments of Hades — I could imagine a doomed mortal made to untangle wet fish lines forever. Everybody lost patience at the stupidity of the fish in not coming forward promptly to be murdered.
THOMAS EDISON, diary entry, Jul. 17, 1885
Many men go fishing all of their lives without knowing that it is not fish they are after.
HENRY DAVID THOREAU, attributed, Chop Wood, Carry Water: A Guide to Finding Spiritual Fulfillment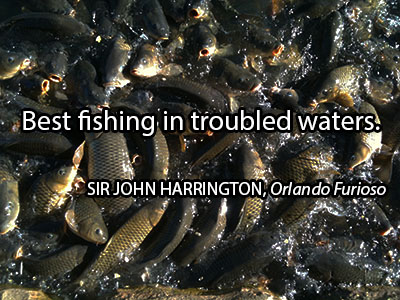 If people concentrated on the really important things in life, there'd be a shortage of fishing poles.
DOUG LARSON, attributed, Quote Unquote
I love fishing. You put that line in the water and you don't know what's on the other end. Your imagination is under there.
ROBERT ALTMAN, Esquire, Mar. 2004
Give a man a fish, and you'll feed him for a day. Teach a man to fish, and he'll buy a funny hat. Talk to a hungry man about fish, and you're a consultant.
SCOTT ADAMS, Stick to Drawing Comics, Monkey Brain!
It's not the fish you catch, it's the peace of mind you take home at the end of the day.
NEIL GAIMAN, American Gods
It is a silly fish that is caught twice with the same bait.
THOMAS FULLER, Gnomologia
It is to be observed that "angling" is the name given to fishing by people who can't fish.
STEPHEN LEACOCK, "When Fellers Go Fishing", The Leacock Roundabout
If people concentrated on the really important things in life, there'd be a shortage of fishing poles.
DOUG LARSON, attributed, Quotable Quotes
The fish you don't catch is always the biggest.
KOBO ABE, The Woman in the Dunes