FORTUNE QUOTES
quotations about fortune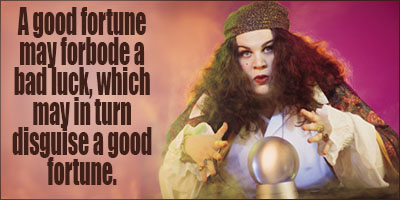 Chiefly the mould of a man's fortune is in his own hands.
The day of fortune is like a harvest day, We must be busy when the corn is ripe.
I've seen the smiling of Fortune beguiling,

I've felt all its favours and found its decay.
ALISON COCKBURN, The Flowers of the Forest
Bear the greatest fortune as if thou deserved it not.
Fortune favors the brave.
Who lets slip Fortune, her shall never find.

Occasion once pass'd by, is bald behind.
ABRAHAM COWLEY, Pyramus and Thisbe
There is frequently a poison in fortune's gifts.
The loss of fortune to a true man is but the trumpet challenge to renewed exertion, not the thunder stroke of destruction.
E. H. CHAPIN, Living Words
Fortune rarely accompanies anyone to the door.
He that hath wife and children hath given hostages to fortune; for they are impediments to great enterprises, either of virtue or mischief.
Fortune sometimes knocks like a schoolmistress, but then she teaches when she does.
Fortune may raise up or abuse the ordinary mortal, but the sage and the soldier should have minds beyond her control.
SIR WALTER SCOTT, Tale of the Crusaders
Those who have been indulged by fortune and have always thought of calamity as what happens to others, feel a blind incredulous rage at the reversal of their lot, and half believe that their wild cries will alter the course of the storm.
GEORGE ELIOT, Daniel Deronda
We make a goddess of Fortune ... and place her in the highest heaven. But it is not fortune that is exalted and powerful, but we ourselves that are abject and weak.
CHARLES CALEB COLTON, Lacon
There is in the worst of fortune the best of chances for a happy change.
EURIPIDES, Iphigenia in Tauris
Fortunes are wrung from the smallest of things

That once were ignored, turning men into kings.
EDWIN LEIBFREED, "The Ragman"
We may lack riches, but the greatest fortune is what lies in our hearts.
Only he has a right to complain of undeserved misfortune, that is unwilling to accept undeserved good fortune.
It is vain to complain of fortune while we fail in policy and conduct.
NORMAN MACDONALD, Maxims and Moral Reflections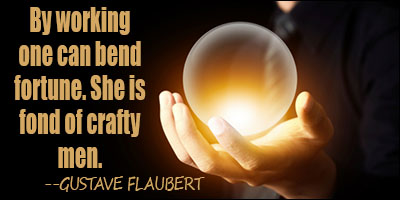 They say fortune is a woman and capricious. But sometimes she is a good woman, and gives to those who merit.
GEORGE ELIOT, Middlemarch
How much in this world is charged to chance or fortune, or veiled under a more devout name, and accorded to Providence; while, when we come to look honestly into affairs, we find it to be a debt of our own accumulation, and one which we must inevitably pay.
E. H. CHAPIN, Living Words
Fortune has been considered the guardian divinity of fools; and, on this score, she has been accused of blindness; but it should rather be adduced as a proof of her sagacity, when she helps those who cannot help themselves.
CHARLES CALEB COLTON, Lacon
I must claim Fortune is a perverse hag until she kisses me upon the lips.
ABRAHAM MILLER, Unmoral Maxims
The wheel of Fortune, like that of a ship, is full of spokes, and sometimes flies so sharply round as to crush those who have become puffed up with her favours, so that they burst at the first tap; whilst such as are nourished, instead of bloated, by the stream of prosperity, escape by slipping between the spokes until the pressure has passed, their moderation providing their safeguard.
CHARLES WILLIAM DAY, The Maxims, Experiences, and Observations of Agogos
Raillery against fortune is the common eloquence of disappointment and misguided ambition.
NORMAN MACDONALD, Maxims and Moral Reflections
When fortune comes seize her in front firmly, because behind she is bald.
LEONARDO DA VINCI, Thoughts on Art and Life
Fortune's favours are too often like thunderbolts--which kill.
A good fortune may forbode a bad luck, which may in turn disguise a good fortune.
Fortune makes many loans, but gives no presents.
PUBLILIUS SYRUS, The Moral Sayings of Publilius Syrus
He deserves to be fortune's favorite who can use her gifts with an even hand.
We should enjoy good fortune while we have it, like the fruits of autumn.
He is truly a happy man who can, upon all occasions, reconcile himself to his fortune.
NORMAN MACDONALD, Maxims and Moral Reflections
Fortune may flatter us, but she herself is not to be flattered.
Fortune never seems so blind to any as to those on whom she bestows no favors.
FRANÇOIS DE LA ROCHEFOUCAULD, Moral Maxims
By working one can bend fortune. She is fond of crafty men.
GUSTAVE FLAUBERT, Salammbo
Fortune hath many roads.
SHARE QUOTES WITH FRIENDS!
---