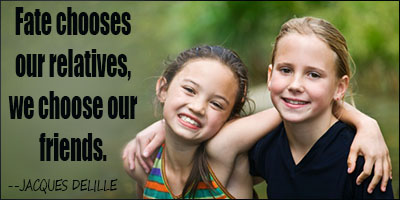 A friendship that can be ended didn't ever start.
MELLIN de SAINT-GELAIS, Oeuvres poétiques
Even the utmost good-will and harmony and practical kindness are not sufficient for Friendship, for Friends do not live in harmony merely, as some say, but in melody. We do not wish for Friends to feed and clothe our bodies--neighbors are kind enough for that--but to do the like office to our spirits.
HENRY DAVID THOREAU, Friendship
Friendship has been called the sweetener of life. It is a compound made up of truth and kindness, prudence and piety.
JOHN THORNTON, Maxims and Directions for Youth
Friendship is a serious affection; the most sublime of all affections, because it is founded on principle, and cemented by time.
MARY WOLLSTONECRAFT, A Vindication of the Rights of Women
Friendship is the perfection of love, and superior to love; it is love purified, exalted, proved by experience and a consent of minds. Love, Madam, may, and love does, often stop short of friendship.
SAMUEL RICHARDSON, Letter to Hester Mulso, Sept. 30, 1751
Friendship is love minus sex and plus reason. Love is friendship plus sex and minus reason.
MASON COOLEY, City Aphorisms
Friendship is by its very nature freer of deceit than any other relationship we can know because it is the bond least affected by striving for power, physical pleasure, or material profit, most liberated from any oath of duty or of constancy. With Eros the body stands naked, in friendship our spirit is denuded.
FRANCINE DU PLESSIX GRAY, "On Friendship", Adam & Eve and the City
Friendship ... is essential to intellectuals. You can date the evolving life of a mind, like the age of a tree, by the rings of friendship formed by the expanding central trunk.
MARY McCARTHY, How I Grew
The language of Friendship is not words but meanings.
HENRY DAVID THOREAU, Friendship
Friendship, like the immortality of the soul, is too good to be believed.
RALPH WALDO EMERSON, "Friendship", Essays
Friendship, "the wine of life," should, like a well-stocked cellar, be continually renewed; and it is consolatory to think, that although we can seldom add what will equal the generous first growths of our youth, yet friendship becomes insensibly old in much less time than is commonly imagined, and not many years are required to make it mellow and pleasant.
JAMES BOSWELL, Life of Johnson
Friendship should be surrounded with ceremonies and respects, and not crushed into corners. Friendship requires more time than poor busy men can usually command.
RALPH WALDO EMERSON, "Behavior", The Conduct of Life
We can only accept friendship from others to the degree that we give it to ourselves.
KIMBERLY KIRBERGER, On Friendship: A Book for Teenagers
Friendship is what gets you through all the third-grade boys making fun of you.
REBECCA HEYDON, "A Friend Is...", On Friendship: A Book for Teenagers
Friendship is not an obsolete sentiment. It is as true now as in Aristotle's time that no one would care to live without friends, though he had all other good things. It is still necessary to our life in its largest sense.
HUGH B. BLACK, Friendship
Be a friend, and thou shalt have friends.
Of what use the friendliest disposition even, if there are no hours given to Friendship, if it is forever postponed to unimportant duties and relations? Friendship first, Friendship last.
HENRY DAVID THOREAU, Friendship
Friendship is such an elastic word. There never was an age when it stood for so many things in private, and was yet so absolutely non-existent in fact.
OUIDA, Friendship: A Story of Society
The true beauty of friendship is that it is bottomless.
ROGER & SALLY HORCHOW, The Art of Friendship
Of all the heavenly gifts that mortal men commend,

What trusty treasure in the world can countervail a friend?
NICHOLAS GRIMOALD, "A Friend", The Book of Friendship
The Friend does not count his Friends on his fingers; they are not numerable.
HENRY DAVID THOREAU, Friendship
As we travel life's long road

We meet and make new friends.

And even though the friends may go

The friendship never ends.
KUNAL BADLANI, "Forever Friends", On Friendship: A Book for Teenagers
Friendship extends about four city blocks.
AUSTIN O'MALLEY, Keystones of Thought
Friendship is a vase, which, when it is flawed by heat, or violence, or accident, may as well be broken at once; it can never be trusted after.
WALTER SAVAGE LANDOR, The Book of Friendship
Happy is love or friendship when returned--

The lovers whose pure flames have equal burned.
BION OF SMYRNA, "Friendship"
Break not an ancient friendship; keep it hale;

Stir round its roots, that it be green of heart;

Let not the spirit of its growth depart:

It is a power to brave the strongest gale.
WILLIAM WILSEY MARTIN, "Friendship"
A friend is never known till a man have need.
In friendship your heart is like a bell struck every time your friend is in trouble.
HENRY WARD BEECHER, Proverbs from Plymouth Pulpit
You need to handle your friends with more diplomacy than you do your enemies.
Trying to be someone's friend was just a waste of precious time better spent on self-improvement.
CHRISTOPHER GOLDEN, Blooded
As the circle of friends is enlarged, the bonds of friendship are relaxed and weakened.
JOHN THORNTON, Maxims and Directions for Youth
We should thank God that He did not give us the power of hearing through walls; otherwise there would be no such thing as friendship.
AUSTIN O'MALLEY, Keystones of Thought
Friendship can exist between persons of different sexes, without any coarse or sensual feelings; yet a woman always looks upon a man as a man, and so a man will look upon a woman as a woman.
JEAN DE LA BRUYÈRE, "Of the Affections", Les Caractères
Close friendships are one of life's miracles--that a few people get to know you deeply, all your messy or shadowy stuff along with the beauty and sweetness, and they still love you. Not only still love you, but love you more and more deeply. I would do anything for my closest friends, and they would do almost anything for me, and that is about as spiritual a truth as you can get.
ANNE LAMOTT, interview, Friends Journal, Jan. 30, 2013
The better part of one's life consists of his friendships.
ABRAHAM LINCOLN, letter to Joseph Gillespie, July 13, 1849
Friendship is but another name for an alliance with the follies and the misfortunes of others.
THOMAS JEFFERSON, Memoir, Correspondence, and Miscellanies from the Papers of Thomas Jefferson
Friendship is insipid to those who have experienced love.
FRANÇOIS DE LA ROCHEFOUCAULD, Moral Maxims