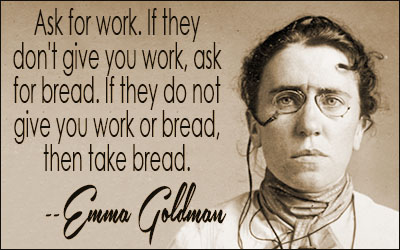 Love, the strongest and deepest element in all life, the harbinger of hope, of joy, of ecstasy; love, the defier of all laws, of all conventions; love, the freest, the most powerful molder of human destiny; how can such an all-compelling force be synonymous with that poor little State- and Church-begotten weed, marriage?
EMMA GOLDMAN, Anarchism and Other Essays
The most absurd apology for authority and law is that they serve to diminish crime. Aside from the fact that the State is itself the greatest criminal, breaking every written and natural law, stealing in the form of taxes, killing in the form of war and capital punishment, it has come to an absolute standstill in coping with crime. It has failed utterly to destroy or even minimize the horrible scourge of its own creation.
EMMA GOLDMAN, Anarchism and Other Essays
Everywhere and always, since its very inception, Christianity has turned the earth into a vale of tears; always it has made of life a weak, diseased thing, always it has instilled fear in man, turning him into a dual being, whose life energies are spent in the struggle between body and soul. In decrying the body as something evil, the flesh as the tempter to everything that is sinful, man has mutilated his being in the vain attempt to keep his soul pure, while his body rotted away from the injuries and tortures inflicted upon it.
EMMA GOLDMAN, Mother Earth, April 1913
It is the absolutism of theism, its pernicious influence upon humanity, its paralyzing effect upon thought and action, which Atheism is fighting with all its power.
EMMA GOLDMAN, Mother Earth, Feb. 1916
To the moralist prostitution does not consist so much in the fact that the woman sells her body, but rather that she sells it out of wedlock.
EMMA GOLDMAN, Anarchism and Other Essays
Nowhere is woman treated according to the merit of her work, but rather as a sex. It is therefore almost inevitable that she should pay for her right to exist, to keep a position in whatever line, with sex favors. Thus it is merely a question of degree whether she sells herself to one man, in or out of marriage, or to many men!... The economic and social inferiority of woman is responsible for prostitution.
Patriotism ... is a superstition artificially created and maintained through a network of lies and falsehoods; a superstition that robs man of his self-respect and dignity, and increases his arrogance and conceit.
EMMA GOLDMAN, Anarchism and Other Essays
Crime is naught but misdirected energy. So long as every institution of today, economic, political, social, and moral, conspires to misdirect human energy into wrong channels; so long as most people are out of place doing the things they hate to do, living a life they loathe to live, crime will be inevitable, and all the laws on the statutes can only increase, but never do away with, crime.
EMMA GOLDMAN, Anarchism, What it Really Stands For
Patriotism assumes that our globe is divided into little spots, each one surrounded by an iron gate. Those who have had the fortune of being born on some particular spot, consider themselves better, nobler, grander, more intelligent than the living beings inhabiting any other spot. It is, therefore, the duty of everyone living on that chosen spot to fight, kill, and die in the attempt to impose his superiority upon all the others.
EMMA GOLDMAN, Anarchism and Other Essays
When we can't dream any longer we die.
EMMA GOLDMAN, Mother Earth Bulletin, vol. 9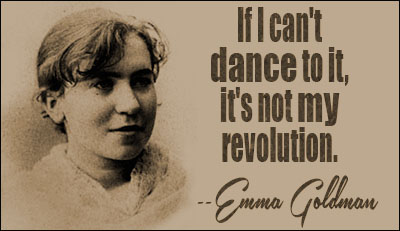 Anarchism, the great leaven of thought, is today permeating every phase of human endeavor.... It is the philosophy of the sovereignty of the individual. It is the theory of social harmony. It is the great, surging, living truth that is reconstructing the world, and that will usher in the Dawn.
EMMA GOLDMAN, Anarchism and Other Essays
Let us not overlook vital things, because of the bulk of trifles confronting us.
EMMA GOLDMAN, "The Tragedy of Woman's Emancipation," Anarchism and Other Essays
Men and women ... do you not realize that the State is the worst enemy you have? It is a machine that crushes you in order to sustain the ruling class, your masters. Like naïve children you put your trust in your political leaders. You make it possible for them to creep into your confidence, only to have them betray you to the first bidder. But even where there is no direct betrayal, the labour politicians make common cause with your enemies to keep you in leash, to prevent your direct action. The State is the pillar of capitalism, and it is ridiculous to expect any redress from it.
EMMA GOLDMAN, Living My Life
If I can't dance to it, it's not my revolution.
EMMA GOLDMAN, attributed, Psalms of Anarchy
The political arena leaves one no alternative, one must either be a dunce or a rogue.
EMMA GOLDMAN, "Anarchism: What It Really Stands For," Anarchism and Other Essays
Sure, nothing succeeds like success. Fact is, dearest, we are fools. We cling to an ideal no one wants or cares about. I am the greater fool of the two of us. I go on eating out my heart and poisoning every moment of my life in the attempt to rouse people's sensibilities. At least if I could do it with closed eyes. The irony is I see the futility of my efforts and yet I can't let go.
EMMA GOLDMAN, Nowhere at Home: Letters from Exile of Emma Goldman and Alexander Berkman
Always, at every period, the few were the banner bearers of a great idea, of liberating effort. Not so the mass, the leaden weight of which does not let it move.
EMMA GOLDMAN, Anarchism and Other Essays
Revolution that divests itself of ethical values thereby lays the foundation of injustice, deceit, and oppression for the future society.
EMMA GOLDMAN, My Disillusionment with Russia
Pettiness separates; breadth unites. Let us be broad and big.
EMMA GOLDMAN, "The Tragedy of Woman's Emancipation," Anarchism and Other Essays
Politicians promise you heaven before election and give you hell after.
EMMA GOLDMAN, Living My Life
Heaven must be an awfully dull place if the poor in spirit live there.
EMMA GOLDMAN, "The Failure of Christianity," Mother Earth, Apr. 1913
What I prized most was freedom, freedom to do my work, to give myself spontaneously and not out of duty or by command. I could not submit to such demands; rather would I choose the path of a homeless wanderer; yes, even go without love.
EMMA GOLDMAN, Living My Life
It is essential that we realize once and for all that man is much more of a sex creature than a moral creature. The former is inherent, the other is grafted on.
EMMA GOLDMAN, "The Social Importance of the Modern School," lecture (c. 1912), Red Emma Speaks
If I were to give a summary of the tendency of our times, I would say, Quantity. The multitude, the mass spirit, dominates everywhere, destroying quality. Our entire life--production, politics, and education--rests on quantity, on numbers. The worker who once took pride in the thoroughness and quality of his work, has been replaced by brainless, incompetent automatons, who turn out enormous quantities of things, valueless to themselves, and generally injurious to the rest of mankind. Thus quantity, instead of adding to life's comforts and peace, has merely increased man's burden.
EMMA GOLDMAN, Anarchism and Other Essays
With all our boasted reforms, our great social changes, and our far-reaching discoveries, human beings continue to be sent to the worst of hells, wherein they are outraged, degraded, and tortured, that society may be "protected" from the phantoms of its own making. Prison, a social protection? What monstrous mind ever conceived such an idea? Just as well say that health can be promoted by a widespread contagion.
EMMA GOLDMAN, "Prisons: A Social Crime and Failure", Anarchism and Other Essays
Ask for work. If they don't give you work, ask for bread. If they do not give you work or bread, then take bread.
EMMA GOLDMAN, Anarchism and Other Essays