HEROES QUOTES
quotations about heroes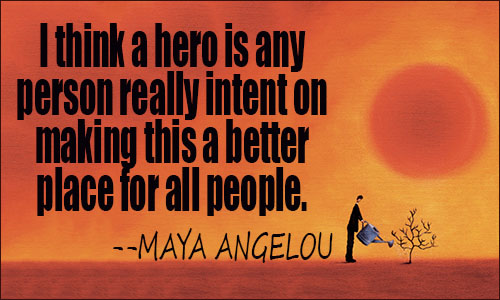 A hero. You want to be one of those rare human beings who make history, rather than merely watch it flow around them like water around a rock.
DAN SIMMONS, Endymion
1 likes
---
We do not have to become heroes overnight. Just a step at a time, meeting each thing that comes up ... discovering we have the strength to stare it down.
ELEANOR ROOSEVELT, You Learn by Living
1 likes
---
The hero sees values beyond what's possible. That's the nature of a hero. It kills him, of course, ultimately. But it makes the whole struggle of humanity worthwhile.
JOHN GARDNER, Grendel
1 likes
---
Heroism is endurance for one moment more.
GEORGE KENNAN, "The Problems of Suicide,", McClure's Magazine, 1908
1 likes
---
Unhappy the land that needs heroes.
BERTOLT BRECHT, Life of Galileo
1 likes
---
The hero is not fed on sweets,
Daily his own heart he eats.
RALPH WALDO EMERSON, Heroism
1 likes
---
There are men who bloom in chaos. You call them heroes or villains, depending on which side wins the war, but until the battle call they are but normal men who long for action, who lust for the opportunity to throw off the routine of their normal lives like a cocoon and come into their own. They sense a destiny larger than themselves, but only when structures collapse around them do these men become warriors.
GUILLERMO DEL TORO & CHUCK HOGAN, The Fall
1 likes
---
The real hero is always a hero by mistake; he dreams of being an honest coward like everybody else.
UMBERTO ECO, "Why Are They Laughing in Those Cages?", Travels in Hyperreality
1 likes
---
Show me a hero and I will write you a tragedy.
F. SCOTT FITZGERALD, Notebooks
1 likes
---
Everyone is necessarily the hero of his own life story. Hamlet could be told from Polonius's point of view and called The Tragedy of Polonius, Lord Chamberlain of Denmark. He didn't think he was a minor character in anything, I daresay.
JOHN BARTH, The End of the Road
1 likes
---
A real hero is someone who gets up even when he can't.
JARED LETO, Twitter post, Nov. 29, 2010
1 likes
---
Perhaps the heroic element in our natures is exhibited to the best advantage, not in going from success to success, and so on through a series of triumphs, but in gathering, on the very field of defeat itself, the materials for renewed efforts, and in proceeding, with no abatement of heart or energy, to form fresh designs upon the very ruins and ashes of blasted hopes. Yes, it is this indomitable persistence in a purpose, continued alike through defeat and success, that makes, more than aught else, the hero.
CHRISTIAN NESTELL BOVEE, Intuitions and Summaries of Thought
1 likes
---
I think a hero is any person really intent on making this a better place for all people.
MAYA ANGELOU, attributed, pinterest
1 likes
---
Nature seldom makes a hero and Fortune does not always proclaim those that she makes.
QUEEN CHRISTINA, Maxims of a Queen
1 likes
---
Great heroes need great sorrows and burdens, or half their greatness goes unnoticed. It is all part of the fairy tale.
PETER S. BEAGLE, The Last Unicorn
1 likes
---
There are no heroes ... in life, the monsters win.
GEORGE R. R. MARTIN, A Game of Thrones
1 likes
---
Our heroes are the men who do things which we recognize, with regret, and sometimes with a secret shame, that we cannot do.
MARK TWAIN, The Autobiography of Mark Twain
1 likes
---
Every age has its heroes.
G. W. CURTIS, attributed, Day's Collacon
1 likes
---
Children demand that their heroes should be fleckless, and easily believe them so: perhaps a first discovery to the contrary is hardly a less revolutionary shock to a passionate child than the threatened downfall of habitual beliefs which makes the world seem to totter for us in maturer life.
GEORGE ELIOT, Daniel Deronda
0 likes
---
The fame of heroes owes little to the extent of their conquests and all to the success of the tributes paid to them.
JEAN GENET, Prisoner of Love
0 likes
---