Hope is not like a lottery ticket you can sit on the sofa and clutch, feeling lucky.... hope is an ax you break down doors with in an emergency.
REBECCA SOLNIT, Hope in the Dark
Hope is like a northern hawthorn bush, late flowering but continuing long in bloom. There is an element of speculation in it which faith quite lacks. Thus, faith is for youth, hope for middle life, and charity, which only comes when faith and hope are dead, for age.
B. CUNNINGHAM GRAHAM, Hope
Even in the inevitable moments when all seems hopeless, men know that without hope they cannot really live, and in agonizing desperation they cry for the bread of hope.
MARTIN LUTHER KING JR., A Testament of Hope
The universe is energy that responds to expectations.
JAMES REDFIELD, The Celestine Prophecy
The phoenix hope, can wing her way through the desert skies, and still defying fortune's spite; revive from ashes and rise.
MIGUEL DE CERVANTES, Don Quixote
Hope is the elevating feeling we experience when se see--in the mind's eye--a path to a better future.
JEROME GROOPMAN, The Anatomy of Hope
As long as hope does not embrace and transform the thought and action of men, it remains topsy-turvy and ineffective.
JÜRGEN MOLTMANN, Theology of Hope
If we hope for what we are not likely to possess, we act and think in vain, and make life a greater dream and shadow than it really is.
JOSEPH ADDISON, The Spectator, Nov. 13, 1712
Hope never abandons you; you abandon it.
GEORGE WEINBERG, Self Creation
Hope gives us the courage to confront our circumstances and the capacity to surmount them.
JEROME GROOPMAN, The Anatomy of Hope
Hope is not the conviction that something will turn out well, but the certainty that something makes sense regardless of how it turns out.
VACLAV HAVEL, Disturbing the Peace
Any little thing can give hope, like a candle in the dark.
CHRISTIAAN MOSTERT, Hope: Challenging the Culture of Despair
Glittering hope is immemorial and beckons many men to their undoing.
EURIPEDES, Iphigenia in Tauris
Hope is delicate suffering.
AMIRI BARAKA, Cold, Hurt, and Sorrow
False hope can lead to intemperate choices and flawed decision making. True hope takes into account the real threats that exist and seeks to navigate the best path around them.
JEROME GROOPMAN, The Anatomy of Hope
The life of hope, then, is shot through with social influences at every level. We learn to formulate ideals in tandem with others. We pursue particular hopes, sometimes succeeding and sometimes failing, in the company of those we love. And as we develop habits of hope and the hopefulness which helps us weather our trials, we reach out to others, inspiring them, sharing our own hopes with them, and contributing our abilities as best we can to foster the growth of agency.
PATRICK SHADE, Habits of Hope
Hope just means another world might be possible, not promised, not guaranteed. Hope calls for action; action is impossible without hope.
REBECCA SOLNIT, Hope in the Dark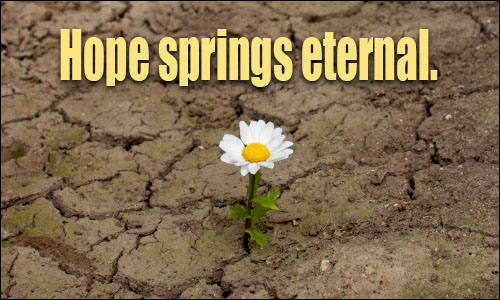 Hope deferred makes the heart sick, but when dreams come true, there is life and joy.
Even if in the building of mere castles in the air the total expenditure one way or the other scarcely matters, from which misdirected and ultimately fraudulently used wishful dreams then result, hope with plan and with connection to the due Possible is still the most powerful and best thing there is. And even if hope merely rises above the horizon, whereas only knowledge of the Real shifts it in solid fashion by means of practice, it is still hope alone which allows us to gain the inspiring and consoling understanding of the world to which it leads.
ERNST BLOCH, The Principle of Hope
Those who hope for no other life are dead even for this.
JOHANN WOLFGANG VON GOETHE, Conversations with Goethe
Man ever talks, and Man ever dreams

Of better days that are yet to be,

After glittering goal, that distant gleams,

Running and racing untiringly.

The worldly may grow old and young as it will,

But the Hope of man is Improvement still.

Hope bears him into life in her arms,

She flutters around the boy's young bloom,

The soul of youth with her magic warms,

Nor rests with age in the silent tomb;

For ends man his weary course at the grave,

There plants he Hope o'er his ashes to wave.
FRIEDRICH SCHILLER, "Hope"
We are promised abundance of all good things--yet we are rich only in hunger and thirst. What would become of us if we did not take our stand on hope, and if our heart did not hasten beyond this world!
JEAN CALVIN, Commentaries on the Epistles of Paul
Hope is symbolized in Christian iconography by an anchor. And what does an anchor do? It keeps the ship on course when wind and waves rage against it. But the anchor of hope is sunk in heaven, not on earth.
GREGORY FLOYD, A Grief Unveiled
And then the spirit brings hope, hope in the strictest Christian sense, hope which is hoping against hope. For an immediate hope exists in every person; it may be more powerfully alive in one person than in another; but in death every hope of this kind dies and turns into hopelessness. Into this night of hopelessness (it is death that we are describing) comes the life-giving spirit and brings hope, the hope of eternity. It is against hope, for there was no longer any hope for that merely natural hope; this hope is therefore a hope contrary to hope.
SOREN KIERKEGAARD, For Self-Examination
The quality of our expectations determines the quality of our actions.
Help, then, is the ballast that keeps us steady, that recognizes where along the path are the dangers and pitfalls that can throw us off; hope tempers fear so we can recognize dangers and then bypass or endure them.
JEROME GROOPMAN, The Anatomy of Hope
Without a minimum of hope, we cannot so much as start the struggle.
PAULO FREIRE, Pedagogy of Hope
To eat bread without hope is still slowly to starve to death.
PEARL S. BUCK, To My Daughters, With Love
If it is hope that maintains and upholds faith and keeps it moving on, if it is hope that draws the believer into the life of love, then it will also be hope that is the mobilizing and driving force of faith's thinking, of its knowledge of, and reflections on, human nature, history and society. Faith hopes in order to know what it believes. Hence all its knowledge will be an anticipatory, fragmentary knowledge forming a prelude to the promised future, and as such is committed to hope. Hence also vice versa the hope which arises from faith in God's promise will become the ferment in our thinking, its mainspring, the source of its restlessness and torment.
JÜRGEN MOLTMANN, Theology of Hope