IDENTITY QUOTES
quotations about identity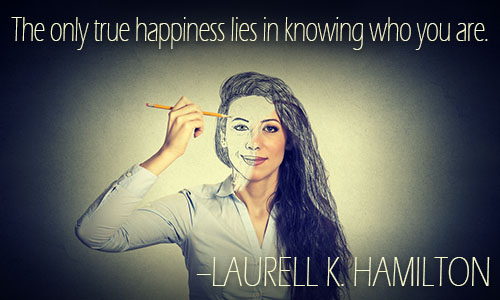 To know another's heart, you must first know your own.
LAURELL K. HAMILTON, Narcissus in Chains
3 likes
---
The only true happiness lies in knowing who you are ... and making peace with it.
LAURELL K. HAMILTON, Narcissus in Chains
2 likes
---
Who knows who you are ... A person is a novel: you don't know how it will end until the very last page. Otherwise it wouldn't be worth reading to the very end.
YEVGENY ZAMYATIN, We
2 likes
---
When a creature has developed into one thing, he will choose death rather than change into his opposite.
FRANK HERBERT, Dune Messiah
2 likes
---
We are what we have been told about ourselves. We are the sum of the messages we have received. The true messages. The false messages.
DONALD BARTHELME, Snow White
2 likes
---
I have this strange feeling that I'm not myself anymore. It's hard to put into words, but I guess it's like I was fast asleep, and someone came, disassembled me, and hurriedly put me back together again. That sort of feeling.
HARUKI MURAKAMI, Sputnik Sweeheart
2 likes
---
This monologue of the self is a maze of words out of which I shall not find a way until someone else gives me a lead. I roll my eyeballs, I pucker my lips, I stretch my ears, but the face in the mirror is my face and will go on being mine even if I hold it in the fire till it drips. No matter with what frenzy I live the business of death or wallow in blood and soapsuds, no matter what wolfhounds I hurl into the night, my acts, played out within the macabre theatre of myself, remain mere behaviour. I offend no one, for there is no one to offend.
J. M. COETZEE, In the Heart of the Country
2 likes
---
All I can tell you with certainty is that I, for one, have no self, and that I am unwilling or unable to perpetrate upon myself the joke of a self.... What I have instead is a variety of impersonations I can do, and not only of myself -- a troupe of players that I have internalised, a permanent company of actors that I can call upon when a self is required.... I am a theater and nothing more than a theater.
PHILIP ROTH, The Counterlife
2 likes
---
To know who you are is the greatest power of all.
SHERRILYN KENYON & DIANNA LOVE, Blood Trinity
1 likes
---
It is better to be hated for what you are than loved for what you are not.
ANDRE GUIDE, Autumn Leaves
1 likes
---
Myself is thus and so, and will continue thus and so. And why fight it? My balance comes from instability.
SAUL BELLOW, Herzog
1 likes
---
No change, I can't change, I can't change, I can't change,
But I'm here in my mold, I am here in my mold.
And I'm a million different people from one day to the next
I can't change my mold, no, no, no, no, no, no, no
THE VERVE, "Bitter Sweet Symphony", Urban Hymns
1 likes
---
Know thyself. A maxim as pernicious as it is ugly. Whoever studies himself arrests his own development. A caterpillar who seeks to know himself would never become a butterfly.
ANDRE GIDE, Autumn Leaves
1 likes
---
We are what we pretend to be, so we must be careful about what we pretend to be.
KURT VONNEGUT, Mother Night
1 likes
---
Where do you find the parts to make yourself into some other kind of person? Can it be something you read in a book, a gesture you see on the street? Half-smile of a teacher, the walk of a girl on the beach.
AMY HEMPEL, "Tumble Home"
1 likes
---
Inside us there is something that has no name, that something is what we are.
JOSÉ SARAMAGO, Blindness
1 likes
---
Excuse my absolute freedom. I refuse to make a distinction between any of the moments of myself.
ANTONIN ARTAUD, Selected Writings
1 likes
---
The more identities a man has, the more they express the person they conceal.
JOHN LE CARRÉ, Tinker
1 likes
---
All we are not stares back at what we are.
W. H. AUDEN, "The Sea and the Mirror"
1 likes
---
Whenever two people meet, there are really six people present. There is each man as he sees himself, each man as the other person sees him, and each man as he really is.
WILLIAM JAMES, attributed, Worth Repeating
1 likes
---