ILLNESS QUOTES
quotations about illness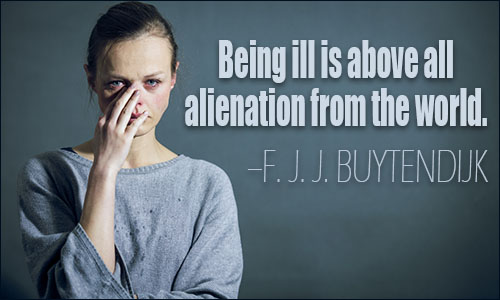 A Man's illness is his private territory and, no matter how much he love you and how close you are, you stay an outsider. You are healthy.
LAUREN BACALL, Lauren Bacall By Myself
3 likes
---
The question is not how to get cured, but how to live.
JOSEPH CONRAD, Lord Jim
2 likes
---
Neurotics complain of their illness, but they make the most of it, and when it comes to taking it away from them they will defend it like a lioness her young.
SIGMUND FREUD, The Question of Lay Analysis
2 likes
---
The amount of sympathy you get from having an illness is paid out like a Ponzi scheme and psychiatric disorders are all the way at the bottom.
NENIA CAMPBELL, Tantalized
2 likes
---
It is idle to propose remedies before we are assured of the disease.
JONATHAN SWIFT, A Modest Address to the Wicked Authors of the Present Age
2 likes
---
Being ill is above all alienation from the world.
F. J. J. BUYTENDIJK, Prolegomena to an Anthropological Physiology
2 likes
---
Infirmity doth still neglect all office
Whereto our health is bound; we are not ourselves
When nature, being oppressed, commands the mind
To suffer with the body.
WILLIAM SHAKESPEARE, King Lear
1 likes
---
There is a certain solipsism to serious illness which claims all of one's attention as certainly as an astronomical black hole seizes anything unlucky enough to fall within its critical radius.
DAN SIMMONS, The Fall of Hyperion
1 likes
---
Sickness is a belief, to be annihilated by the divine Mind.
MARY BAKER EDDY, Science and Health
1 likes
---
It is not necessarily the greatest suffering that receives the greatest consideration and sympathy. Illness is not scored that way. Deadly disease obviously scores higher than others. After that there is an unofficial ranking system for illness in which psychiatric disorders are the out-and-out losers. Psychiatric disorders manifesting as physical disease are at the very bottom of that pile. They are the charlatans of illnesses. We laugh at them.
SUZANNE O'SULLIVAN, Is It All In Your Head?
1 likes
---
Illness is the night side of life, a more onerous citizenship. Everyone who is born holds dual citizenship, in the kingdom of the well and in the kingdom of the sick. Although we all prefer to use the good passport, sooner or later each of us is obliged, at least for a spell, to identify ourselves as citizens of that other place.
SUSAN SONTAG, Illness as Metaphor
1 likes
---
It matters not whether you place the sick man on a wooden bed or one of gold; wherever you lay him, he carries his disease along with him.
SENECA, attributed, Day's Collacon
1 likes
---
Disease generally brings that equality which death completes.
JOSEPH ADDISON, The Saturday Magazine, November 11, 1837
1 likes
---
Disease is not a negative event, a blind fate, waiting to be eliminated from the world by technological intervention; the important thing is what we make of it, whether we consider it as an occasion to reconsider and improve our life.
HENK TEN HAVE, "The Zapping Animal: Oscillating Images of the Human Person in Modern Medicine", Life the Human Being between Life and Death
1 likes
---
Today's patient dies, too, in a social milieu in which being ill is a defeat, an automatic ejection from the cult of youth and health. The dying person intrudes on everyone else's pursuit of business or pleasure. In the modern world, dying is an obscenity.
HARVEY M. CHOCHINOV & WILLIAM BREITBART, "The Existential State of Incurability", Handbook of Psychiatry in Palliative Medicine
1 likes
---
Being ill is not exactly conducive to having peace. You are shuttled from one doctor to another. Your days are filled with managing medicines, scheduling appointments, and haggling with insurance companies. Your mind is exploding with questions about what will happen and doubts about what to do next. You are bombarded by the advice and ideas of family and friends, each of whom has his own idea of what is wrong with you and how to treat it.
PEGGY HOLT, Healing for the Heart: Encouragement and Truth for the Chronically Ill
1 likes
---
The best thing about being ill is being able to watch daytime TV without feeling guilty.
BESS MACPHERSON, A Smoker's and Dog's Guide to the Gal-Alexy
1 likes
---
The ill are damped with pain and anguish at the sight of all that is laudable, lovely, or happy.
JOSEPH ADDISON & RICHARD STEELE, History, Opinions, and Lucubrations, of Isaac Bickerstaff, Esq
1 likes
---
For each illness that doctors cure with medicine, they provoke ten in healthy people by inoculating them with the virus that is a thousand times more powerful than any microbe: the idea that one is ill.
MARCEL PROUST, "The Guermantes Way," Remembrance of Things Past
0 likes
---
Avoid a remedy that is worse than the disease.
AESOP, "The Hawk, Aesop's Fables
0 likes
---