ILLUSION QUOTES
quotations about illusion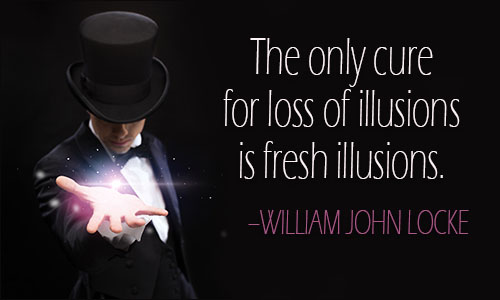 Your illusions are a part of you like your bones and flesh and memory.
WILLIAM FAULKNER, Absalom
2 likes
---
It is natural to man to indulge in the illusions of hope. We are apt to shut our eyes against a painful truth, and listen to the song of that Syren, till she transforms us to beasts. Is this the part of wise men, engaged in a great and arduous struggle for liberty? Are we disposed to be of the number of those who, having eyes, see not, and, having ears, hear not, the things which so nearly concern their temporal salvation? For my part, whatever anguish of spirit it may cost, I am willing to know the whole truth; to know the worst, and to provide for it.
PATRICK HENRY, speech to the Second Virginia Convention, March 23, 1775
2 likes
---
One realized all sorts of things. The value of an illusion, for instance, and that the shadow can be more important than the substance.
JEAN RHYS, Quartet
2 likes
---
Illusion begets and sustains the world; we do not destroy one without destroying the other.
EMIL CIORAN, Drawn and Quartered
1 likes
---
A man cannot drink from a mirage, but he can drown in it.
BRIAN HERBERT & KEVEN J. ANDERSON, Dune: House Corrino
1 likes
---
Reality is merely an illusion, albeit a very persistent one.
ALBERT EINSTEIN
1 likes
---
The only cure for loss of illusions is fresh illusions, more illusions, and always illusions.
WILLIAM JOHN LOCKE, The Glory of Clementina
1 likes
---
I think my quarry is illusion. I war against magic. I believe that, though illusion often cheers and comforts, it ultimately and invariably weakens and constricts the spirit.
IRVIN D. YALOM, Love's Executioner and Other Tales of Psychotherapy
1 likes
---
Why, if it was an illusion, not praise the catastrophe, whatever it was, that destroyed illusion and put truth in it's place?
VIRGINIA WOOLF, A Room of One's Own
1 likes
---
When one illusion doesn't work then we become disillusioned and we go around with our antennae up looking for another illusion.
ANAM THUBTEN, No Self, No Problem
1 likes
---
All of your illusions are reflected in your cosmic dance. The whole universe as well as the infinitesimal atoms are under the spell of your dance-movements. In the swinging of your tuneful rhythmic dance, bondage and freedom are balanced through ages and aeons. I am amazed at your infinity.
M. KRONEGGER, The Orchestration of the Arts
1 likes
---
Yes, I have tricks in my pocket, I have things up my sleeve. But I am the opposite of a stage magician. He gives you illusion that has the appearance of truth. I give you truth in the pleasant disguise of illusion.
TENNESSEE WILLIAMS, The Glass Menagerie
1 likes
---
It is because the cosmos is meaningless that we must secure our individual illusions of values, direction, and interest by upholding the artificial streams which give us such worlds of salutary illusion. That is -- since nothing means anything in itself, we must preserve the proximate and arbitrary background which makes things around us seem as if they did mean something.
H. P. LOVECRAFT, Selected Letters
1 likes
---
Disillusion comes sooner or later, but it always comes, it doesn't miss an appointment, it never has.
JUAN GABRIEL VASQUEZ, The Sound of Things Falling
1 likes
---
People are so ridiculous with their illusions, carrying their fool's caps unawares, thinking their own lies opaque while everybody else's are transparent, making themselves exceptions to everything, as if when all the world looked yellow under a lamp they alone are rosy.
GEORGE ELIOT, Middlemarch
0 likes
---
Even the loveliest dream bears like a blemish its difference from reality, the awareness that what it grants is mere illusion.
THEODOR WIESENGRUND ADORNO, Minima Moralia
0 likes
---
We must select the illusion which appeals to our temperament, and embrace it with passion, if we want to be happy.
CYRIL CONNOLLY, The Unquiet Grave
0 likes
---
People are distracted by objects of desire, and afterwards repent of the lust they've indulged, because they have indulged with a phantom and are left even farther from Reality than before. Your desire for the illusory is a wing, by means of which a seeker might ascend to Reality. When you have indulged a lust, your wing drops off; you become lame and that fantasy flees. Preserve the wing and don't indulge such lust, so that the wing of desire may bear you to Paradise. People fancy they are enjoying themselves, but they are really tearing out their wings for the sake of an illusion.
JALALUDDIN RUMI, quoted in The Pocket Rumi Reader
0 likes
---
Life consists in molting our illusions. We form creeds today only to throw them away tomorrow. The eagle molts a feather because he is growing a better one.
ELBERT HUBBARD, The American Bible
0 likes
---
In youth, we feel the richer for every new illusion; in mature years, for every one we lose.
MADAME SWETCHINE, "Airelles," The Writings of Madame Swetchine
0 likes
---