INDIVIDUALITY QUOTES
quotations about individuality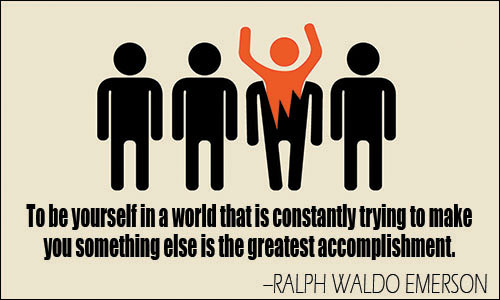 It's hard to be a diamond in a rhinestone world.
DOLLY PARTON, attributed, How Dolly Parton Saved My Life
2 likes
---
Taking into account the public's regrettable lack of taste, it is incumbent upon you not to fit in.
JANEANE GAROFALO, Feel This Book
2 likes
---
Our individuality is all, all, that we have. There are those who barter it for security, those who repress it for what they believe is the betterment of the whole society, but blessed in the twinkle of the morning star is the one who nurtures it and rides it in, in grace and love and wit, from peculiar station to peculiar station along life's bittersweet route.
TOM ROBBINS, Jitterbug Perfume
2 likes
---
If a man does not keep pace with his companions, perhaps it is because he hears a different drummer. Let him keep step to the music he hears, however measured or far away.
HENRY DAVID THOREAU, Walden
2 likes
---
I would be better for me ... that multitudes of men should disagree with me rather than that I, being one, should be out of harmony with myself.
PLATO, Gorgias
2 likes
---
A true man never frets about his place in the world, but just slides into it by the gravitation of his nature, and swings there as easily as a star.
E. H. CHAPIN, Humanity in the City
2 likes
---
Let each one turn his gaze inward and regard himself with awe and wonder, with mystery and reverence; let each one promulgate his own laws, his own theories; let each one work his own influence, his own havoc, his own miracles.
HENRY MILLER, The Cosmological Eye
2 likes
---
The thing is not to follow a pattern. Follow your own pattern of feeling and thought. The thing is to accept your own life and not try to live someone else's life. Look, the thumbprint is not like any other, and the thumbprint is what you must go by.
KATHERINE ANNE PORTER, The Paris Review, winter-spring 1963
1 likes
---
If you are different from the rest of the flock, they bite you.
VINCENT O'SULLIVAN, The Next Room
1 likes
---
I was not designed to be forced. I will breathe after my own fashion. Let us see who is the strongest.
HENRY DAVID THOREAU, On the Duty of Civil Disobedience
1 likes
---
Bring something incomprehensible into the world!
GILLES DELEUZE, Thousand Plateaus
1 likes
---
Each man must have his "I"; it is more necessary to him than bread; and if he does not find scope for it within the existing institutions he will be likely to make trouble.
CHARLES HORTON COOLEY, Human Nature and the Social Order
1 likes
---
There is not one big cosmic meaning for all; there is only the meaning we each give to our life, an individual meaning, an individual plot, like an individual novel, a book for each person.
ANAIS NIN, The Diary of Anais Nin
1 likes
---
Individuality in opinion, or, what is more, in thinking, is simply one with thinking at all; for he who thinks thereby looks at the thing or the fact itself and takes its measure by observation directly, not content with the measures of others.
JAMES VILA BLAKE, "Of Individuality", Essays
1 likes
---
There's a rebel lying deep in my soul. Anytime anybody tells me the trend is such and such, I go the opposite direction. I hate the idea of trends. I hate imitation; I have a reverence for individuality.
CLINT EASTWOOD, Wild Open Spaces
1 likes
---
What is genius but the power of expressing a new individuality?
ELIZABETH BARRETT BROWNING, letter to Mary Russell Mitford, January 14, 1843
1 likes
---
To be yourself in a world that is constantly trying to make you something else is the greatest accomplishment.
RALPH WALDO EMERSON, attributed, Wisdom for the Soul: Five Millennia of Prescriptions for Spiritual Healing
1 likes
---
But society has now fairly got the better of individuality; and the danger which threatens human nature is not the excess, but the deficiency of personal impulses and preferences.
JOHN STUART MILL, On Liberty
1 likes
---
Find your own way, open your treasure house, invent your own answer to the chaos.
GERTRUDE STEIN, attributed, Wisdom for the Soul: Five Millennia of Prescriptions for Spiritual Healing
1 likes
---
At bottom every man knows well enough that he is a unique being, only once on this earth; and by no extraordinary chance will such a marvelously picturesque piece of diversity in unity as he is, ever be put together a second time.
FRIEDRICH NIETZSCHE, Thoughts Out of Season
1 likes
---