INSPIRATION QUOTES
quotations about inspiration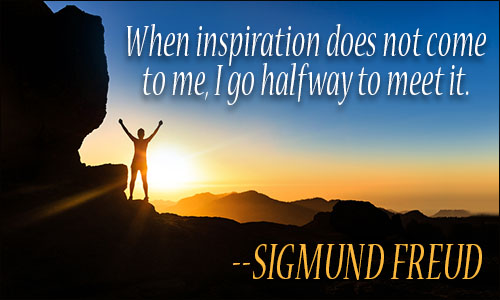 Don't loaf and invite inspiration; light out after it with a club, and if you don't get it you will nonetheless get something that looks remarkably like it.
JACK LONDON, "Getting Into Print," The Editor magazine, 1903
Genius is one percent inspiration and ninety-nine percent perspiration.
THOMAS EDISON, Life
All the effort in the world won't matter if you're not inspired.
When inspiration does not come to me, I go halfway to meet it.
SIGMUND FREUD, Great Quotes for Great Educators
Once you become a professional athlete or once you do anything well, then you're automatically a role model ... I have no problem being a role model. I love it. I have kids looking up to me and hopefully I inspire these kids to do good things.
LEBRON JAMES, Seattle Post-Intelligencer, Dec. 10, 2005
I think inspiration is always around; it's just a question of whether or not you're noticing it.
JOHN GREEN, Chicago Public Library interview
When inspiration is silent reason tires quickly.
ROGER ZELAZNY, Trumps of Doom
We are all motivated by a keen desire for praise, and the better a man is, the more he is inspired by glory.
SHARE QUOTES WITH FRIENDS!
---