INSPIRATION QUOTES
quotations about inspiration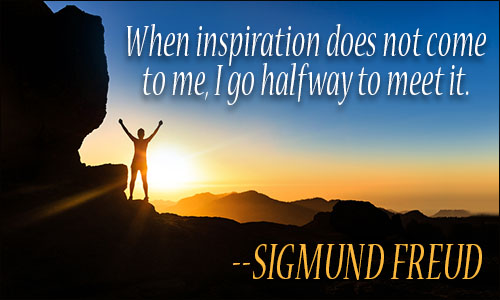 Don't loaf and invite inspiration; light out after it with a club, and if you don't get it you will nonetheless get something that looks remarkably like it.
JACK LONDON, "Getting Into Print", The Editor, 1903
1 likes
---
Genius is one percent inspiration and ninety-nine percent perspiration.
THOMAS EDISON, Life
1 likes
---
When inspiration does not come to me, I go halfway to meet it.
SIGMUND FREUD, attributed, Great Quotes for Great Educators
1 likes
---
Inspiration is the windfall from hard work and focus. Muses are too unreliable to keep on the payroll.
HELEN HANSON, "For Writers", July 14, 2010
1 likes
---
The poet invites inspiration by meditation, as the prophets raised themselves to ecstasies by prayer.
VICTOR HUGO, "Scraps of Philosophy and Criticism", The New-England Magazine, September 9, 1835
1 likes
---
You never have to change anything you got up in the middle of the night to write.
SAUL BELLOW, attributed, Something About the Author
1 likes
---
Amateurs think that if they were inspired all the time, they could be professionals. Professional know that if they relied on inspiration, they'd be amateurs.
PHILIP PULLMAN, "Q&As", official website
1 likes
---
The torpid artist seeks inspiration at any cost, by virtue or by vice, by friend or by fiend, by prayer or by wine.
RALPH WALDO EMERSON, The Conduct of Life
1 likes
---
I don't know anything about inspiration because I don't know what inspiration is; I've heard about it, but I never saw it.
WILLIAM FAULKNER, attributed, 20,000 Quips & Quotes
1 likes
---
All the effort in the world won't matter if you're not inspired.
CHUCK PALAHNIUK, Diary
0 likes
---
Once you become a professional athlete or once you do anything well, then you're automatically a role model ... I have no problem being a role model. I love it. I have kids looking up to me and hopefully I inspire these kids to do good things.
LEBRON JAMES, Seattle Post-Intelligencer, December 10, 2005
0 likes
---
I think inspiration is always around; it's just a question of whether or not you're noticing it.
JOHN GREEN, Chicago Public Library interview
0 likes
---
When inspiration is silent reason tires quickly.
ROGER ZELAZNY, Trumps of Doom
0 likes
---
We are all motivated by a keen desire for praise, and the better a man is, the more he is inspired by glory.
CICERO, Pro archia
0 likes
---
What Romantic terminology called genius or talent or inspiration is nothing other than finding the right road empirically, following one's nose, taking shortcuts.
ITALO CALVINO, "Cybernetics and Ghosts", The Literature Machine
0 likes
---
There is the falsely mystical view of art that assumes a kind of supernatural inspiration, a possession by universal forces unrelated to questions of power and privilege or the artist's relation to bread and blood. In this view, the channel of art can only become clogged and misdirected by the artist's concern with merely temporary and local disturbances. The song is higher than the struggle.
ADRIENNE RICH, Blood, Bread and Poetry
0 likes
---
Inspiration is not the exclusive privilege of poets or artists. There is, there has been, there will always be a certain group of people whom inspiration visits. It's made up of all those who've consciously chosen their calling and do their job with love and imagination. It may include doctors, teachers, gardeners -- I could list a hundred more professions. Their work becomes one continuous adventure as long as they manage to keep discovering new challenges in it. Difficulties and setbacks never quell their curiosity. A swarm of new questions emerges from every problem that they solve. Whatever inspiration is, it's born from a continuous "I don't know."
WISLAWA SZYMBORSKA, Nobel lecture, December 7, 1996
0 likes
---
I dream my painting, and then I paint my dream.
VINCENT VAN GOGH, attributed, Marry Your Muse: Making a Lasting Commitment to Your Creativity
0 likes
---
Inspiration is a slender river of brightness leaping from a vast and eternal knowledge, it exceeds reason more perfectly than reason exceeds the knowledge of the senses.
SRI AUROBINDO, Thoughts and Aphorisms
0 likes
---
Inspiration is communion with God.
ST. ISIDORUS, attributed, Day's Collacon
0 likes
---