There is a certain relief in change, even though it be from bad to worse; as I have found in travelling in a stage-coach, that it is often a comfort to shift one's position and be bruised in a new place.
WASHINGTON IRVING, Tales of a Traveller
A tart temper never mellows with age, and a sharp tongue is the only edged tool that grows keener with constant use.
WASHINGTON IRVING, Rip Van Winkle
There is in every true woman's heart, a spark of heavenly fire, which lies dormant in the broad daylight of prosperity, but which kindles up and beams and blazes in the dark hour of adversity.
WASHINGTON IRVING, The Sketch Book
A woman's whole life is a history of the affections.
WASHINGTON IRVING, The Sketch Book
In civilized life, where the happiness, and indeed almost the existence, of man depends so much upon the opinion of his fellow-men, he is constantly acting a studied part. The bold and peculiar traits of native character are refined away or softened down by the levelling influence of what is termed good-breeding, and he practises so many petty deceptions and affects so many generous sentiments for the purposes of popularity that it is difficult to distinguish his real from his artificial character.
WASHINGTON IRVING, Philip of Pokanoket
They who drink beer will think beer.
WASHINGTON IRVING, The Sketch Book
History fades into fable; fact becomes clouded with doubt and controversy; the inscription molders from the tablet: the statue falls from the pedestal. Columns, arches, pyramids, what are they but heaps of sand; and their epitaphs, but characters written in the dust?
WASHINGTON IRVING, The Sketch Book
As the vine which has long twined its graceful foliage about the oak and been lifted by it into sunshine, will, when the hardy plant is rifted by the thunderbolt, cling round it with its caressing tendrils and bind up its shattered boughs, so is it beautifully ordered by Providence that woman, who is the mere dependent and ornament of man in his happier hours, should be his stay and solace when smitten with sudden calamity, winding herself into the rugged recesses of his nature, tenderly supporting the drooping head, and binding up the broken heart.
WASHINGTON IRVING, "The Wife," The Sketch Book
True love will not brook reserve; it feels undervalued and outraged, when even the sorrows of those it loves are concealed from it.
WASHINGTON IRVING, "The Wife," The Sketch Book
I profess not to know how women's hearts are wooed and won. To me they have always been matters of riddle and admiration. Some seem to have but one vulnerable point, or door of access; while others have a thousand avenues, and may be captured in a thousand different ways. It is a great triumph of skill to gain the former, but a still greater proof of generalship to maintain possession of the latter, for man must battle for his fortress at every door and window. He who wins a thousand common hearts is therefore entitled to some renown; but he who keeps undisputed sway over the heart of a coquette is indeed a hero.
WASHINGTON IRVING, The Legend of Sleepy Hollow
I am always at a loss to know how much to believe of my own stories.
WASHINGTON IRVING, Tales of a Traveller
It is not poverty so much as pretence, that harasses a ruined man--the struggle between a proud mind and an empty purse.
WASHINGTON IRVING, "The Wife," The Sketch Book
Great minds have purposes, others have wishes.
WASHINGTON IRVING, attributed, Business Philosopher, 1913
Whenever a man's friends begin to compliment him about looking young, he may be sure that they think he is growing old.
WASHINGTON IRVING, Bracebridge Hall
Surely happiness is reflective, like the light of heaven; and every countenance, bright with smiles, and glowing with innocent enjoyment, is a mirror transmitting to others the rays of a supreme and ever-shining benevolence.
WASHINGTON IRVING, Old Christmas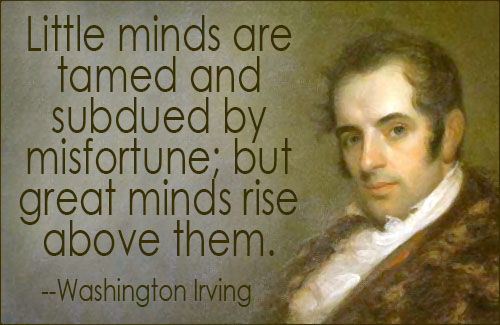 The sorrow for the dead is the only sorrow from which we refuse to be divorced. Every other wound we seek to heal - every other affliction to forget; but this wound we consider it a duty to keep open - this affliction we cherish and brood over in solitude.
WASHINGTON IRVING, "The Rural Funeral"
Little minds are tamed and subdued by misfortune; but great minds rise above them.
WASHINGTON IRVING, attributed, Business Philosopher, 1913
No, the love which survives the tomb is one of the noblest attributes of the soul. If it has its woes, it has likewise its delights; and when the overwhelming burst of grief is calmed into the gentle tear of recollection, when the sudden anguish and the convulsive agony over the present ruins of all that we most loved are softened away in pensive meditation on all that it was in the days of its loveliness - who would root out such a sorrow from the heart? Though it may sometimes throw a passing cloud over the bright hour of gaiety, or spread a deeper sadness over the hour of gloom, yet who would exchange it even for the song of pleasure, or the burst of revelry?
WASHINGTON IRVING, "The Rural Funeral"
I could not but smile to think in what out-of-the-way corners genius produces her bantlings! And the Muses, those capricious dames, who, forsooth, so often refuse to visit palaces, and deny a single smile to votaries in splendid studies, and gilded drawing-rooms--what holes and burrows will they frequent to lavish their favors on some ragged disciple!
WASHINGTON IRVING, "The Club of Queer Fellows," Tales of a Traveler
Language gradually varies, and with it fade away the writings of authors who have flourished their allotted time; otherwise, the creative powers of genius would overstock the world, and the mind would be completely bewildered in the endless mazes of literature.
WASHINGTON IRVING, "The Mutabilities of Literature", The Sketch Book of Geoffrey Crayon
I consider a story merely as a frame on which to stretch my materials.
WASHINGTON IRVING, introduction, Tales of a Traveler
Let us not, then, lament over the decay and oblivion into which ancient writers descend; they do but submit to the great law of nature, which declares that all sublunary shapes of matter shall be limited in their duration, but which decrees, also, that their elements and vegetable life, passes away, but the vital principle is transmitted to posterity, and the species continue to flourish. Thus, also, do authors beget authors, and having produced a numerous progeny, in a good old age they sleep with their fathers, that is to say, with the authors who preceded them--and from whom they had stolen.
WASHINGTON IRVING, "The Art of Book-Making", The Sketch Book of Geoffrey Crayon
My father died and left me his blessing and his business. His blessing brought no money into my pocket, and as to his business, it soon deserted me, for I was busy writing poetry, and could not attend to law, and my clients, though they had great respect for my talents, had no faith in a poetical attorney.
WASHINGTON IRVING, "The Poor-Devil Author," Tales of a Traveler
By my soul, but I'd have you know it's a piece of distinction to be waited on by a Banshee. It's a proof that one has pure blood in one's veins.
WASHINGTON IRVING, "The Hunting Dinner," Tales of a Traveler
There's nothing like being in fashion. A man that has once got his character up for a wit is always sure of a laugh, say what he may. He may utter as much nonsense as he pleases, and all will pass current. No one stops to question the coin of a rich man; but a poor devil cannot pass off either a joke or a guinea without its being examined on both sides. Wit and coin are always doubted with a threadbare coat.
WASHINGTON IRVING, "The Club of Queer Fellows," Tales of a Traveler
There is a healthful hardiness about real dignity that never dreads contact and communion with others however humble.
WASHINGTON IRVING, The Sketch-Book of Geoffrey Crayon