JOY QUOTES
quotations about joy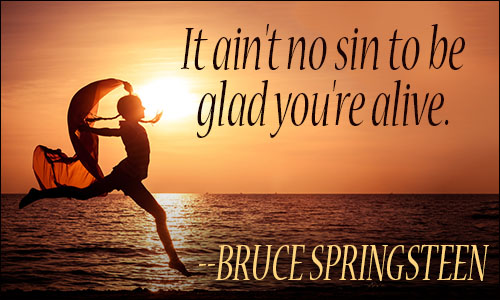 Is it that they fear the pain of death, or could it be they fear the joy of life?
TOAD THE WET SPROCKET, Pray Your Gods
He who has once been happy is for aye

Out of destruction's reach. His fortune then

Holds nothing secret; and Eternity,

Which is a mystery to other men,

Has like a woman given him its joy.
WILFRID SCAWEN BLUNT, With Esther
Joy may be a miser,

But Sorrow's purse is free.
RICHARD HENRY STODDARD, Persian Song
Men are not put into this world to be everlastingly played on by the harping fingers of joy.
HENRY WARD BEECHER, Proverbs from Plymouth Pulpit
If I dream I have you, I have you,

For, all our joys are but fantastical.
Pleasure's a Moth, that sleeps by day

And dances by false glare at night;

But Joy's a Butterfly, that loves

To spread its wings in Nature's light.
WILLIAM HENRY DAVIES, Joy and Pleasure
Joy's recollection is no longer joy,

While Sorrow's memory is a sorrow still.
LORD BYRON, Marino Faliero
Pleasure is always derived from something outside you, whereas joy arises from within.
ECKHART TOLLE, The Power of Now
People come and go, pain comes and goes. But so does joy. And if our hearts are closed because we don't want to suffer, they won't be open enough to recognize the joy as it flies by.
GENEEN ROTH, Good Housekeeping, Dec. 2008
Optimists find joy in small things. They enjoy sunsets, a good conversation with a close friend; and they enjoy life in general. They are more concerned with having many small joys rather than having one huge joy.
ROBERT M. SHERFIELD, The Everything Self-Esteem Book
The fine art of Life is to make

Another Soul vibrate with a song of joy.
EDWIN LEIBFREED, "The Song of the Soul"
Grief can take care of itself; but to get the full value of a joy you must have someone to divide it with.
MARK TWAIN, The Tragedy of Pudd'nhead Wilson
Joy is good--the angel's food.
CAROLINE SPENCER, "The Old Is Better"
In this world, full often, our joys are only the tender shadows which our sorrows cast.
HENRY WARD BEECHER, Proverbs from Plymouth Pulpit
Nothing brings joy as does a

tamed, controlled, attended and restrained heart.

This heart brings joy.
GAUTAMA BUDDHA, Anguttara Nikaya
It is the sum of the million little unconscious dispositions that go to make life joyful or painful.
HENRY WARD BEECHER, Proverbs from Plymouth Pulpit
Life's joys and sorrows meet us every day,

But some are blinded by their tears of sorrow

And see no joy.
Joy is more divine than sorrow; for joy is bread, and sorrow is medicine.
HENRY WARD BEECHER, Proverbs from Plymouth Pulpit
Troubles loom up big when they're ahead,

And joys seem always sweeter when they're past.
EDGAR GUEST, "The Present"
Joy and grief are things of great hazard and danger in the life of man: The one breaks the heart; the other intoxicates the head.
BENJAMIN WHICHCOTE, Moral and Religious Aphorisms
Joy and sorrow are like milk and cookies. That's how well they go together.
NEIL GAIMAN, American Gods
The fact is always obvious much too late, but the most singular difference between happiness and joy is that happiness is a solid and joy a liquid.
J. D. SALINGER, "De Daumier-Smith's Blue Period"
Joy is the best wine.
GEORGE ELIOT, Silas Marner
Joy's the shyest bird

Mortal ever heard;

Listen rapt and silent while he sings;

Do not seek to see,

Less the vision be

But a flutter of departing wings.
CAROLINE SPENCER, "A Strange Singer"
Notes of joy have a special STP solvent in them that dissolves all the gluey engine deposits of heartache. War and woe don't have anything like the range and reach that notes of joy do.
NICHOLSON BAKER, The Anthologist
I have drunken deep of joy,

And I will taste no other wine tonight.
PERCY BYSSHE SHELLEY, The Cenci
Joy is the vital air of the soul.
HENRI-FREDERIC AMIEL, Journal Intime
For sudden Joys, like Griefs, confound at first.
DANIEL DEFOE, Robinson Crusoe
Joy flees from the selfish, it deserts the quarrelsome; it is hidden from the impure.
JAMES ALLEN, Morning and Evening Thoughts
SHARE QUOTES WITH FRIENDS!
---