LANGUAGE QUOTES
quotations about language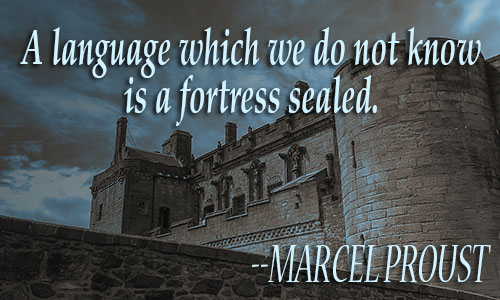 The magic of the tongue is the most dangerous of all spells.
EDWARD BULWER LYTTON, Eugene Aram
5 likes
---
High thoughts must have high language.
ARISTOPHANES, The Frogs
4 likes
---
The great enemy of clear language is insincerity. When there is a gap between one's real and one's declared aims, one turns, as it were, instinctively to long words and exhausted idioms, like a cuttlefish squirting out ink.
GEORGE ORWELL, The Lion and the Unicorn
2 likes
---
The limits of my language mean the limits of my world.
LUDWIG WITTGENSTEIN, Tractacus Logico-Philosophicus
2 likes
---
We live at the level of our language. Whatever we can articulate we can imagine or understand or explore.
ELLEN GILCHRIST, Falling Through Space
2 likes
---
To possess another language is to possess another soul.
JOHN LE CARRÉ, Tinker, Tailor, Soldier, Spy
2 likes
---
Every new language we speak opens new possibilities.
ALI ANTHONY BELL, "Why the English Language Is Vital for the Future of Morocco", Morocco World News, March 21, 2016
2 likes
---
I think we can learn a lot about a person in the very moment that language fails them. In the very moment they have to be more creative than they would have imagined in order to communicate.
ANNA DEAVERE SMITH, Talk to Me
2 likes
---
This is the strange contract between life and language: language keeps naming and life, like a woman seductively escaping her seducer's caress, keeps just a little beyond its names.
GLEN DUNCAN, By Blood We Live
2 likes
---
The sort of isolation that gave us tall and short and light and dark and other variations in our species was no protection against the advance of language. It crossed mountains and oceans as if they werent there. Did it meet some need? No. The other five thousand plus mammals among us do fine without it.
CORMAC MCCARTHY, "The Kekulé Problem: Where did language come from?", Nautilus, April 20, 2017
2 likes
---
The true use of speech is not so much to express our wants as to conceal them.
OLIVER GOLDSMITH, Essays
1 likes
---
The unaffected language of real feeling and benevolence is easily understood, and is never ridiculous.
MARIA EDGEWORTH, Angelina
1 likes
---
I don't speak ... I operate a machine called language. It creaks and groans, but is mine own.
FRANK HERBERT, Dune Messiah
1 likes
---
It by no means follows, that because two men utter the same words, they have precisely the same idea which they mean to express: language is inadequate to the variety of ideas which are conceived by different minds, and which, could they be expressed, would produce a new variety of characteristic differences between man and man.
FULKE GREVILLE, Maxims, Characters, and Reflections
1 likes
---
For language is to so great an extent the condition and limit of thought, men are so little accustomed, indeed so little able, to meditate on things, except through the intervention, and by the machinery, of words, that nothing short of this would bring them to a sense of the actual existence of any such wants. And it is, I may observe, one of the advantages of acquaintance with another language besides our own, and of the institution which will follow, if we have learned that other to any purpose, of these comparisons, that we thus come to be aware that names are not, and least of all the names which any single language possesses, coextensive with things ... that a multitude of things exist which, tho capable of being resumed in a word, are yet without one, unnamed and unregistered; so that, vast as is the world of names, the world of realities is even vaster still.
RICHARD CHENEVIX TRENCH, On the Study of Words
1 likes
---
A language, like a species, when extinct, never ... reappears.
CHARLES DARWIN, The Origin of Species
1 likes
---
Learning a language is the making of shared semantic agreements with others.
PHIL BAINES & ANDREW HASLAM, Type and Typography
1 likes
---
Language, which is the uniting bond and very medium of communion between men, is at the same time by the great variety of tongues, the means of severing and estranging nations more than anything else.
HORACE SMITH, The Tin Trumpet: Or, Heads and Tails, for the Wise and Waggish
1 likes
---
The more deeply language is probed, the more traces it reveals of the beings that produce it.
MICHAEL LEVIN, Feminism and Freedom
1 likes
---
I remember reading once that some fellows use language to conceal thought; but it's been my experience that a good many more use it instead of thought.
GEORGE HORACE LORIMER, Letters from a Self-Made Merchant to His Son
1 likes
---