LAUGHTER QUOTES
quotations about laughter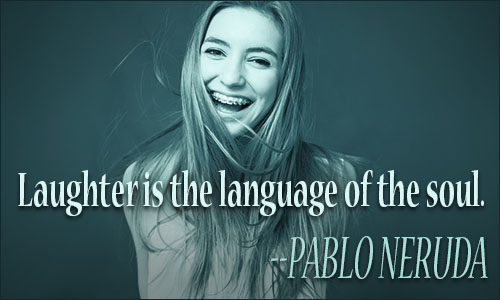 By nothing do men show their character more than by the things they laugh at.
JOHANN WOLFGANG VON GOETHE, The Maxims and Reflections of Goethe
7 likes
---
My struggle is harsh and I come back
with eyes tired
at times from having seen
the unchanging earth,
but when your laughter enters
it rises to the sky seeking me
and it opens for me all
the doors of life.
PABLO NERUDA, "Your Laughter"
4 likes
---
If we may believe our logicians, man is distinguished from all other creatures by the faculty of laughter.
JOSEPH ADDISON, The Spectator, Sept. 26, 1712
3 likes
---
Man is the only creature endowed with the power of laughter; is he not also the only one that deserves to be laughed at?
FULKE GREVILLE, Maxims, Characters, and Reflections
3 likes
---
It is a fair, even-handed, noble adjustment of things, that while there is infection in disease and sorrow, there is nothing in the world so irresistibly contagious as laughter and good humour.
CHARLES DICKENS, A Christmas Carol
3 likes
---
He who laughs ... lasts.
ERMA BOMBECK, Forever, Erma
3 likes
---
Even in despair, man must laugh.
LIN YUTANG, Between Tears and Laughter
3 likes
---
I love people who make me laugh. I honestly think it's the thing I like most, to laugh. It cures a multitude of ills. It's probably the most important thing in a person.
AUDREY HEPBURN, How to Be Lovely
3 likes
---
Laughter is good for you. Nine out of ten stand-up comedians recommend laughter in the face of intense stupidity.
JIM BUTCHER, Proven Guilty
3 likes
---
The laughter of man is more terrible than his tears, and takes more forms -- hollow, heartless, mirthless, maniacal.
JAMES THURBER, New York Times Magazine, Dec. 7, 1958
2 likes
---
When a person can no longer laugh at himself, it is time for others to laugh at him.
THOMAS SZASZ, The Second Sin
2 likes
---
I prefer that laughter shall take me unawares. Only so can it master and dissolve me.
MAX BEERBOHM, "Laughter", And Even Now
2 likes
---
You can't deny laughter; when it comes, it plops down in your favorite chair and stays as long as it wants.
STEPHEN KING, Hearts in Atlantis
1 likes
---
In my mind, there is nothing so illiberal and so ill-bred as audible laughter.
PHILIP DORMER STANHOPE, letter to his son, Mar. 9, 1748
1 likes
---
Against the assault of laughter nothing can stand.
MARK TWAIN, The Mysterious Stranger
1 likes
---
Laughter in the face of danger is a mark of courage.
JENNIFER LEE CARRELL, Interred With Their Bones
1 likes
---
Laughter gives us distance. It allows us to step back from an event, deal with it and then move on.
BOB NEWHART, attributed, Standup Comedian: The Secret and Beyond
1 likes
---
The problem is that we live in an uptight country. Why don't we just laugh at ourselves? We are funny. Gays are funny. Straights are funny. Women are funny. Men are funny. We are all funny, and we all do funny things. Let's laugh about it.
BOB NEWHART, I Shouldn't Even Be Doing This
1 likes
---
It's hard ... to hate a man who laughs at himself and the rest of the world.
JO CLAYTON, Diadem from the Stars
1 likes
---
Laughter rises out of tragedy when you need it the most, and rewards you for your courage.
ERMA BOMBECK, attributed, This Is Not the Life I Ordered
1 likes
---