LAWYER QUOTES
quotations about lawyers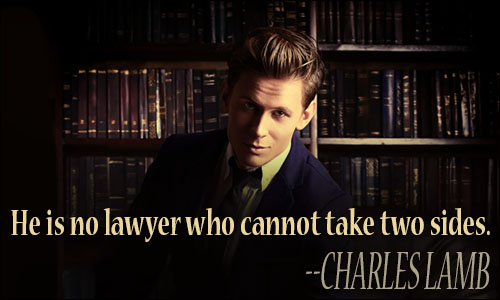 If there were no bad people there would be no good lawyers.
CHARLES DICKENS, The Old Curiosity Shop
57 likes
---
Lawyers are the foot soldiers of our Constitution.
RENNARD STRICKLAND & FRANK T. READ, The Lawyer Myth
39 likes
---
It is the lawyers who run our civilization for us -- our governments, our business, our private lives. Most legislators are lawyers; they make our laws. Most presidents, governors, commissioners, along with their advisers and brain-trusters are lawyers; they administer our laws. All the judges are lawyers; they interpret and enforce our laws. There is no separation of powers where the lawyers are concerned. There is only a concentration of all government power -- in the lawyers.
FRED RODELL, Woe Unto You, Lawyers
37 likes
---
Good lawyers know the law. Great lawyers know the judge.
ANONYMOUS
29 likes
---
At the most pragmatic level, lawyers are society's professional problem solvers. Lawyers are called upon to make distinctions, to explain how and why cases or experiences are alike or different. Lawyers are expected to restore equilibrium, to be balancers. Every discipline, every profession, every job, and every calling has a cutting edge. At that cutting edge, lines are drawn. Lawyers and judges are society's ultimate line drawers. On one side of the line, the conduct, action, or inaction is proper; on the other side of the line, it is not.
RENNARD STRICKLAND & FRANK T. READ, The Lawyer Myth
26 likes
---
There is a vague popular belief that lawyers are necessarily dishonest. I say vague, because when we consider to what extent confidence and honors are reposed in and conferred upon lawyers by the people, it appears improbable that their impression of dishonesty is very distinct and vivid. Yet the impression is common, almost universal. Let no young man choosing the law for a calling for a moment yield to the popular belief. Resolve to be honest at all events; and if in your own judgment you cannot be an honest lawyer, resolve to be honest without being a lawyer. Choose some other occupation, rather than one in the choosing of which you do, in advance, consent to be a knave.
ABRAHAM LINCOLN, memorandum for law lecture, 1850
22 likes
---
A lawyer with his briefcase can steal more than a hundred men with guns.
MARIO PUZO, The Godfather
22 likes
---
Lawyers are the only persons in whom ignorance of the law is not punished.
JEREMY BENTHAM, The Canadian Bar Journal, Jun. 1966
18 likes
---
Lawyers are men who will swear black is white--if they are paid for it.
EDWARD COUNSEL, Maxims
16 likes
---
Lawyers are operators of toll bridges which anyone in search of justice must pass.
JANE BRYANT QUINN, attributed, The Lawyer Myth
13 likes
---
If lawyers were to undertake no causes till they were sure they were just, a man might be precluded altogether from a trial of his claim, though, were it judicially examined, it might be found a very just claim.
SAMUEL JOHNSON, Journal of a Tour of the Hebrides, Aug. 15, 1773
11 likes
---
A lawyer is a gentleman that rescues your estate from your enemies and then keeps it to himself.
HENRY P. BROUGHAM, attributed, "The Fundamental Dilemma of Lawyering"
11 likes
---
Lawyers have a way of seeing that sets them apart from the rest of us. In some way this special vision makes them invaluable, and in other ways, repulsive. Lawyers are much more focused on rational, logical, and objective criteria to the exclusion of the emotional, subjective, and sometimes irrational responses to the world. Moreover, lawyers like to show no emotion, and possess a particular disdain for the emotions that are found in others, which has the quality of making them seem inhuman.
THANE ROSENBAUM, The Myth of Moral Justice
9 likes
---
Law is an imperfect profession in which success can rarely be achieved without some sacrifice of principle. Thus all practicing lawyers -- and most others in the profession -- will necessarily be imperfect, especially in the eyes of young idealists. There is no perfect justice, just as there is no absolute in ethics. But there is perfect injustice, and we know it when we see it.
ALAN DERSHOWITZ, Letters to a Young Lawyer
8 likes
---
How many lawyer jokes are there? One, the rest are true stories.
THOMAS F. SHUBNELL, Greatest Jokes of the Century
8 likes
---
It is in the habits of lawyers that every accusation appears insufficient if they do not exaggerate it even to calumny; it is thus that justice itself loses its sanctity and its respect amongst men.
LAMARTINE, attributed, Day's Collacon
8 likes
---
Woe unto you, lawyers! for ye have taken away the key of knowledge: ye entered not in yourselves, and them that were entering in ye hindered.
BIBLE, Luke 11:52
7 likes
---
Lawyers are merchants of misery.
NANCY LEVIT & DOUGLAS O. LINDER, The Happy Lawyer
7 likes
---
Where there's a will, there's a lawyer.
ROBERT ELLIOTT GONZALES, Poems and Paragraphs
7 likes
---
Why are scientists now using lawyers in laboratory experiments instead of rats? Three reasons: (1) lawyers are more plentiful than rats, (2) there is no danger the scientists will become attached to the lawyers, and (3) there are some things rats just won't do.
GERRY SPENCE, Bloodthirsty Bitches and Pious Pimps of Power
7 likes
---