LION QUOTES
quotations about lions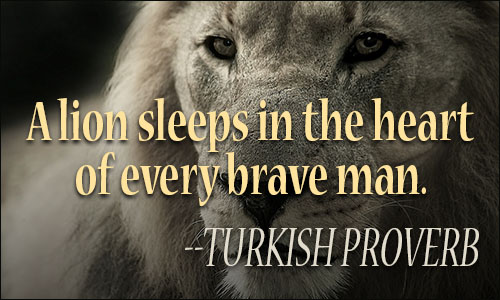 I am more afraid of an army of one hundred sheep led by a lion than an army of one hundred lions led by a sheep.
CHARLES MAURICE, PRINCE DE TALLEYRAND-PERIGORD, attributed, The Most Brilliant Thoughts of All Time (In Two Lines or Less)
15 likes
---
Some people lose all respect for the lion unless he devours them instantly. There is no pleasing some people.
WILL CUPPY, The Great Bustard and Other People
13 likes
---
My soul is among lions.
BIBLE, Psalms 57:4
13 likes
---
Do not try to fight a lion if you are not one yourself.
AFRICAN PROVERB
13 likes
---
If you want to be a lion, you have to train with lions.
ANONYMOUS
11 likes
---
The lion does not need the whole world to fear him, only those nearest where he roams.
A. J. DARKHOLME, Rise of the Morningstar
10 likes
---
A lion sleeps in the heart of every brave man.
TURKISH PROVERB
9 likes
---
"It's a mystery," replied the Lion. "I suppose I was born that way. All the other animals in the forest naturally expect me to be brave, for the Lion is everywhere thought to be the King of Beasts. I learned that if I roared very loudly every living thing was frightened and got out of my way."
L. FRANK BAUM, The Wizard of Oz
8 likes
---
Lions make leopards tame.
WILLIAM SHAKESPEARE, King Richard II
7 likes
---
You know the lion is dangerous when it is quiet, stalking, sneaking up on its prey. Only after it has ambushed and killed its prey does the lion roar. It wants to intimidate the jackals.
J. HAND, Jeremiah's Journey
6 likes
---
Love has the face of a goddess, but the talons of a lion.
IVAN PANIN, Thoughts
6 likes
---
A lion doesn't concern itself with the opinion of sheep.
GEORGE R. R. MARTIN, A Game of Thrones
5 likes
---
It is better to go in the dark when the road must pass a lion and there is no other road.
ROBERT E. HOWARD, Kull: Exile of Atlantis
5 likes
---
Even a hare, the weakest of animals, may insult a dead lion.
AESOP, attributed, Day's Collacon
5 likes
---
I am sometimes a fox and sometimes a lion. The whole secret of government lies in knowing when to be the one or the other.
NAPOLEON BONAPARTE, attributed, Napoleon Bonaparte in Russia
4 likes
---
The creation of freedom for oneself and a sacred "No" even to duty -- for that, my brothers, the lion is needed.
FRIEDRICH NIETZSCHE, Thus Spake Zarathustra
4 likes
---
An injured lion still wants to roar.
RANDY PAUSCH, The Last Lecture
4 likes
---
Courage is poorly housed that dwells in numbers; the lion never counts the herd that are about him, nor weighs how many flocks he has to scatter.
AARON HILL, attributed, Thoughts Selected from the Ancient and Modern Poets
3 likes
---
Doth frugality become a prince? Though the ant gathereth subsistence for a year, yet how can a lion store up his daily food?
IBN SABIR, attributed, Day's Collacon
3 likes
---
The difference between a brave man and a coward is a coward thinks twice before jumping in the cage with a lion. The brave man doesn't know what a lion is. He just thinks he does.
CHARLES BUKOWSKI, Notes of a Dirty Old Man
3 likes
---