LISTENING QUOTES
quotations about listening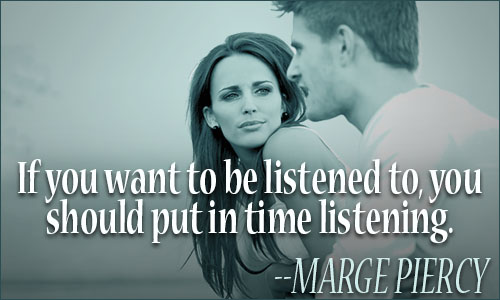 Your aim is not to make speakers perceive you as working hard to listen. False listening is worse than no listening at all.
REBECCA Z. SHAFIR, The Zen of Listening: Mindful Communication in the Age of Distraction
1 likes
---
A polite man is one who listens with interest to things he knows all about when they are told by a person who knows nothing about them.
CHARLES DE MORNY, attributed, All the Year Round: A Weekly Journal
1 likes
---
If you want to be listened to, you should put in time listening.
MARGE PIERCY, O Magazine, Aug. 2006
0 likes
---
It takes a disciplined person to listen to convictions which are different from their own.
DOROTHY FULDHEIM, A Thousand Friends
0 likes
---
Nobody really listens to anyone else, and if you try it for a while you'll see why.
MIGNON MCLAUGHLIN, The Second Neurotic's Notebook
0 likes
---
I think the willingness to listen is really a matter of confidence. You can't be so superconfident in your abilities that you ignore what others say, and you can't be so diffident in your abilities that you think that if they say something, you will be so taken in that you will do the wrong thing. When you are confident about your abilities and also fully aware of what you don't know you are willing to listen to outside experts with the full sense that if you don't find it worthwhile you will ignore it.
RAGHURAM G. RAJAN, "A Conversation with Chief Economic Adviser Raghuram G. Rajan", The New York Times, Oct. 6, 2012
0 likes
---
Listen to the colour of your dreams.
THE BEATLES, "Tomorrow Never Knows", Revolver
0 likes
---
Most people do not listen with the intent to understand; they listen with the intent to reply.
STEPHEN R. COVEY, The 7 Habits of Highly Effective People
0 likes
---
Intermittently she caught the gist of his sentences and supplied the rest from her subconscious, as one picks up the striking of a clock in the middle with only the rhythm of the first uncounted strokes lingering in the mind.
F. SCOTT FITZGERALD, Tender Is the Night
0 likes
---
When listening to another person, don't just listen with your mind, listen with your whole body. You are giving the other person space -- space to be. It is the most precious gift you can give.
ECKHART TOLLE, The Power of Now
0 likes
---
Listening is seeking synchronicity with the speaker.
MICHAEL ROST, Teaching and Researching: Listening
0 likes
---
Being heard is so close to being loved that for the average person they are almost indistinguishable.
DAVID W. AUGSBURGER, Caring Enough to Hear and Be Heard
0 likes
---
The best way to make a long story short is to stop listening.
EVAN ESAR, 20,000 Quips & Quotes
0 likes
---
Listen if you would learn.
MYRDDIN, attributed, Day's Collacon
0 likes
---
We have two ears and one mouth, so we should listen more than we say.
ZENO OF CITIUM, attributed, Lives and Opinions of Eminent Philosophers
0 likes
---
Wisdom comes with talking less frivolously and listening more seriously. The latter implies a learning attitude; the former assumes an air of omniscience that does not exist.
S. K. CHAKRABORTY, An Integrated Approach
0 likes
---
Good listeners are popular. Everyone wants to be heard.
DIANE J. ACKERMAN, Shut the Duck Up!!!
0 likes
---
In listening mood she seemed to stand,
The guardian Naiad of the strand.
SIR WALTER SCOTT, The Lady of the Lake
0 likes
---
Were we as eloquent as angels, we should please ... much more by listening than by talking.
CHARLES CALEB COLTON, Lacon
0 likes
---
There is a difference between listening and waiting for your turn to speak.
LISA FORD, attributed, Torch Tips for a Luminous Life
0 likes
---