LITERATURE QUOTES
quotations about literature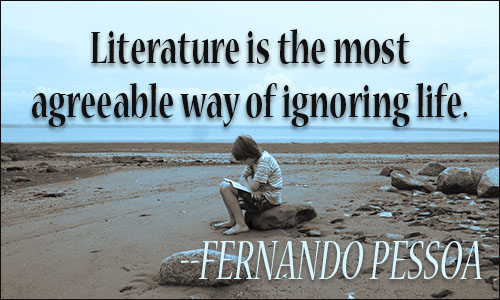 Literature is the one place in any society where, within the secrecy of our own heads, we can hear voices talking about everything in every possible way.
SALMAN RUSHDIE, speech, Feb. 6, 1990
25 likes
---
Literature is the garden of wisdom.
JAMES ELLIS, attributed, Day's Collacon
17 likes
---
Once you allow yourself to identify with the people in a story, then you might begin to see yourself in that story even if on the surface it's far removed from your situation. This is what I try to tell my students: this is one great thing that literature can do -- it can make us identify with situations and people far away. If it does that, it's a miracle.
CHINUA ACHEBE, The Altantic Online, Aug. 2, 2000
12 likes
---
Literature is a vast forest and the masterpieces are the lakes, the towering trees or strange trees, the lovely, eloquent flowers, the hidden caves, but a forest is also made up of ordinary trees, patches of grass, puddles, clinging vines, mushrooms, and little wildflowers.
ROBERTO BOLANO, 2666
11 likes
---
An interchange of literature is the conversation of nations.
EDWARD COUNSEL, Maxims
9 likes
---
The greatest masterpiece in literature is only a dictionary out of order.
JEAN COCTEAU, attributed, Where Books Fall Open
7 likes
---
Literature is subservient to nothing but truth.
GAO XINGJIAN, "Literature as Testimony: The Search for Truth", Witness Literature: Proceedings of the Nobel Centennial Symposium
7 likes
---
Literature is a great staff, but a very sorry crutch.
SIR WALTER SCOTT, attributed, Day's Collacon
7 likes
---
While thoughts exist, words are alive and literature becomes an escape, not from, but into living.
CYRIL CONNOLLY, The Unquiet Grave
5 likes
---
I expected more from literature than from real, naked life.
GUNTER GRASS, The Tin Drum
5 likes
---
There is a form of literature that is a deed, and a form that is only talk, and the latter passes away like a conversation.
AUSTIN O'MALLEY, Keystones of Thought
5 likes
---
The things that are said in literature are always the same. What is important is the way they are said.
JORGE LUIS BORGES, The Paris Review, winter-spring 1967
5 likes
---
The history of literature is the history of the human mind.
WILLIAM HICKLING PRESCOTT, "Chateaubriand's English Literature", Critical and Historical Essays
5 likes
---
To subvert is not the aim of literature, its value lies in discovering and revealing what is rarely known, little known, thought to be known but in fact not very well known of the truth of the human world. It would seem that truth is the unassailable and most basic quality of literature.
GAO XINGJIAN, Nobel Lecture, 2000
4 likes
---
All literature is but a word--a thought--a maxim amplified.
EDWARD COUNSEL, Maxims
4 likes
---
We think literature is immortal, but even that decays and ultimately turns to dust.
MICK FARREN, Darklost
4 likes
---
Fiction allows us to slide into these other heads, these other places, and look out through other eyes. And then in the tale we stop before we die, or we die vicariously and unharmed, and in the world beyond the tale we turn the page or close the book, and we resume our lives.
NEIL GAIMAN, American Gods
4 likes
---
Literature: The art of putting old words into new places.
EDWARD BLANCHARD, Flights of Fancy
4 likes
---
Literature is at once the cause and the effect of social progress. It deepens our natural sensibilities, and strengthens by exercise our intellectual capacities. It stores up the accumulated experience of the race, connecting Past and Present into a conscious unity; and with this store it feeds successive generations, to be fed in turn by them.
GEORGE HENRY LEWES, The Principles of Success in Literature
4 likes
---
Literature is the most agreeable way of ignoring life.
FERNANDO PESSOA, The Book of Disquiet
3 likes
---